Market Recap for Friday, April 5, 2019
Energy stocks (XLE, +1.76%) were the clear leader on Friday as Wall Street climbed once again. Recently, crude oil prices ($WTIC, +1.58%) opened April by posting new 2019 highs, but the XLE failed to follow suit, instead falling back to test its rising 20 day EMA. I discussed on MarketWatchers LIVE the probability that we'd see the XLE bounce off its 20 day EMA and break to new highs as the positive correlation between the XLE and WTIC is very strong. The XLE bounced as expected:
---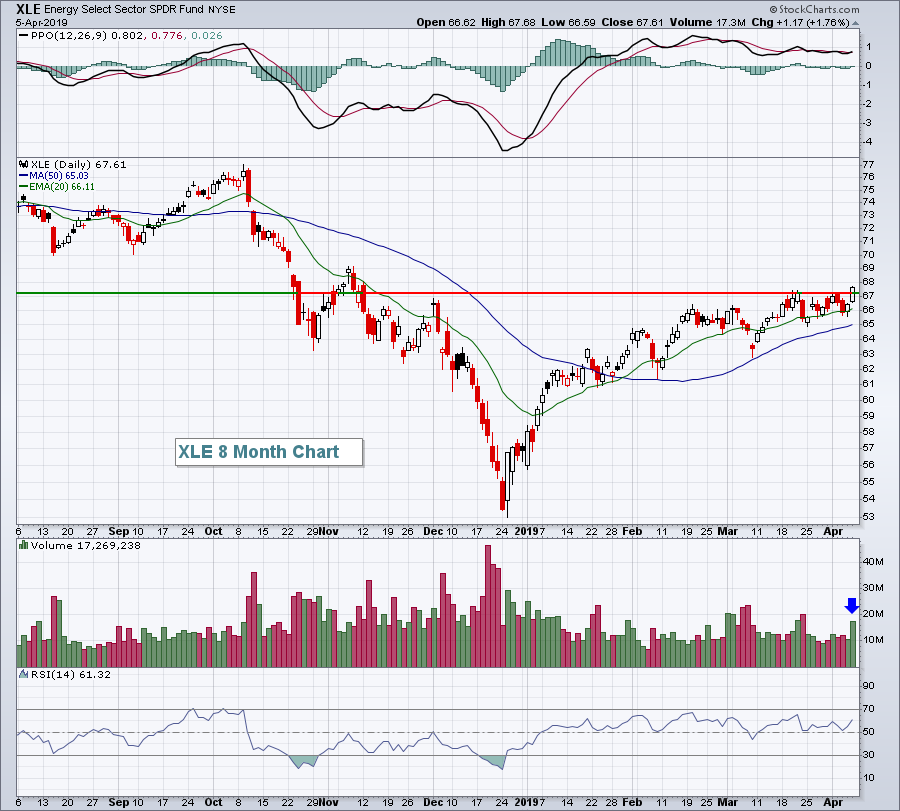 Not only did the XLE bounce, but it surged to a new 2019 high and the volume accelerated to confirm the move. While I'm not a huge longer-term fan of the XLE because we're in a rising U.S. dollar environment, the short-term does remain bullish on an absolute basis.
Leadership on the S&P 500 came from the energy group as Apache Corp (APA, +6.55%) and Anadarko Petroleum (APC, +4.29%) were two of the top performers.
Defensive areas outperformed on Friday as utilities (XLU, +0.94%), real estate (XLRE, +0.77%) and healthcare (XLV, +0.69%) followed energy higher. Strength was found nearly across-the-board, however, as materials (XLB, -0.03%) was the only sector to finish in negative territory.
Pre-Market Action
Crude oil ($WTIC) is up another 0.44% this morning so expect higher prices in energy shares (XLE). Asian markets were mixed overnight and European shares are facing the same this morning.
Dow Jones futures are lower by 80 points with 30 minutes left to the opening bell. Keep in mind that the 7th through 10th of calendar months tend to result in profit taking, so we could be facing that as we being a new week.
Current Outlook
Here's a quick look at how the aggressive sectors are performing on a relative basis in 2019:
The only negative above is the relative weakness in financials, but that will likely be resolved if the 10 year treasury yield ($TNX) rises. You can see that the relative strength in the XLF has been strong the past two weeks while the TNX rebounds.
This chart is quite bullish to me and suggests all-time highs are right around the corner.
Sector/Industry Watch
Consumer discretionary (XLY, +0.59%) has been a big reason for the 2019 recovery. The XLY has gained 19.10% year-to-date, which trails only technology (XLK, +22.89%) and industrials (XLI, +20.25%) in terms of 2019 leadership. Those are three aggressive sectors leading the charge, which can only be interpreted as bullish for the overall market. The XLY also closed at an all-time high on Friday, eclipsing both closing and intraday highs from September 2018: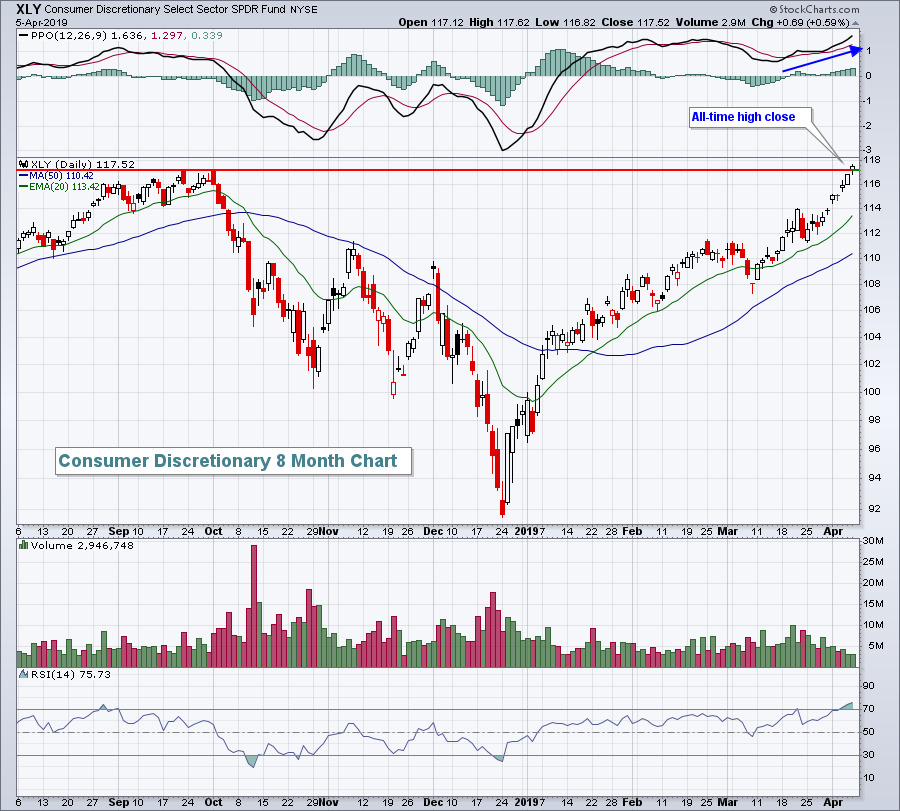 While the XLY is clearly overbought, with an RSI reading of 75, overbought can remain overbought for a period of time and momentum (PPO) is accelerating higher.
Monday Setups
The software group ($DJUSSW) has been a solid area to trade for quite some time. If you're interested in a stock that had been a leader within that space, but has pulled back to key support, then you might take a look at Domo, Inc. (DOMO):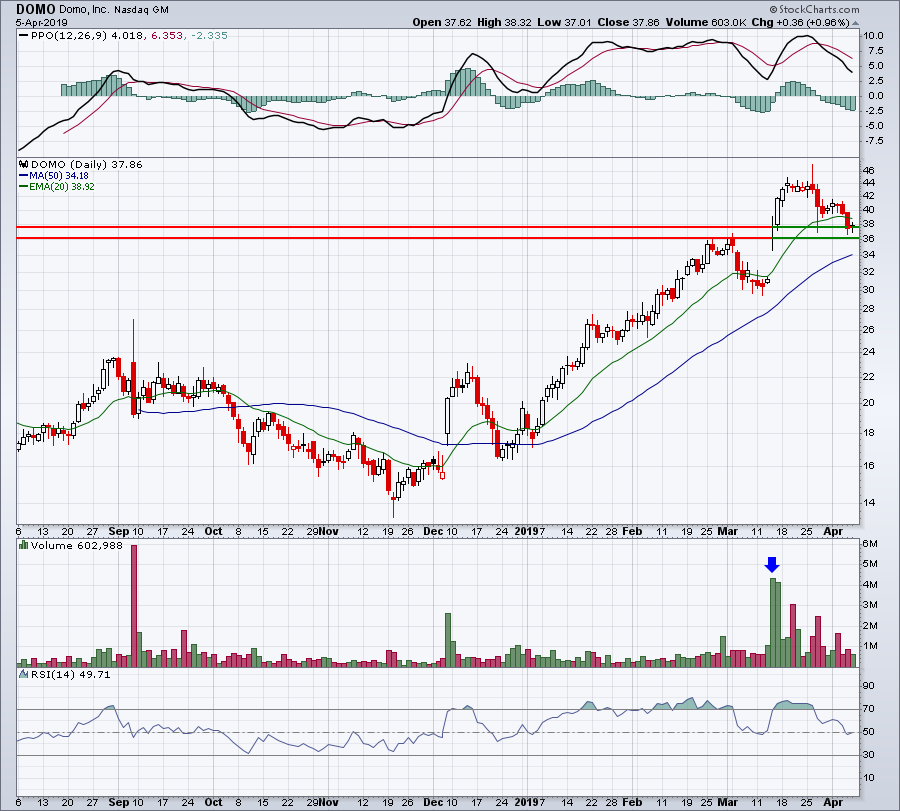 DOMO was trading above 47 a couple weeks ago and during the recent bout of profit taking in many software stocks, DOMO has retreated back to its gap support from its quarterly earnings. There was an intraday low after earnings below 35, so there could be a bit more downside here, but I like the trade. (Disclosure: I own shares in DOMO)
DOMO is quite volatile and not appropriate for everyone. Please understand the risk is yours if you decide to trade it as the stock market never provides us any guarantees of future performance.
I have 9 other trade setups today if you're interested. CLICK HERE to look at their annotated charts.
Historical Tendencies
Since 1971, the NASDAQ has produced annualized returns of +16.04% during the month of April, making it the 4th best calendar month of the year.
Key Earnings Reports
None
Key Economic Reports
February factory orders to be released at 10:00am EST: -0.6% (estimate)
Happy trading!
Tom