Special Event Today
Every quarter, I announce my Top 10 Stocks (equally-weighted) for my Model, Aggressive and Income portfolios. Today's the day! It all starts at 4:30pm EST. CLICK HERE for portfolio performance and registration information.
Market Recap for Friday, August 16, 2019
Industrials (XLI, +1.93%) led a broad-based rally in which all 11 sectors gained at least 0.50%. The small cap Russell 2000 surged 2.19% in its best one day showing in a few months and one of its best of the year. Appetite for risk was apparent throughout the session with technology (XLK, +1.90%) also performing quite well.
General Electric (GE, +9.74%) bounced back from an awful day on Thursday, helping to lead the diversified industrials ($DJUSID, +3.66%) much higher. But the DJUSID broke down last week and still has much technical work to do: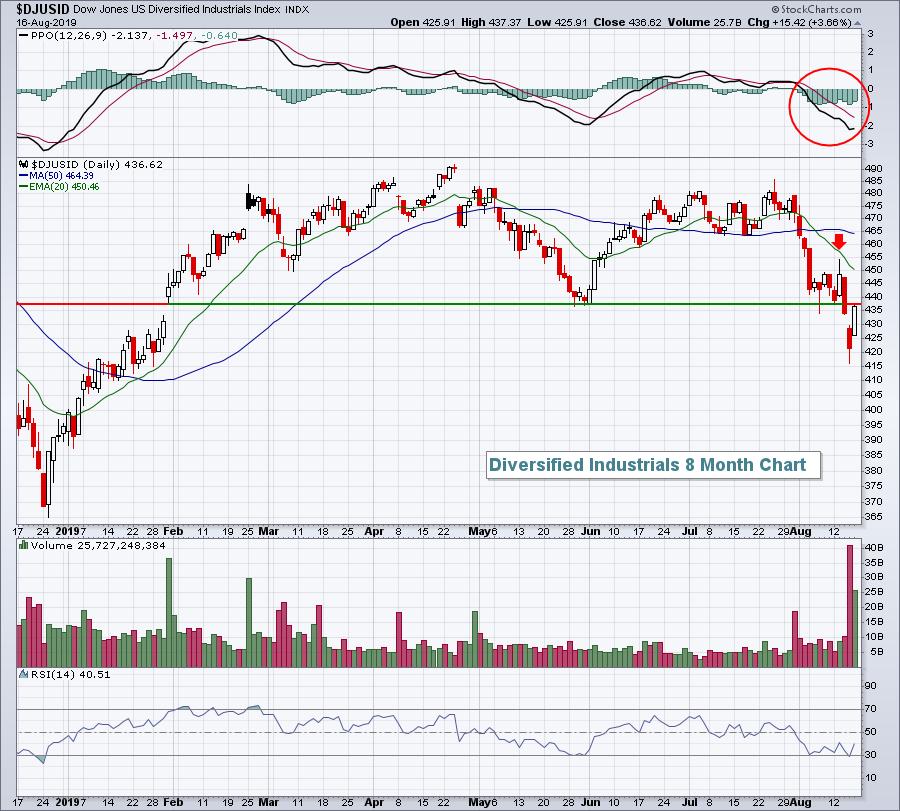 It managed to challenge initial price resistance, but that, along with the declining 20 day EMA, will be a big challenge for the bulls.
In the meantime, Deere & Co (DE, +3.84%) reported dismal quarterly results, but managed to finish with decent gains. DE had been under significant selling pressure just prior to its earnings, falling from 170 to 141 in the 2-3 weeks leading up to its earnings report. Perhaps this was simply an oversold bounce?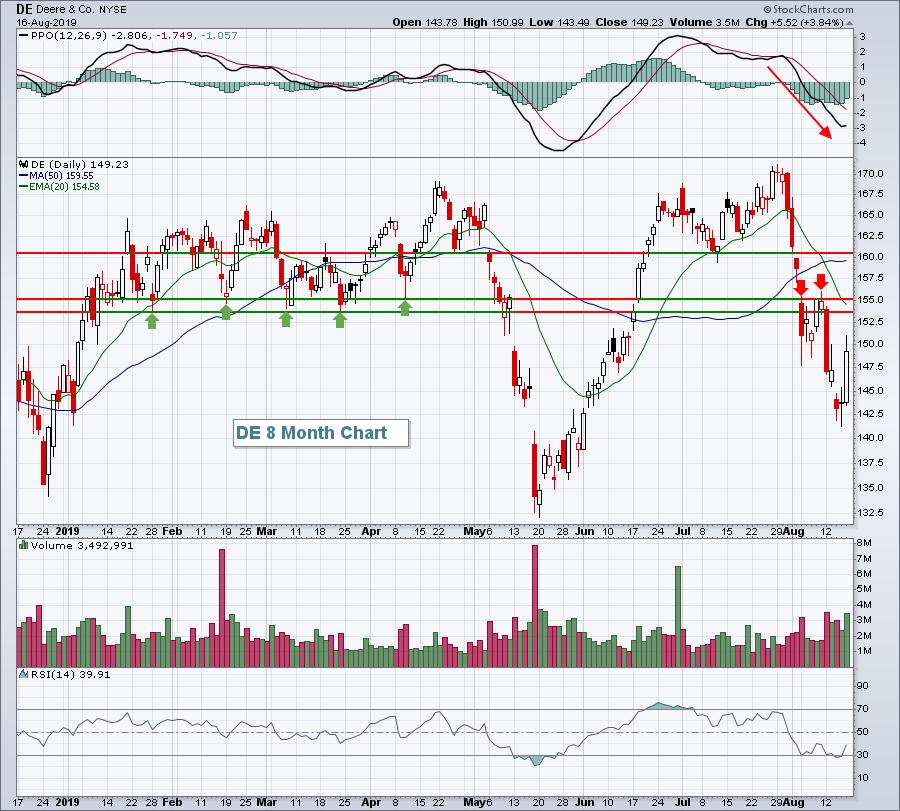 Semiconductors ($DJUSSC, +2.66%) had a strong day, following the lead of NVIDIA Corp (NVDA, +7.25%). However, I'm not sold on this NVDA move as I discuss further in the Sector/Industry Watch section below.
Pre-Market Action
Gold ($GOLD) is down 1% this morning as stock futures are up significantly this morning. Crude oil ($WTIC) is back above $55 per barrel and the 10 year treasury yield ($TNX) is jumping 7 basis points to 1.61%.
Asia rallied strongly overnight and Europe is doing the same this morning. This is setting U.S. stocks up for a very strong open.
With 30 minutes left to the opening bell, Dow Jones futures are higher by nearly 300 points.
Current Outlook
Here's the mystery group. Biotechnology, where have you been? Biotechs ($DJUSBT, +1.95%) were strong on Friday, but they've still got a lot of work to do. The good news is that strength in biotechs can be viewed as a bullish signal as it's widely viewed as a very aggressive industry group. On the chart, 1900 is likely to be a critical short-term price resistance level to watch. A breakout there would likely lead to a much more significant price resistance level at 1990: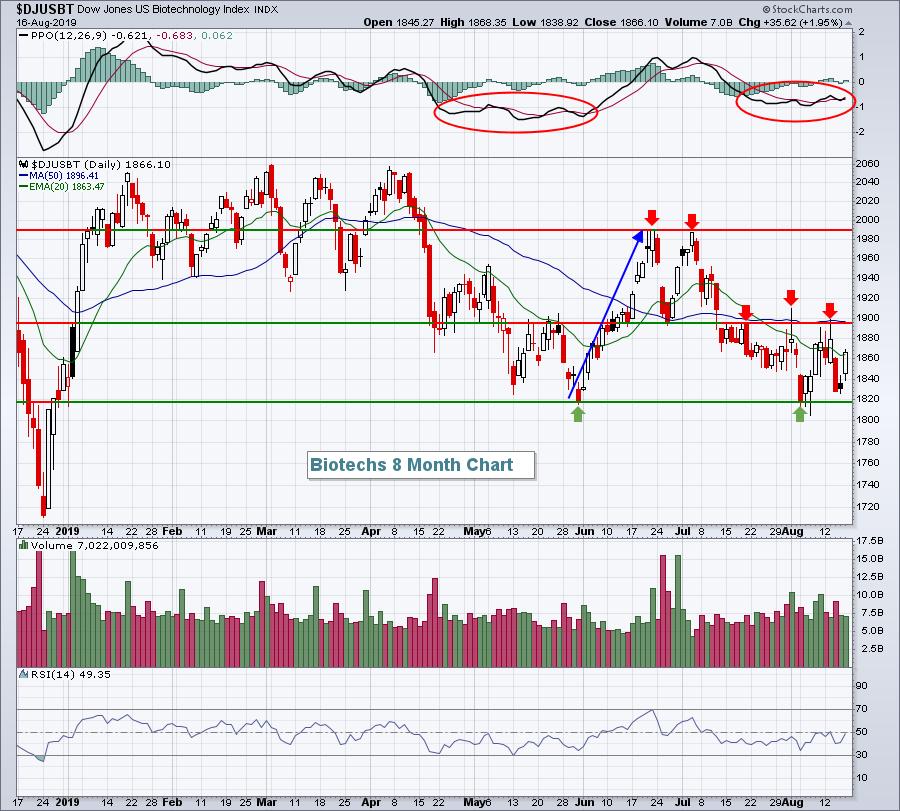 The daily PPO has set up very similar to how it was in late-May, just before its best rally of 2019. I wouldn't be surprised to see a similar response this time, but first the 1900 level must be cleared.
Sector/Industry Watch
Semiconductors ($DJUSSC) were strong on Friday, as was NVDA, but the following chart still has a lot of question marks on it: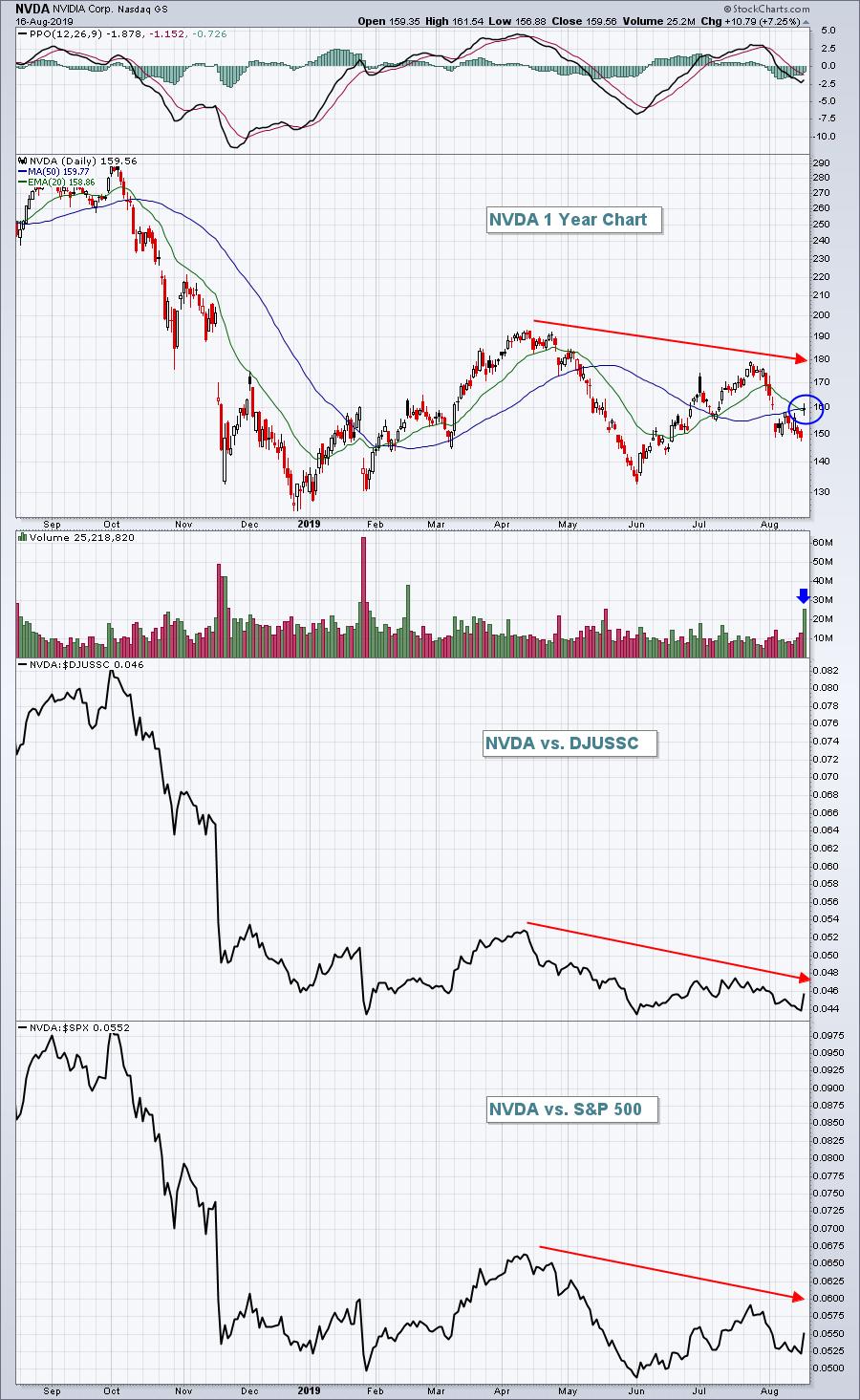 The blue arrow shows extremely heavy volume on NVDA, which could be construed as a bullish sign since NVDA's response to its earnings was a gap higher. But the blue circle highlights a doji candlestick where NVDA's early surge showed little follow through. NVDA closed almost squarely on its open and that is not particularly bullish as it means there were plenty of sellers to offset that early morning strength.
Relative strength is a critical component of technical analysis and NVDA's relative strength, quite honestly, is bad. Until we see sustained relative strength, breaking to multi-month relative strength highs, I'd avoid NVDA. There are simply too many other semiconductor stocks that look much better technically.
Monday Setups
For this week, I like Tempur-Pedic Int'l (TPX). They recently reported excellent quarterly earnings results and the stock became quite overbought, reaching the 82 level. It has since pulled back nearly 10% and testing its 50 day SMA, while its PPO has dropped back near centerline support: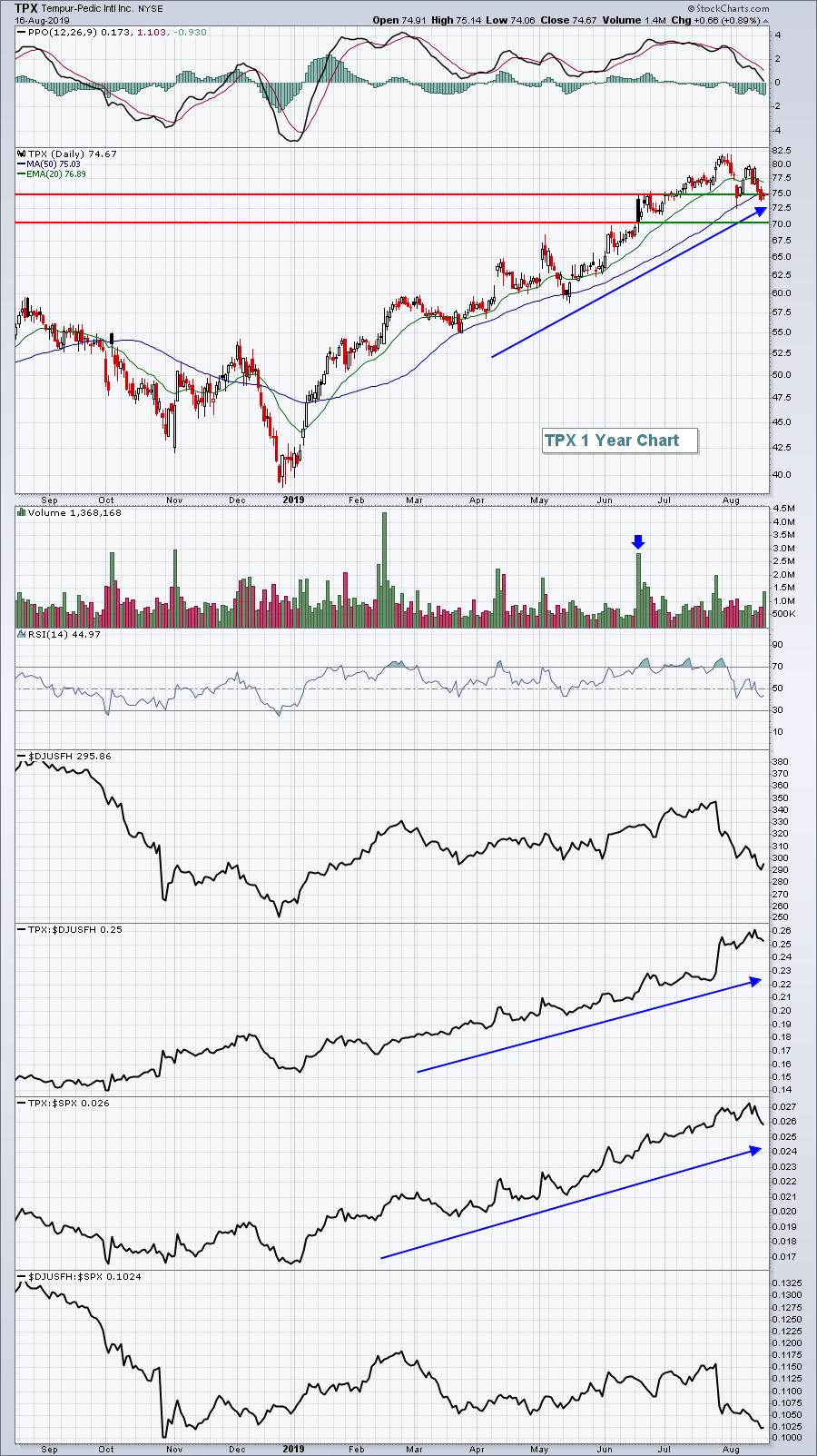 Despite being part of a weak furnishings industry ($DJUSFH), TPX has been a major outperformer and volume trends are very solid. I like entry in the 70-75 zone with a closing stop beneath 70 and an initial target back to 82. If it's industry group can begin to cooperate, TPX could easily break to another high.
Historical Tendencies
NVIDIA Corp (NVDA) was discussed above technically. Historically, it does tend to perform quite well in August: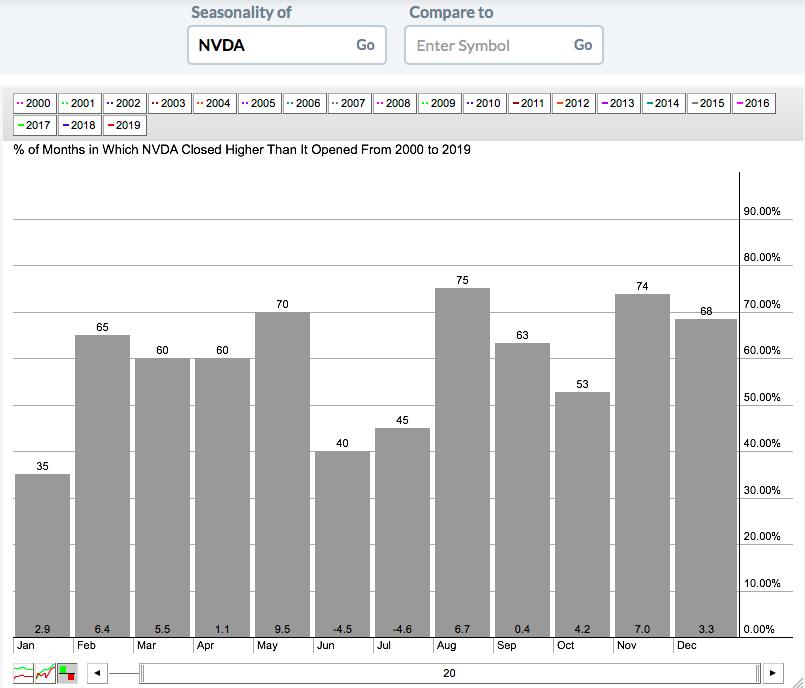 While many stocks struggle during the month of August, NVDA has risen in 3/4 of Augusts this century and has averaged gaining 6.7%. The technicals look weak to me, but history is on the side of the bulls.
Key Earnings Reports
(actual vs. estimate):
EL: .64 vs .53
SINA: .76 vs .42
WB: .68 vs .63
(reports after close, estimate provided):
BIDU: .94
FN: .93
IQ: (.59)
Key Economic Reports
None
Happy trading!
Tom