I've maintained a bullish stance throughout the past 21 months of stock market turbulence. My signals simply reminded me to ignore the negative media and all the attempts to take the stock market lower. Don't follow CNBC's rhetoric. If they were right, we'd have had 7 recessions in 2019. Follow the charts. One major clue for me was that the 12 month rate of change (ROC) of jobs never really wavered. It remained positive. During every recession except one since 1950, that 12 month ROC went negative and THAT makes common sense. A recession means two consecutive quarters of negative GDP. How can we keep increasing jobs and have two quarters of negative GDP? The answer is that in almost every case, we haven't.
Stop becoming emotionally driven by those that don't give a darn about your financial health. They want ratings and what drives ratings? Bad news and fear. When a story breaks about a possible breakdown in trade talks, it becomes CNBC's centerpiece. Blah, blah, blah.
Ok, rant over.
Here's a technical fact to keep in mind and it relates to the Dow Theory. When transportation stocks ($TRAN) are breaking to the upside in unison with our major averages, that's a very good sign. It supports the improving economy theory. After all, if the stock market is one of the best (if not THE best) leading economic indicators, why would transports move higher and break out? There's only one reason - because shipments of goods are expected to increase. It's ALWAYS good to see transports performing well. Here's a long-term 10 year weekly chart on the TRAN with corresponding action on the S&P 500 in the panel beneath it: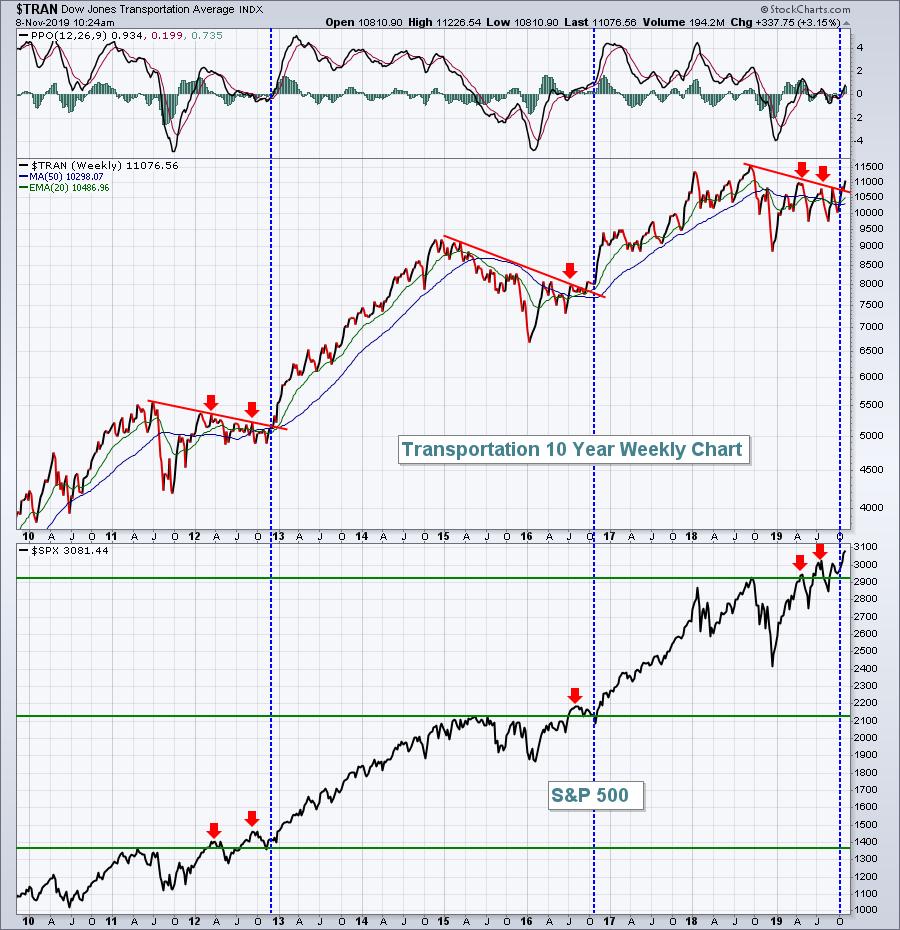 Tell me something. When was the last time you saw CNBC pull up this chart? They won't. It will help to soothe the fear that's permeated the market for nearly 2 years. They'll lose viewers (and ratings) who won't care about their "experts" babbling about bear markets and the next doomsday ahead.
Turn your TV off and stick with the charts. If underlying signals interest you to determine the stock market's next move, try my EB Digest newsletter. It's free, delivered 3x a week, and focuses on relative strength on individual stocks, industry groups, and sectors. I'd love to have you join the EarningsBeats.com community to get the technical facts. You can SUBSCRIBE HERE.
Happy trading!
Tom