Trading stocks with a lot of short interest is a risky proposition. Many are being shorted for a reason and they drift lower and lower over time. However, not all short sellers are correct, and when a stock begins to break out and forces short sellers to cover (buy), that's where things can get very interesting. July wasn't a very good month for our Short Squeeze stocks, but August has been CRAZY good! I featured both Cortexyme (CRTX) and Support.com (SPRT) at the beginning of August and pointed out that both had upcoming earnings, which could provide a catalyst for a breakout and short covering. Since July 31st, these two stocks have surged 86% and 412%, respectively!
Below is a sample "Short Report" for August that I send to our EarningsBeats.com members at the beginning of every month (September's will be out this weekend). At the bottom, I featured Riot Blockchain (RIOT), when it was at 32.95. It's now at 38.75, threatening to make a major breakout closer to 40. If that occurs, we could definitely see RIOT taking a huge leap forward, possibly similar to CRTX and SPRT. We'll see.
Enjoy the August Short Report below and if you'd like to take out a FREE 30-day trial at EarningsBeats.com, you'll receive our September Short Report over the weekend. CLICK HERE to get your FREE 30-day trial started! Give us a shot, I'd love to have you come on board!
Short Squeeze ChartList
Our Short Squeeze ChartList (SSCL), consisting of the most heavily-shorted stocks, can be found on our website and it was just updated this weekend. Under "Members", click on "ChartLists". Then simply scroll down until you see this ChartList. Click on the link provided and type in the password that's provided next to the ChartList link. You can then view the ChartList, or download it into your StockCharts.com account, provided that you are either an Extra or Pro member at StockCharts.com.
Hot Stocks
I try to narrow down the list of potential trades on the SSCL by looking only at stocks with solid relative strength (SCTR > 70) and some bullish momentum (PPO > 1). Last month, I ran a scan against the SSCL looking for daily PPOs > 1 and SCTR scores > 70 and it yielded 7 stocks. Here they were at that time:

It was not a great month for our Short Squeeze ChartList (SSCL) stocks. The 7 mentioned last month that had both relative strength and momentum had poor results overall, with CVNA being the only exception. Here's how the 7 performed during July:
CVNA was in a position to benefit from a double-top breakout. Here was the chart that I provided last month, followed by the current chart:
June 30, 2021: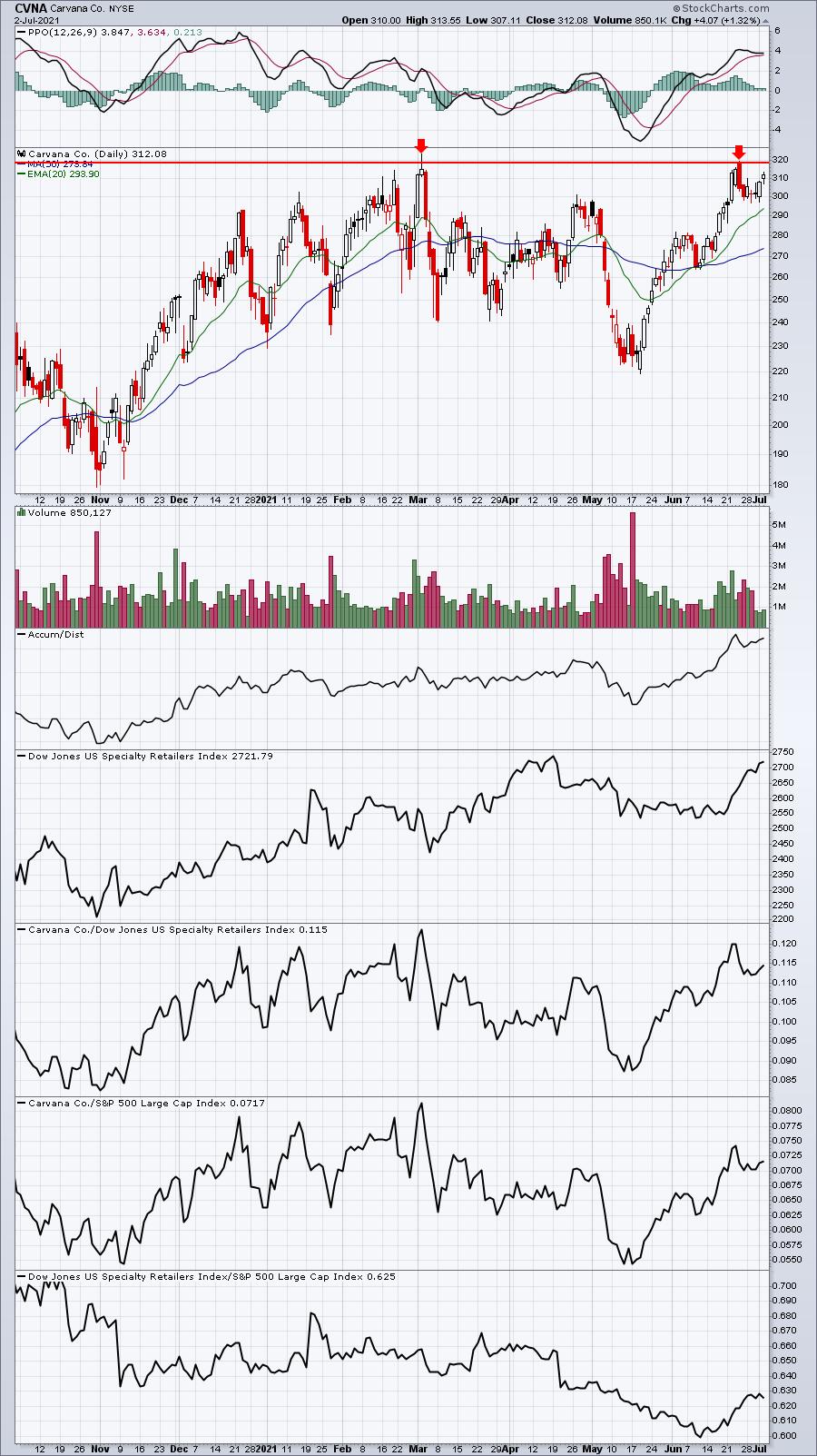 July 31, 2021: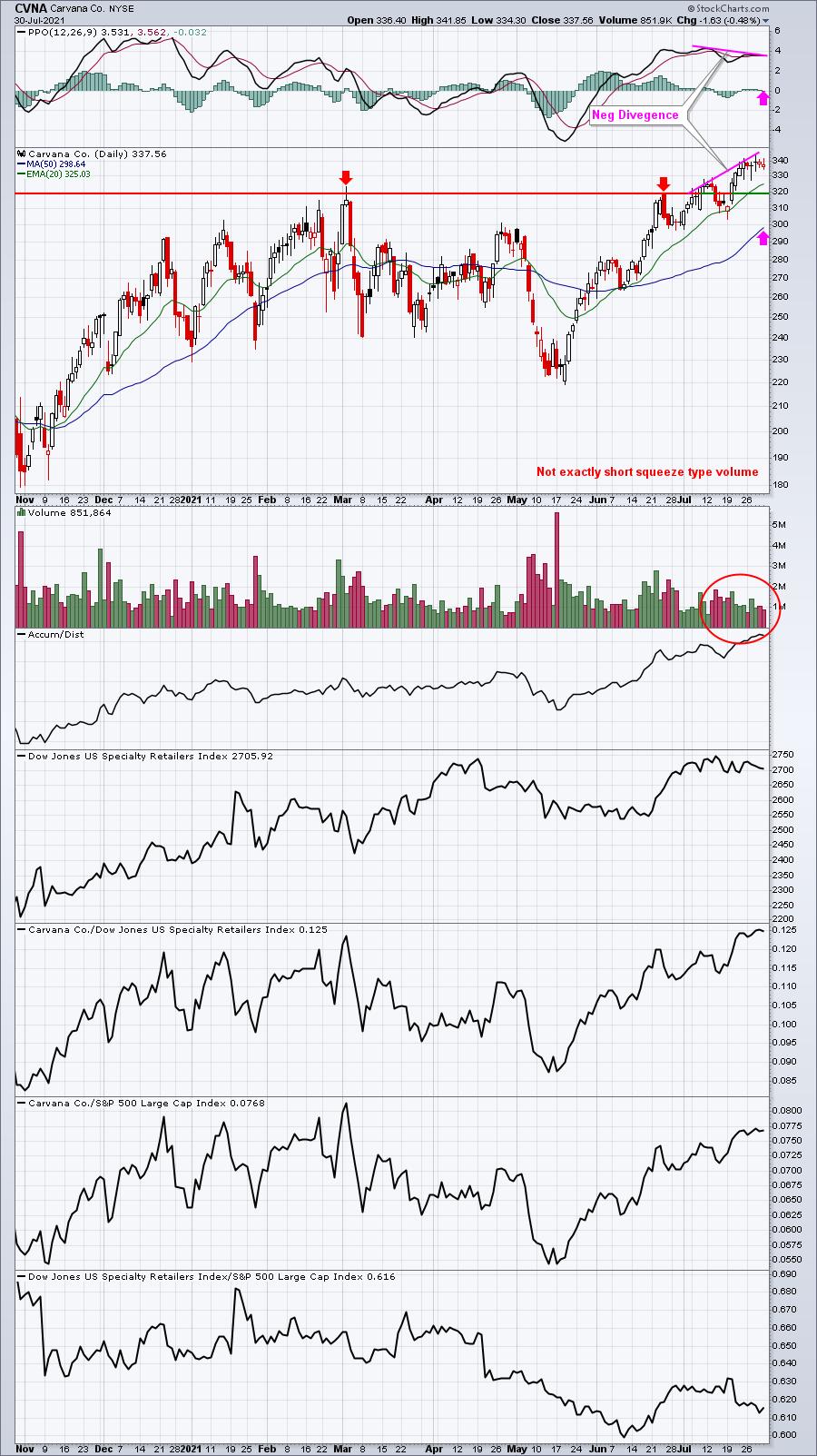 I see potential problems here. First, there's a negative divergence in play. Ordinarily, I'd ignore technical warning signs like this on a high volume short squeeze possibility. But check out that volume. It's not exactly like shorts are running for cover. If anything, I'd be concerned of the lack of a short squeeze.
Massive short covering of heavily-shorted stocks simply wasn't a thing in July. Whether it becomes a thing in August remains to be seen, but I wanted to provide you with an updated list of current SSCL stocks that meet our SCTR > 70 and PPO > 1 filter. Here they are for August:

Both CRTX and SPRT report their quarterly results this week, so there's at least a possible catalyst to get things jumpstarted. MRIN ran from its 1.71 close on June 23rd to an intraday high of 27.26 just two weeks later on July 6th. It was a favorite trade among the Reddit group, which led to the amazing rise. MRIN reported results on Friday after the close, but it appeared to trade lower in Friday's after hours. Revenue decreased quarter over quarter and its EPS improved by one penny, from a .22 loss to a .21 loss. I didn't see estimates for either revenues or EPS, so I'm not sure what Wall Street was expecting.
I'd consider all three of these stocks to be extraordinarily risky, but with significant potential returns as well. SPRT could see a lot of short covering if it can take out its key intraday price resistance as reflected below: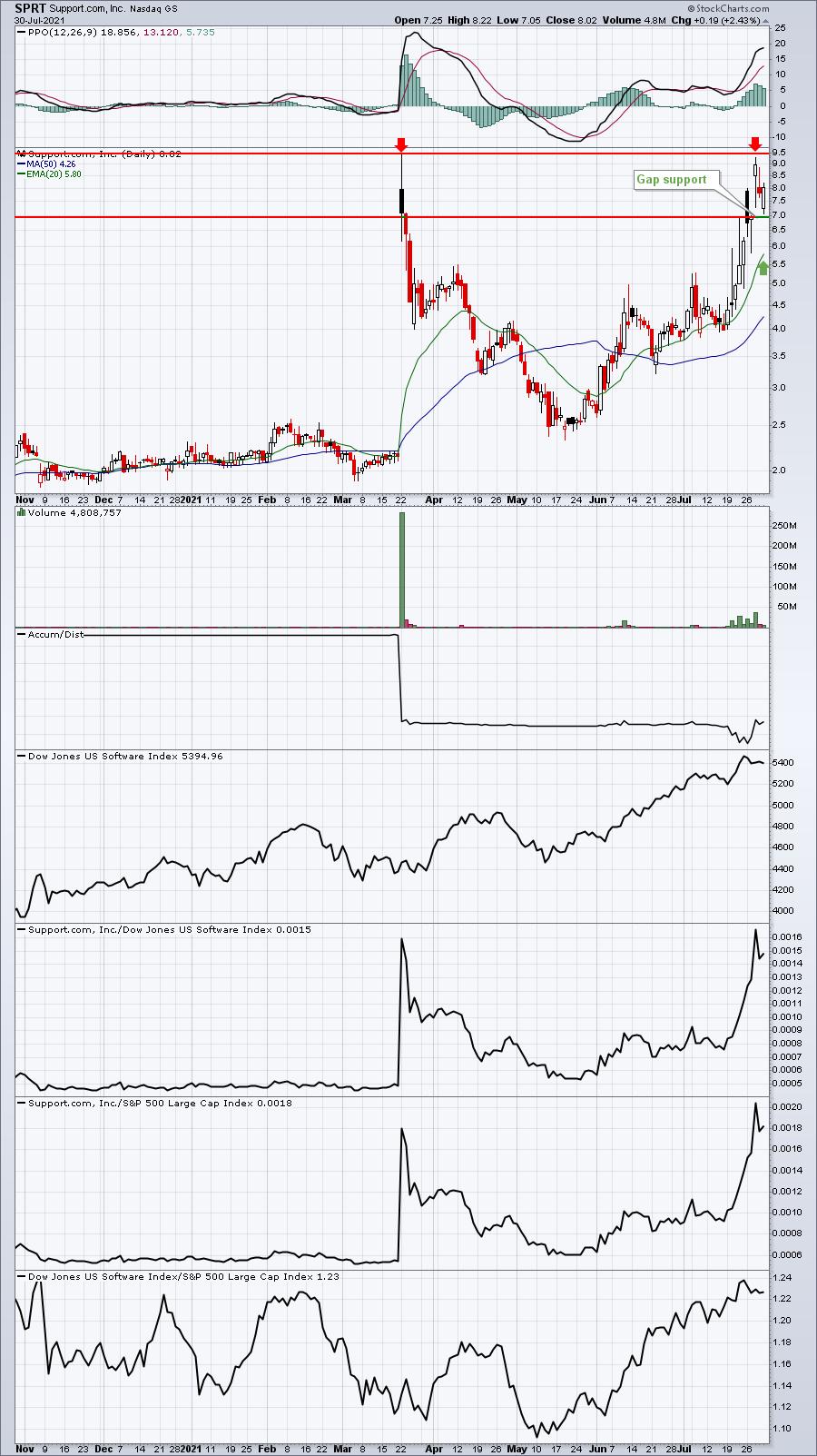 Theme
Historically, technology (XLK) tends to perform well during August. Since the secular bull market began in April 2013, the XLK has not seen a down July and its tendency has been to extend those gains as we move into August. July and August have been the best two months in terms of the number of years during this secular bull market that the XLK has outperformed. Here's the 8-year seasonal chart for the XLK vs. the S&P 500: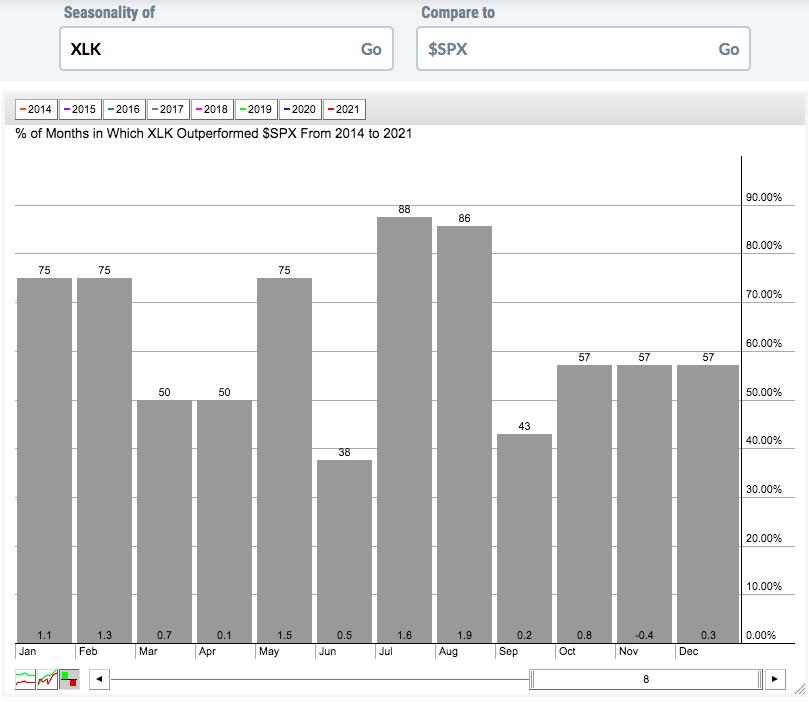 Given the promising seasonal period for technology, it probably makes sense to consider SSCL stocks that belong to the technology sector.
Short Squeeze Trade Candidate
Heading into July, I featured KDMN, suggesting it could be a solid short squeeze candidate on a high-volume advance past key price resistance near 4.20. Here was the chart provided last month: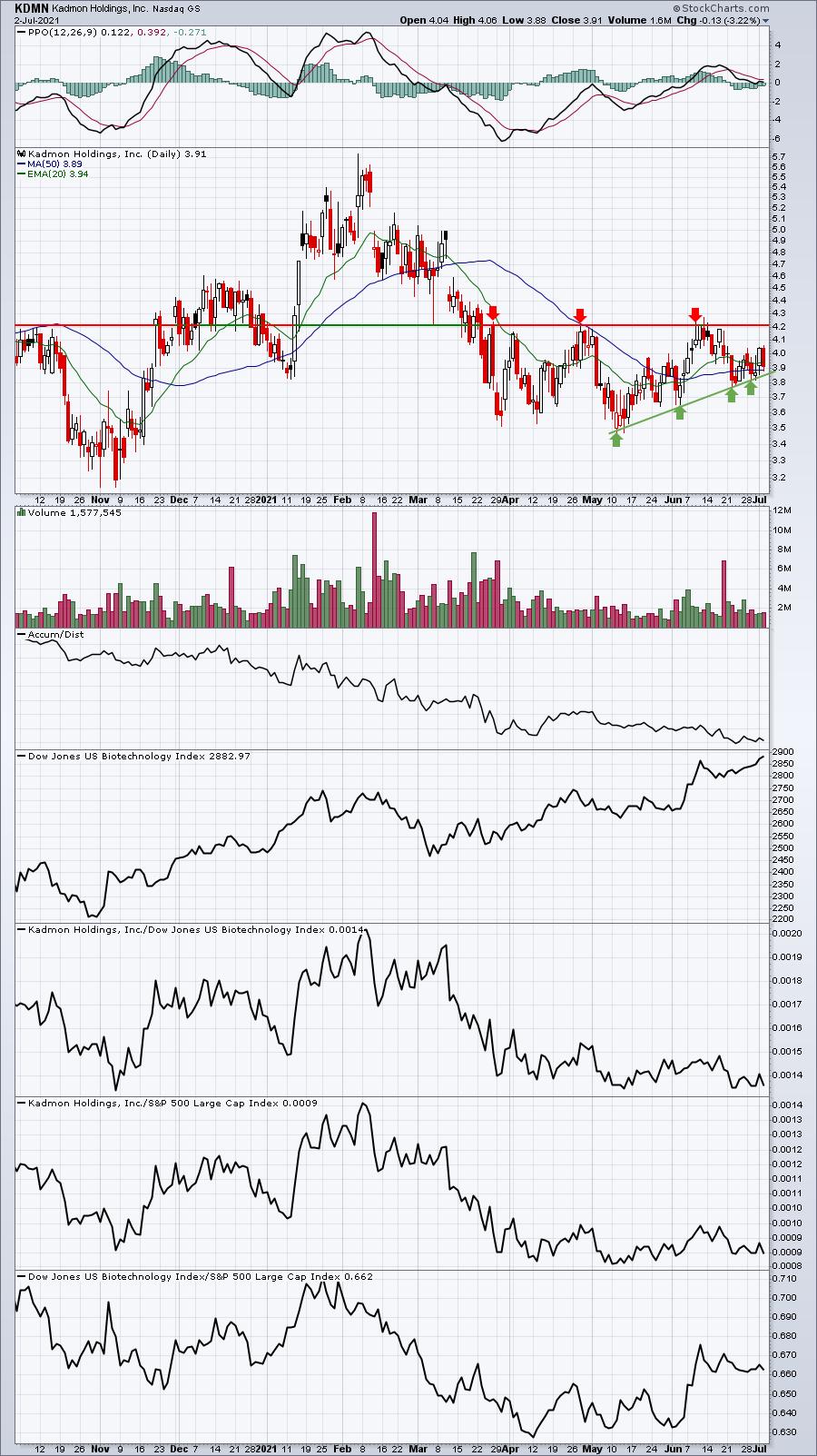 Well, KDMN experienced a weak first half of July, but then exploded higher on July 16th, reaching an intraday high of 4.87. It certainly provided a very short-lived opportunity at profit as it fell back last week: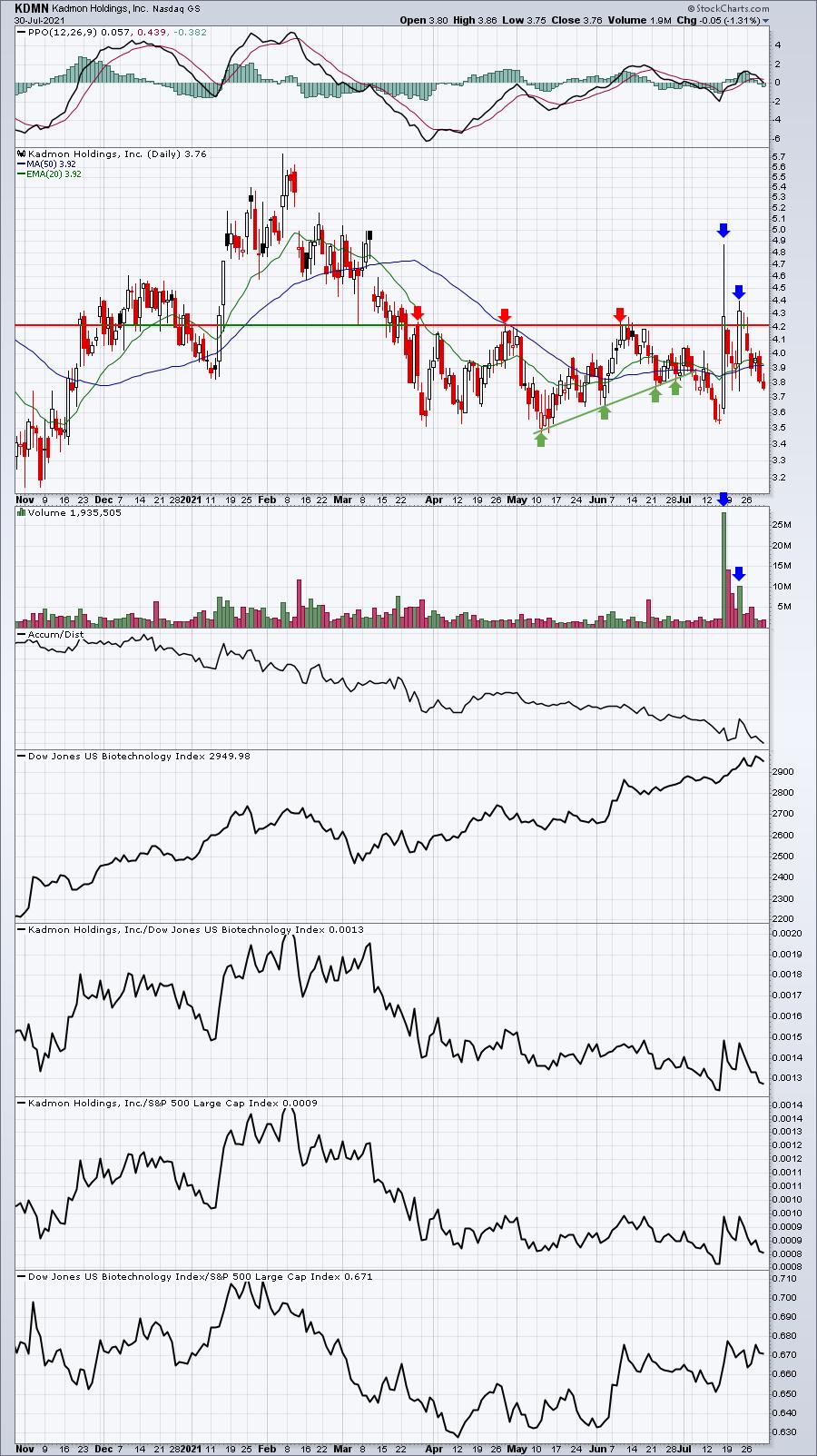 This chart really exemplifies the extremely volatile nature of short squeeze candidates. It's why I believe we should keep position sizes small, if we even trade them at all. A large position can get very emotional with the wild swings associated with these types of stocks.
As I look toward short squeeze possibilities in August, while also keeping that technology theme in mind, I'm drawn to watch RIOT. RIOT has a very strong positive correlation with bitcoin ($BTCUSD) and the latter has begun strengthening again. If RIOT can move back through 40, I believe many shorts would be forced to cover, which could send the stock rocketing higher. Here's the current view: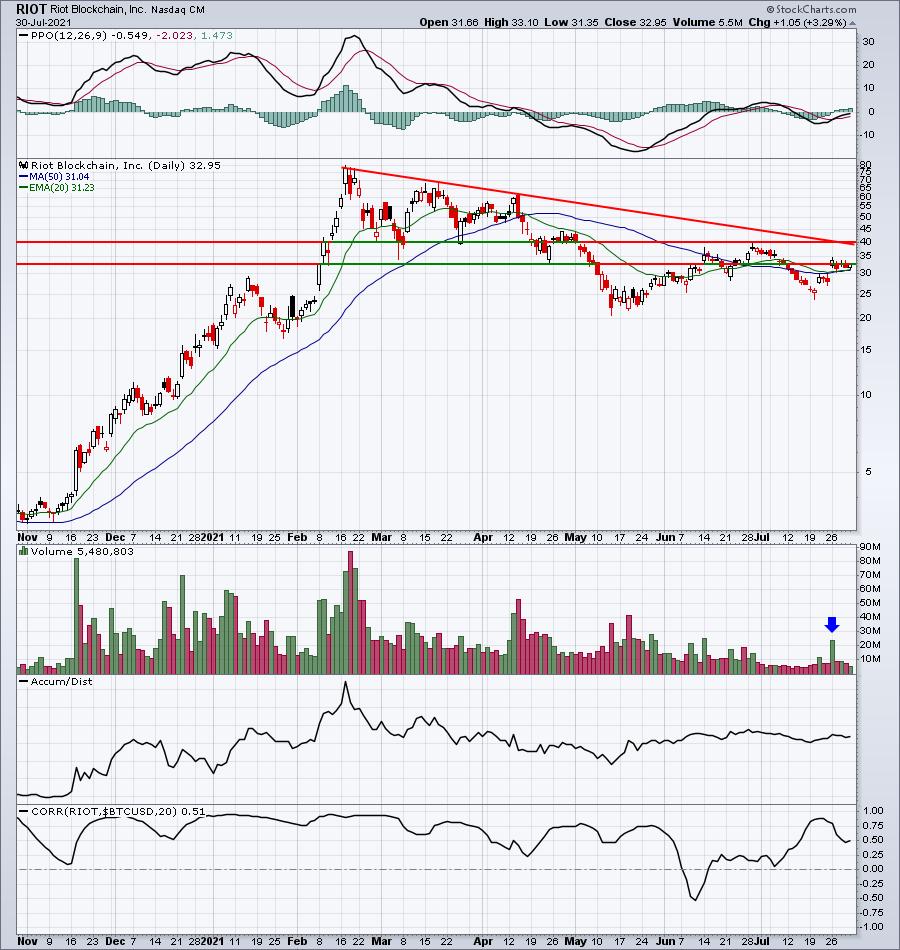 Happy trading!
Tom