Rising treasury yields can have a tremendous impact on which groups outperform and underperform. Many of us here at StockCharts.com write about the positive impact that rising yields can have on financials (XLF), especially banks ($DJUSBK) and life insurance companies ($DJUSIL). Because rising yields normally reflect Wall Street's opinion that the U.S. economy is strengthening, or about to do so, transportation stocks ($TRAN) also tend to ride the yield's coattails higher. But rising yields can also have a significant impact on asset classes.
Small caps ($SML) love rising yields. Check out this chart:
Small caps have shown the tendency to outperform their larger-cap counterparts when yields rise. That's evident in the bottom panel, which highlights the positive correlation (blue-shaded area) between the two. Mid caps ($MID) also show the same tendency, though the positive correlation is a bit tighter with small caps outperforming.
I ran a scan of stocks on the NYSE and NASD, looking for stocks that have recently been closing above their opens, reflecting potential accumulation throughout the trading day. When I required stocks to close above their open for 10 consecutive trading days with average volume over 200,000 shares per day, only 2 stocks were returned. One is a stock that's on our Earnings AD (Accumulation/Distribution) ChartList at EarningsBeats.com - Opendoor Technologies (OPEN). While the stock still has a long way to go to reach its 52-week high, there's no doubt in my mind that stock is being accumulated at current prices: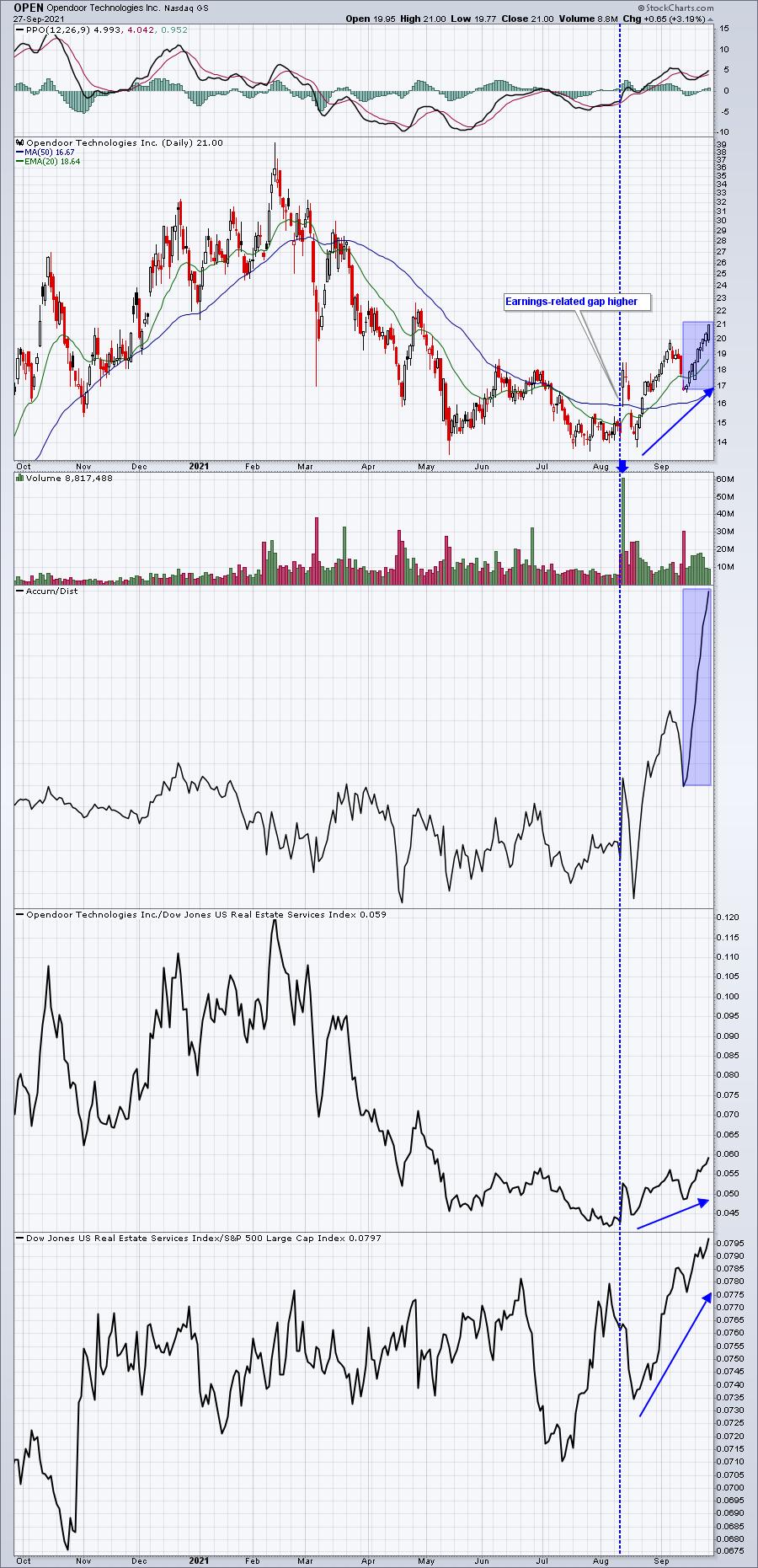 Check out the blue-shaded area. 10 consecutive hollow candlesticks, which represented closes above opens, have printed over the past two weeks. The AD line has SOARED! Furthermore, OPEN has broken out to a 4-5 month relative high vs. its real estate services ($DJUSES) peers. And the DJUSES is at a 52-week high vs. the benchmark S&P 500. So OPEN is a leading stock in a leading industry group with tremendous accumulation taking place. At some point, we'll see a pullback in OPEN as it's getting overbought, but I see the stock going higher.
The other stock to print 10 consecutive higher closes (vs. its opens) will be featured in our FREE EB Digest newsletter tomorrow morning. If you're not already an EB Digest subscriber, simply CLICK HERE and enter your name and email address. There's no credit card required and you may unsubscribe at any time. Also, we'll be announcing a MAJOR free event later this week (to be held in mid-October) to our entire EarningsBeats.com community, including our EB Digest subscribers.
Happy trading!
Tom