The U.S. equity market is definitely NOT a one-size-fits-all when developing portfolio strategies. Different market environments require that we be flexible and willing to adjust to both "risk on" and "risk off" environments. I don't think there's much question that right now, we're in a "risk off" environment and we must be prepared to do what's necessary to thrive in this environment.
Three months ago, in our Model ETF Portfolio, we set out to beat the S&P 500 by turning much more cautious. I had written about the upcoming market weakness in great detail in late 2021 and so our challenge was to evaluate the market environment and try to participate in upside, if it were to occur, while hedging in the event the downside and extreme volatility continued.
I think it's been a success. We've had winners and losers among our component ETFs, but the decision that we made to include the XME paid off handsomely: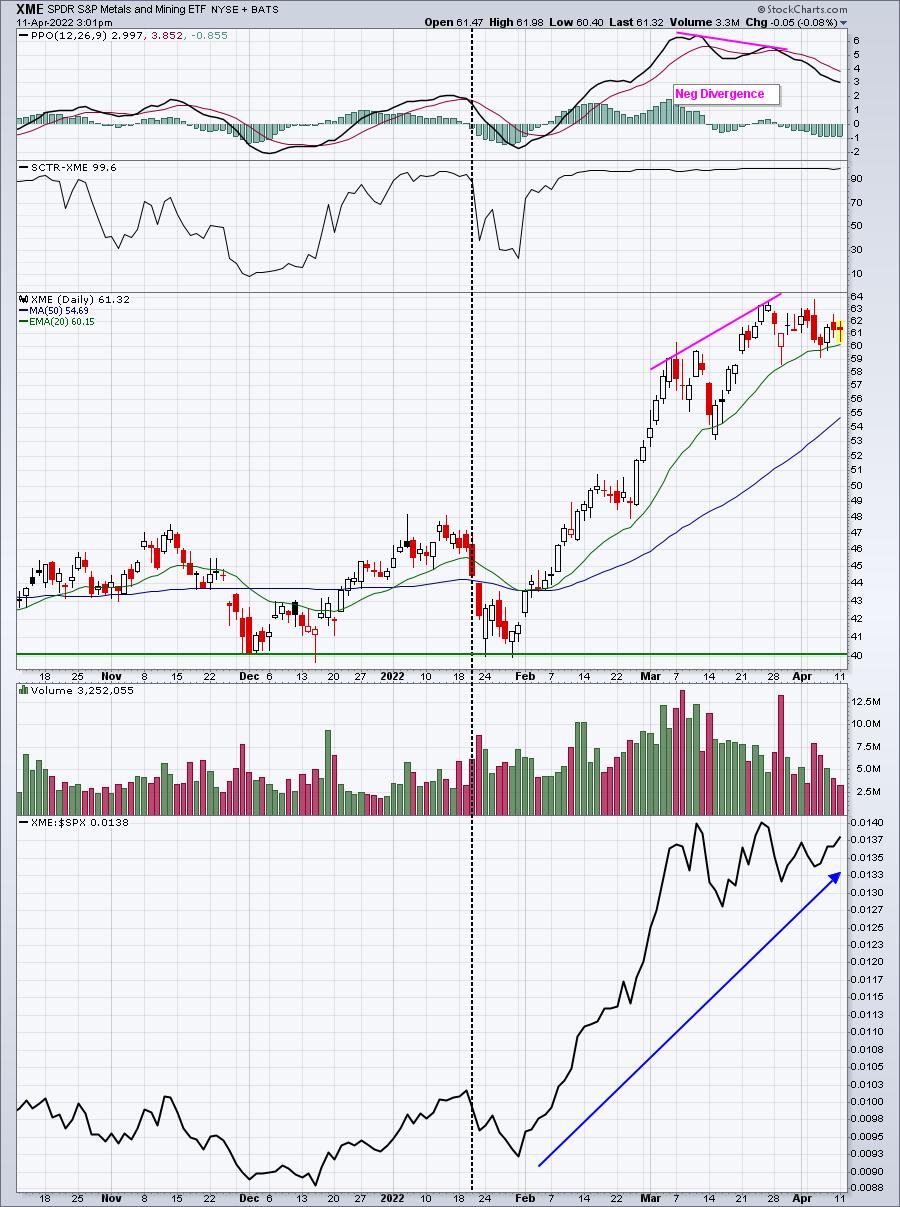 What a great hedge and relative performer! Will we include it again for the next quarter as a hedge? I doubt it. In the very near-term, the risks are simply too great. There's now a very ugly negative divergence in play. A breakdown beneath the 20-day EMA could trigger very rapid selling. I'll look to avoid that.
I am planning to provide my analysis of the current environment and discuss potential ETF strategies in the quarter ahead later today at 4:30pm ET. It's time for our quarterly "Sneak Preview" event for our Model ETF Portfolio. You can learn many of the strategies I employ in "drafting" the ETFs that I'd want to own to beat the S&P 500 again. It all starts just after today's market close. EB Digest subscribers will be sent a link to this FREE event. If you're not already an EB Digest subscriber, but would like to become one, simply click on the link below AFTER 4:00pm ET today. We do not require a credit card for attendance and you may unsubscribe to our free newsletter at any time, no questions asked. Here's today's room link:
https://earningsbeats.zoom.us/j/85094776328
If you can't make today's event, but would like a copy of the recording, CLICK HERE to enter your name and email address in the appropriate space to sign up for our EB Digest. We'll make sure all free EB Digest subscribers receive access to the recording.
Happy trading!
Tom