While the technicians usually write about the short tem, I want to zoom out a little and use a monthly chart of the New York Composite ($NYA). For those who follow my webinars, we are following the charts very closely as the market conditions are frail in my opinion. We could rally from here, but the long term charts continue to disappoint in my work. This New York Composite chart ($NYA) shows the close Friday, November 4th, 2016.
While the October 31st close did not close below the 10-month Moving average or give a MACD sell signal, it only took a pullback of one more day (November 1) to generate a sell signal on both the MACD and the 10 month moving average. That is a fine detail on a monthly chart. These can be seen looking at the Zoombox on the far right. By the Friday close shown below, the picture was getting a little more difficult. Martin Pring's Monthly KST is below zero as well.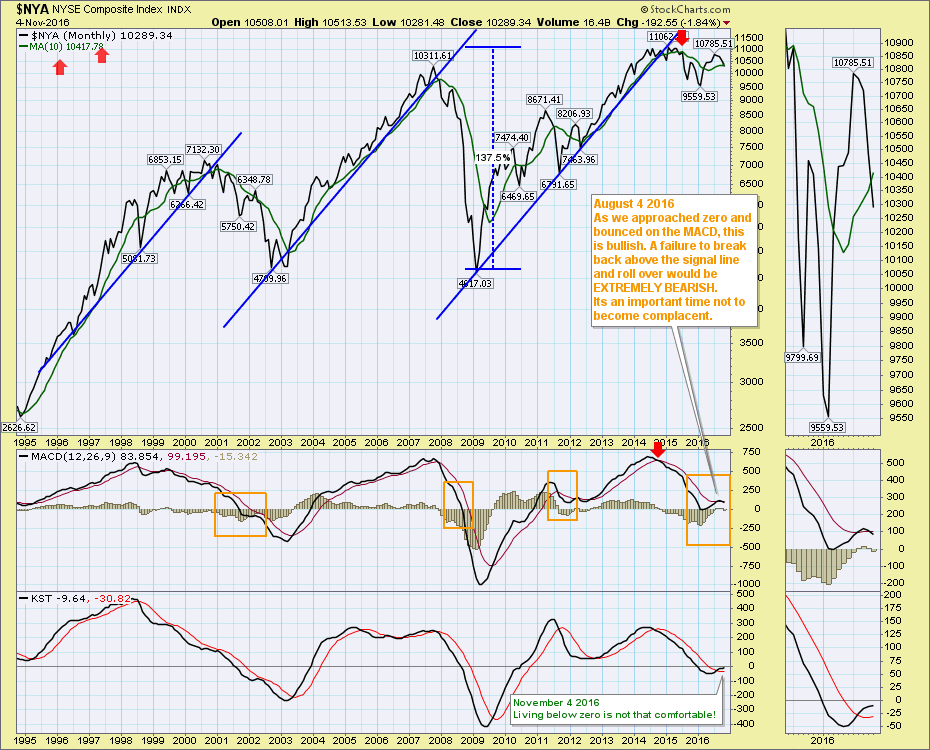 The note I wrote on this chart above back in August 2016 as the $SPX made it's high is extremely important now. We actually did cross above the signal line but so far this month we are below. We will need to wait for the November close and the level of 10414, but it is very important to realize how frail the market setup is. There were only 3 times on this chart that a monthly sell signal reversed higher. One was the coordinated central bank move in September 2012. The other was the brief rally in 1999 before the tech top. The current one is in play. If we close below 10414, we have an important signal.
Why is this so important? The real problem is understanding what has happened through the passage of time from the high on the MACD in 2014. As oil plummeted from June 2014 and the energy sector was decimated, it slowly affected other industries and sectors. By the spring of 2015, the $NYA chart above made marginal new highs over the 2014 level. As the industry dominoes started to fall, the market pulled back most of 2015 with a final low in January/February 2016 coinciding with Crude Oil's final low. As oil rallied, GDP numbers started to improve and recently we just had a GDP print of 2.9%.
My position is if energy (Oil, Natural Gas, Wind, Solar, Coal, Nuclear, Ethanol) fails to hold up, we could see more pressure on the economy. Since the market top of May 22,2015, three groups have gained meaningfully from that day, three are close to flat and three declined heavily.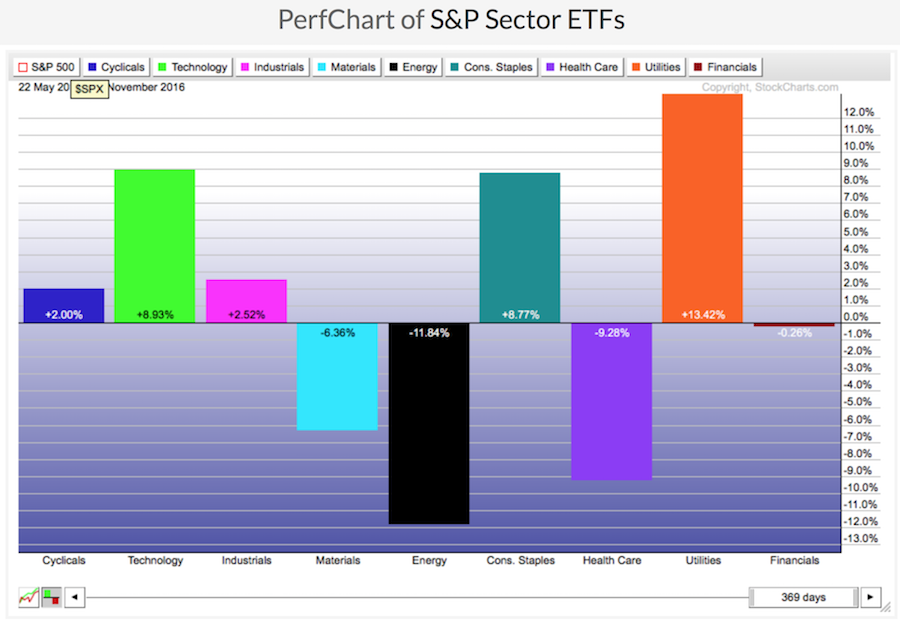 However, zooming in on the markets for the last 3 months after the initial rally off the floor in February 2016, we have a different picture. While energy and financials are marginally positive, big sectors like consumer discretionary, industrials and materials are down. As well, Biotech within Healthcare has been crushed. Technology has been relatively flat, even with Apple, Google, Amazon, Facebook and Netflix.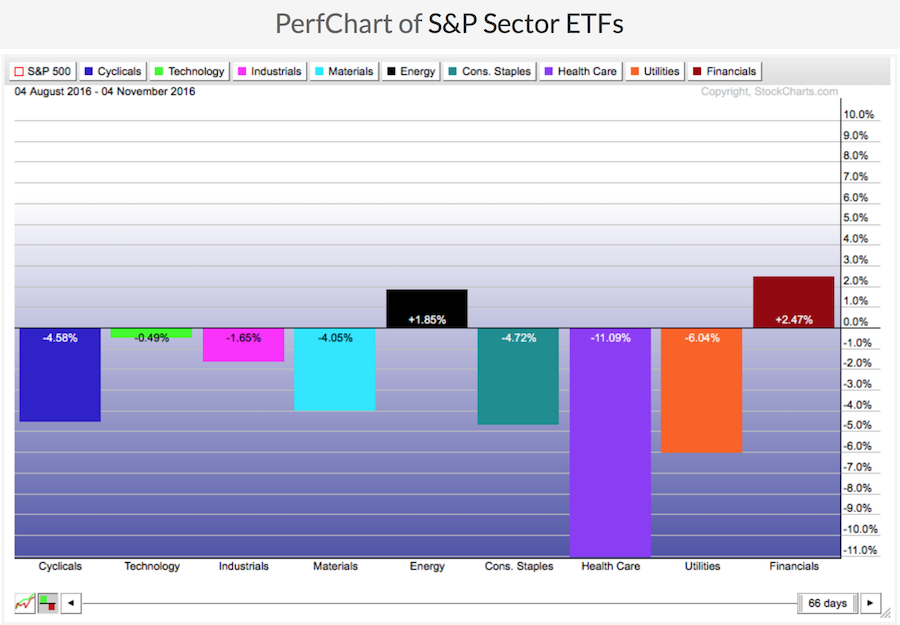 In a nutshell, for my way of thinking, we need Energy to continue to rebound. If that doesn't happen, it is a global sector that slowed the MACD from the highs of 2014 to the very low levels we saw in the first chart. If Energy rolls over again, which it appears to be doing now, this could be the major derailment that gives our global markets negative momentum. The other sectors don't look strong enough to carry the economy forward in my mind. The monthly charts are warning us. It could break out to the upside, but I think it is important to understand what a sell signal in November and confirmation in December could mean for the longer term. We don't usually get two whipsaws on monthly charts.
Lastly, some of the webinars over the last two weeks have set the stage for how close this market is to a major reversal. If you are not aware of how fine that picture is, I would encourage you to watch Commodities Countdown 2016-10-27 and then the Commodities Countdown 2016-11-03. I have been bullish until late September so I am not quick to jump on the bear bandwagon. But when the time comes, keeping your capital becomes more important than making money.
I will be hosting Martin Pring with a Webinar on Tuesday. Martin Pring 2016-11-08. I will also be hosting a Commodities Countdown Webinar on Thursday November 10th. If you miss any of our webinars be sure to check the Webinar Archives for watching them when its convenient for you.
Good trading,
Greg Schnell, CMT, MFTA.