.... Small-caps Join the New High Parade
.... Housing and Retail Come to Life
.... Equal-Weight Consumer Discretionary Sector Breaks Out
.... Five Housing Stocks to Watch (DHI, FBHS, KBH, SKY, TOL)
.... Commercial Metals Resumes Bigger Uptrend
.... United Airlines Challenges Flag Resistance
.... Cornerstone OnDemand Consolidates Above 200-day EMA
.... Itron Ends Correction with Breakout
.... AbbVie Surges off Support Zone
.... Pfizer Makes a Statement for Big Pharma
.... Weight Watchers Breaks out of Triangle
.... BorgWarner gets an Upturn in Momentum
.... Ford Attempts Consolidation Break Out .... //// ....
---
Small-caps Join the New High Parade
Stocks extended their gains on Wednesday with the S&P 500 SPDR (SPY), S&P MidCap SPDR (MDY) and Nasdaq 100 ETF (QQQ) hitting new highs. The S&P SmallCap iShares (IJR) finally joined the others with a new high on Wednesday. This move puts small-caps on the same page as the rest of the major index ETFs. Nothing really changes on the price chart. IJR triggered a bullish breadth signal on 24-January and broke flag resistance on Monday. The breakout zone becomes the first area to watch for signs of failure. A strong breakout should hold so chartists should re-evaluate on a close below 68.70.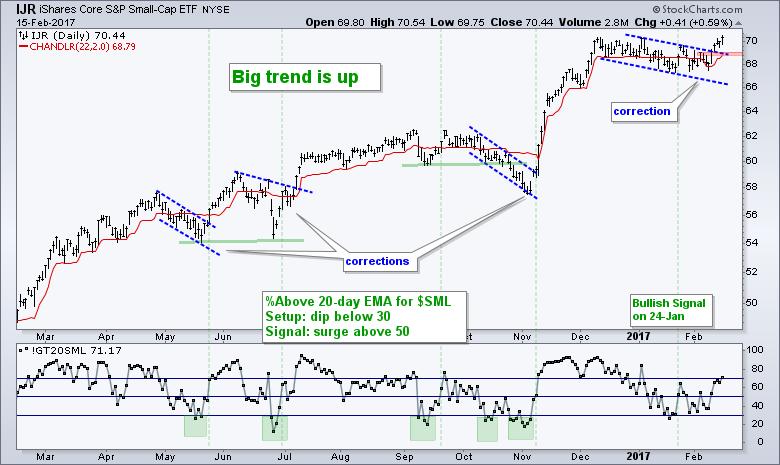 Housing and Retail Come to Life
Chartists looking for signs that the domestic economy is coming to life need look no further than housing and retail. The Retail SPDR (XRT) broke out with a surge on Monday and extended its gains the last two days. The Home Construction iShares (ITB) broke out in late January and resumed its advance with a bounce the last five trading days.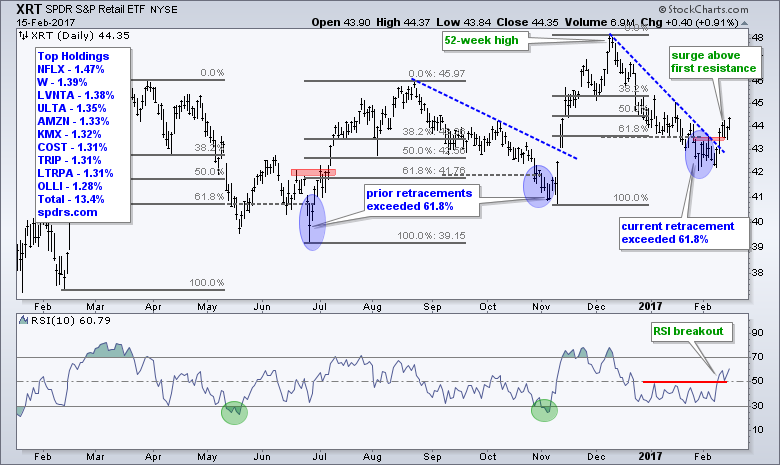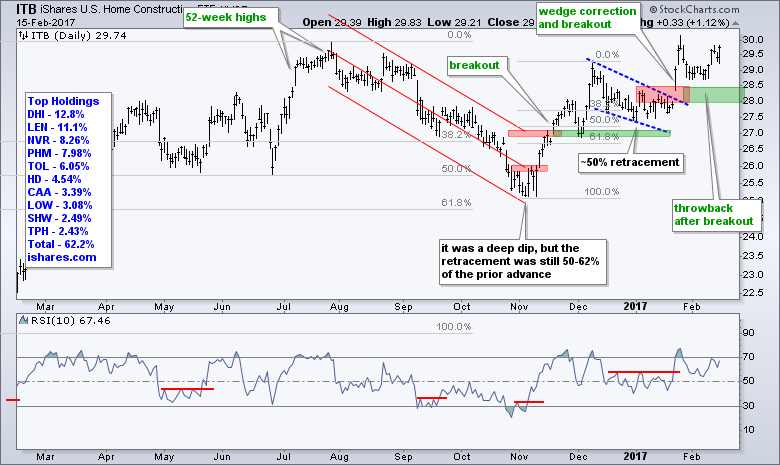 Equal-Weight Consumer Discretionary Sector Breaks Out
Housing and retail are important to the consumer discretionary sector, especially the EW Consumer Discretionary ETF (RCD) and the SmallCap Consumer Discretionary ETF (PSCD). The bottom window in the chart below shows the Consumer Discretionary SPDR (XLY) moving higher throughout the year. The top window shows the equal-weight version breaking out with a surge the last six days. The small-cap version is also perking up with a channel break on Monday. I highlighted the consumer discretionary in the Weekly Market Review & Outlook this past week.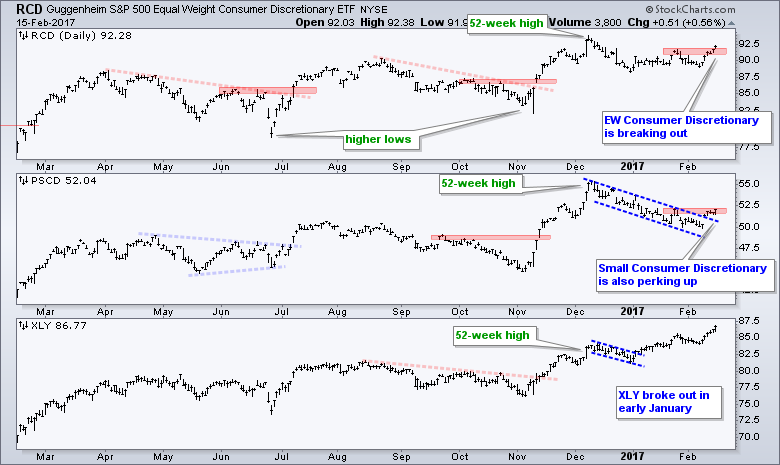 Five Housing Stocks to Watch (DHI, FBHS, KBH, SKY, TOL)
The next five charts highlight some stocks in the housing group that look ripe for further upside. DR Horton (DHI) broke out with a gap-surge in late January and held this breakout zone on the throwback to the 29-30 area. The stock is now bouncing off this zone and looks set to continue its uptrend.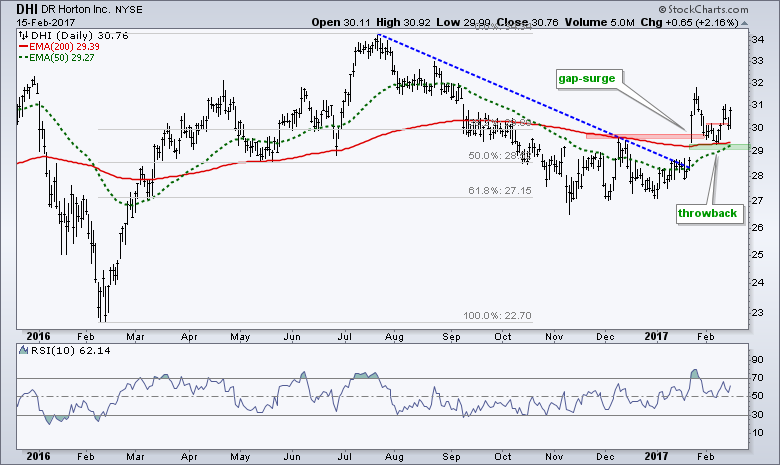 Fortune Brands (FBHS) has struggled over the last four months, but it also looks like the bigger uptrend is set to resume with an upturn over the last four weeks. Notice that the stock hit a 52-week high in August, retraced 61.8% with a decline to around 52 and then started working its way higher. This looks like a two-steps forward and one-step backward advance. I am impressed with the wedge breakout in late January and will mark support in the 54-55 area.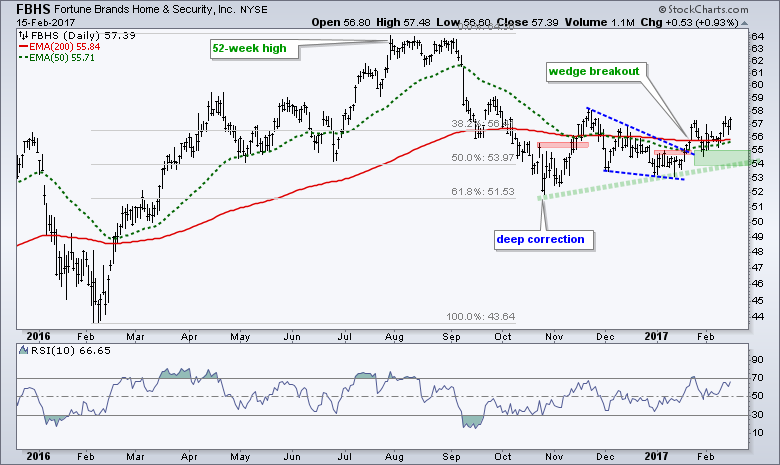 KB Home (KBH) has been in a slow and steady uptrend since April-May. The stock hit a 52-week high in early December and then formed a consolidation the last two months. Signs of a breakout are emerging as the stock surged off support with high volume on Wednesday.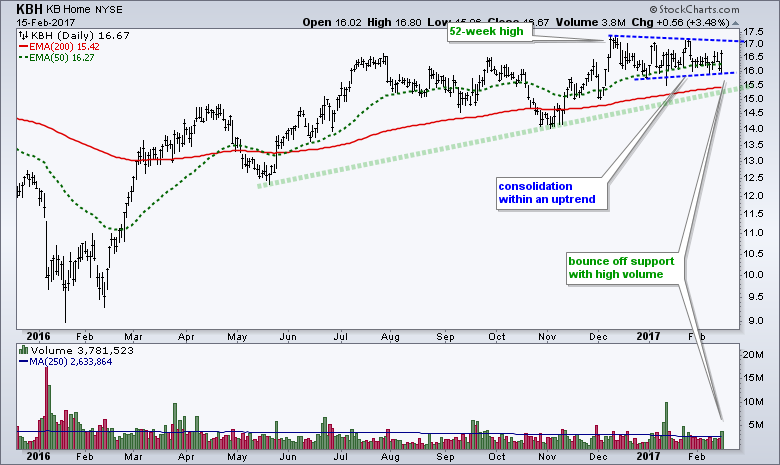 Skyline (SKY) fell sharply in January, but I think this is a correction within a bigger uptrend. The 50-day EMA remains above the 200-day EMA and the stock hit a 52-week high in early December. Most recently, the stock found support at the top of a big support zone (8-10) and bounced with good volume the last three days.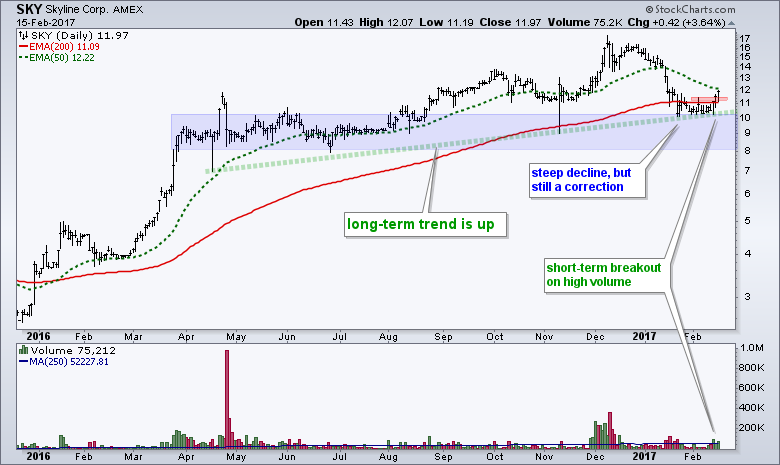 Toll Brothers (TOLL) has been trending higher since February with a series of higher highs and higher lows. The stock surged over 20% from late October to mid December and then consolidated with a triangle. TOL established support in the 30-31 area over the last eight weeks and bounced off support the last six days.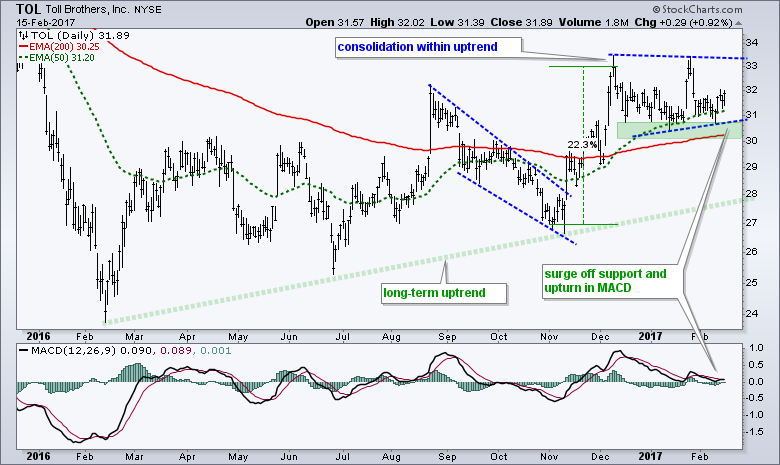 10 Stocks to Watch
The next ten charts highlight some stocks with interesting setups. The Pfizer chart is more of an observation because I think the breakout is a bullish sign for big pharma. Similarly, Regeneron surged off support the last two weeks and this is a good sign for biotechs. The healthcare sector was highlighted in the Weekly Market Review & Outlook two weeks ago.
Commercial Metals resumes bigger uptrend with strong breakout.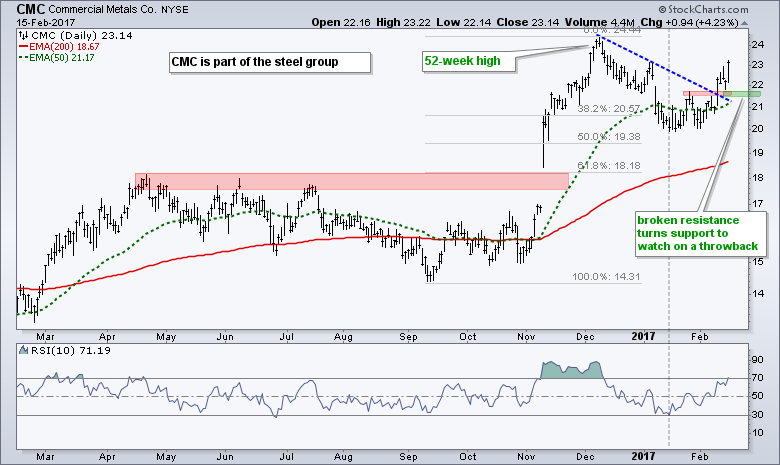 United Airlines challenges flag resistance. ​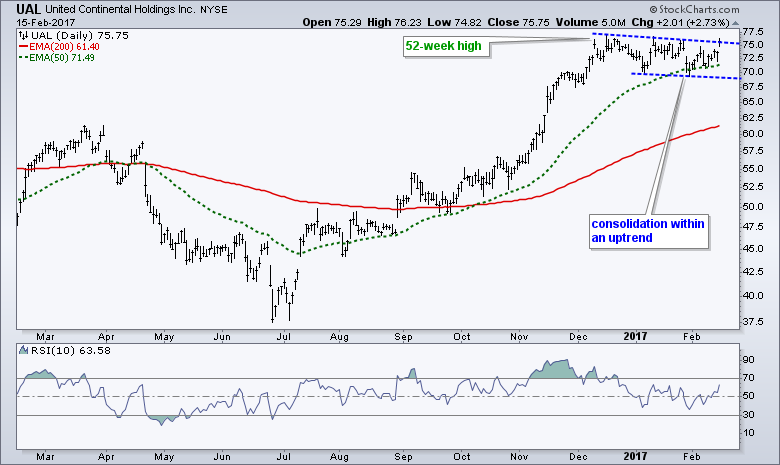 Cornerstone OnDemand consolidates above 200-day EMA.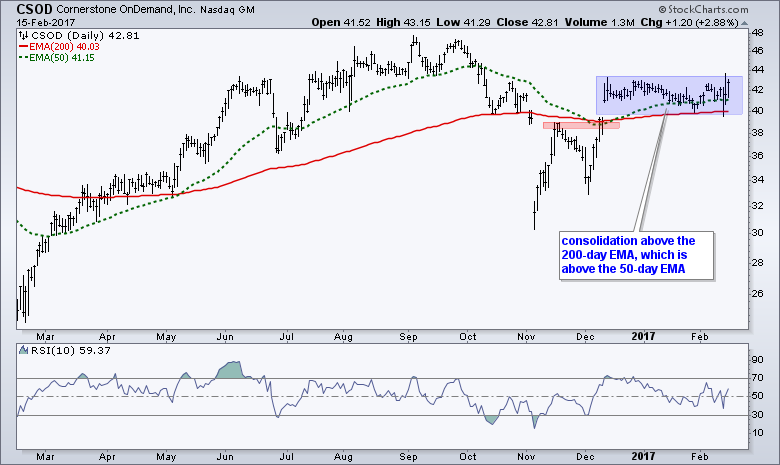 Itron ends correction with breakout.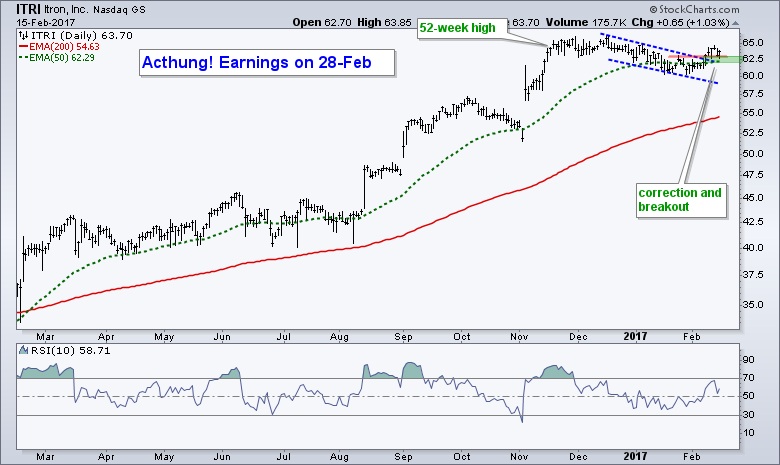 AbbVie gets breakout within a bigger consolidation pattern.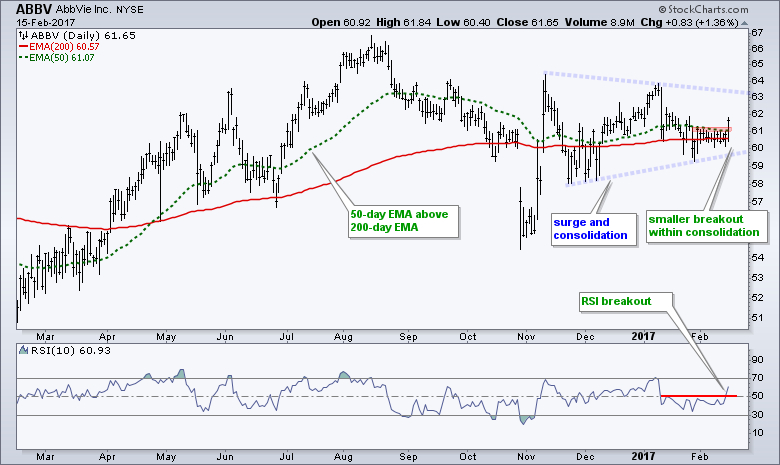 Pfizer makes a statement for big pharma with a triangle breakout.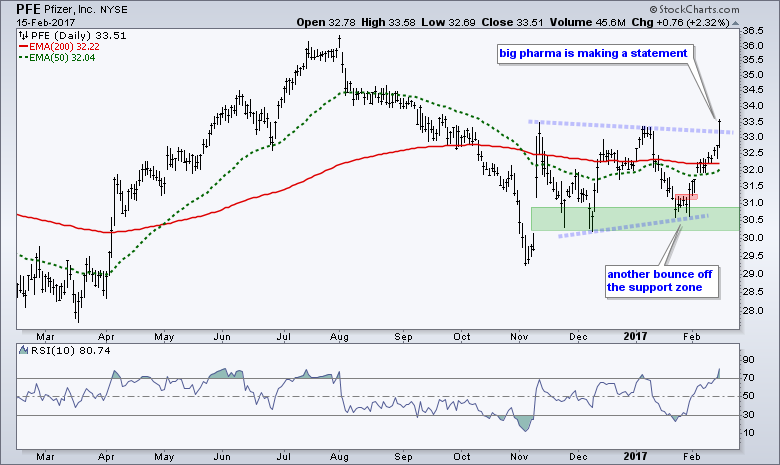 Weight Watchers breakout of triangle ahead of earnings report.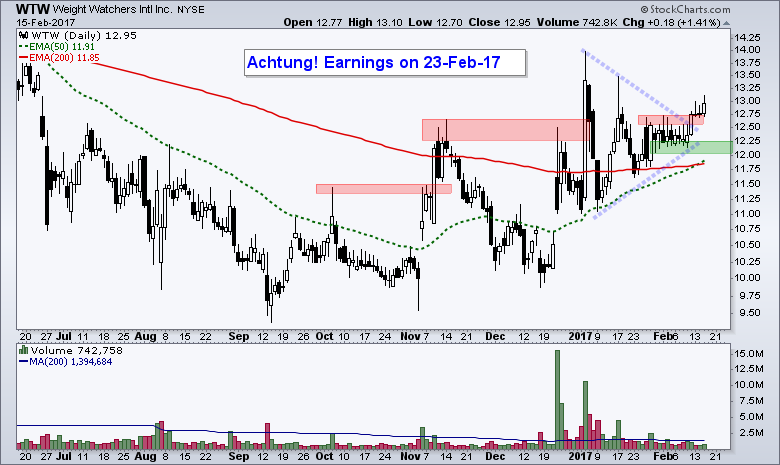 BorgWarner breaks triangle trend line as MACD turns up.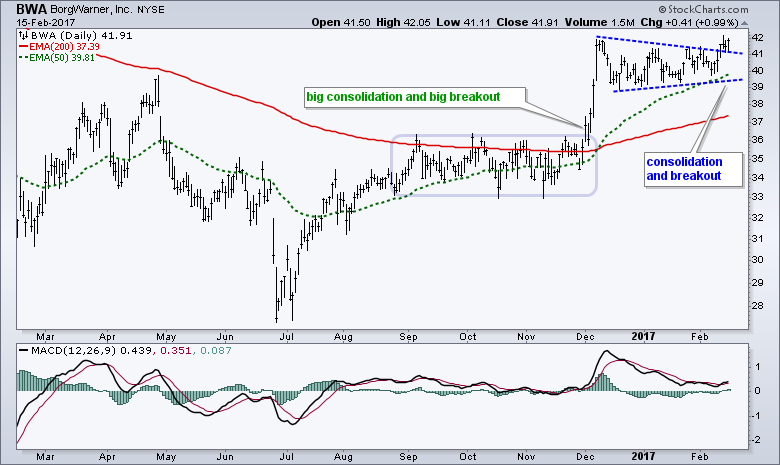 Ford edges above triangle trend line as MACD turns up.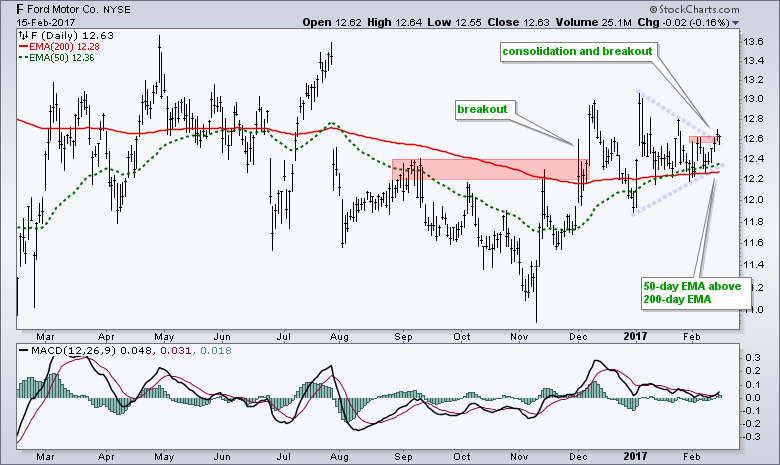 ******************************************************
Spotting Pullbacks and Upturns within an Uptrend using RSI and MACD Histogram.
Difference between EMA and SMA - Using %Above 200-day EMA for Breadth Analysis.
Backtesting Different Moving Average Pairs with SPY, QQQ and IWM.
ETF Master ChartPack - 300+ ETFs organized in a Master ChartList and in individual groups.
Follow me on Twitter @arthurhill - Keep up with my 140 character commentaries.
****************************************
Thanks for tuning in and have a good day!
--Arthur Hill CMT
Plan your Trade and Trade your Plan
*****************************************
About the author:
Arthur Hill
, CMT, is the Chief Technical Strategist at TrendInvestorPro.com. Focusing predominantly on US equities and ETFs, his systematic approach of identifying trend, finding signals within the trend, and setting key price levels has made him an esteemed market technician. Arthur has written articles for numerous financial publications including
Barrons
and
Stocks & Commodities Magazine
. In addition to his Chartered Market Technician (CMT) designation, he holds an MBA from the Cass Business School at City University in London.
Learn More