Software Is Red Hot.
Microsoft, ServiceNow and Tableau.
HACK Hits a New High.
Qualys and Proofpoint Bounce off Support.
---
Software Is Red Hot
The software group is part of the technology sector and this industry group is red hot. Several key stocks in this group hit 52-week highs last week and several are close to 52-week highs. At the risk of stating the obvious, stocks making 52-week highs are in long-term uptrends and show leadership. These are the stocks we want in our watch lists and on our radar, for now and for the future.
Admittedly, the software industry is quite diverse. There are the specialized developers such as Intuit (INTU) and Adobe (ADBE), the big ERM providers such as Oracle (ORCL) and Salesforce.com (CRM), the Software as a Service companies such as Service Now (NOW) and Zen Desk (ZEN), and the big data players like Splunk (SPLK) and Tableau (DATA). As a technical analyst, I have a general idea of what these companies do, but would be hard pressed to provide details on their business models. Also note that most of these stocks are also active in the cloud.
The CandleGlance chart below shows six software stocks hitting new highs. Cornerstone OnDemand (CSOD) and Ultimate (ULTI) have been in strong uptrends since April. Splunk (SPLK) surged to a new high with a big gap-surge on Friday. Workday (WDAY) broke resistance in the 137-141 area and this area becomes support should the stock pull back. Zendesk (ZEN) and Salesforce.com (CRM) broke out of small consolidations with big moves on Friday.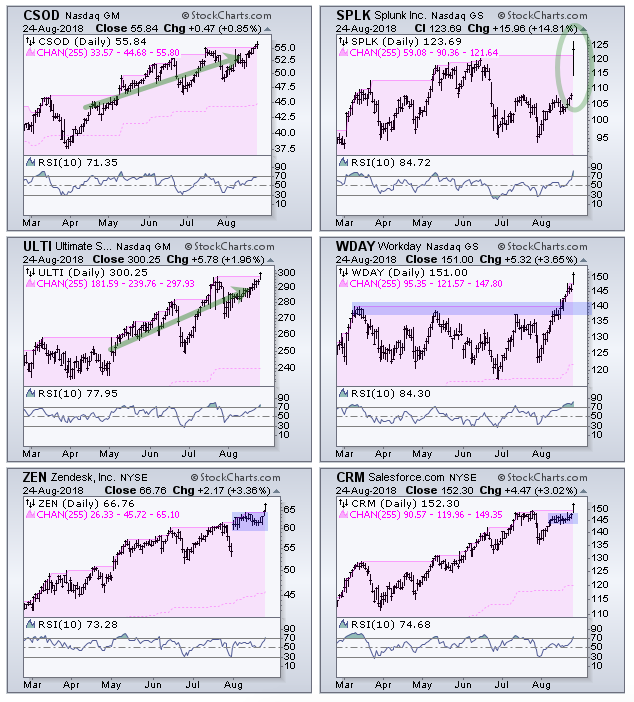 ---
Microsoft, ServiceNow and Tableau
Microsoft (MSFT) is still a behemoth in the software industry, but is also big into cloud computing and business processes. The chart below shows MSFT in a steady uptrend with a 52-week high in late July and a small consolidation the last few weeks. This should be considered a rest within the bigger uptrend and I would expect a breakout to new highs.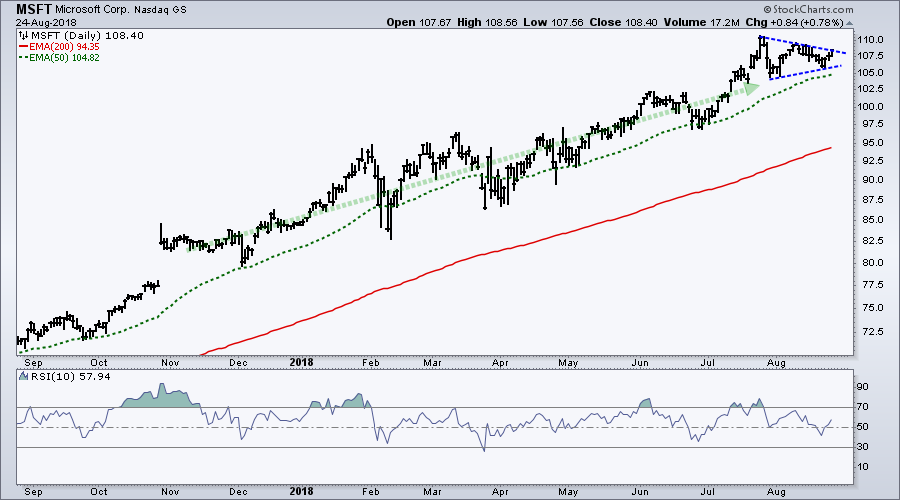 The next chart shows ServiceNow (NOW) with a big surge on Friday and a triangle breakout.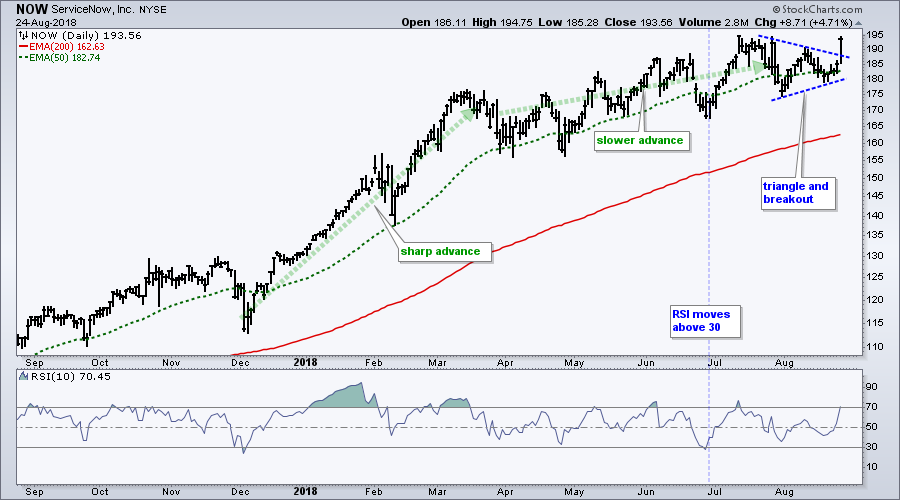 The next chart shows Tableau (DATA) with a falling wedge and breakout on Friday. Now that DATA was featured in On Trend last Tuesday (August 21st) at the 26:40 mark on the video.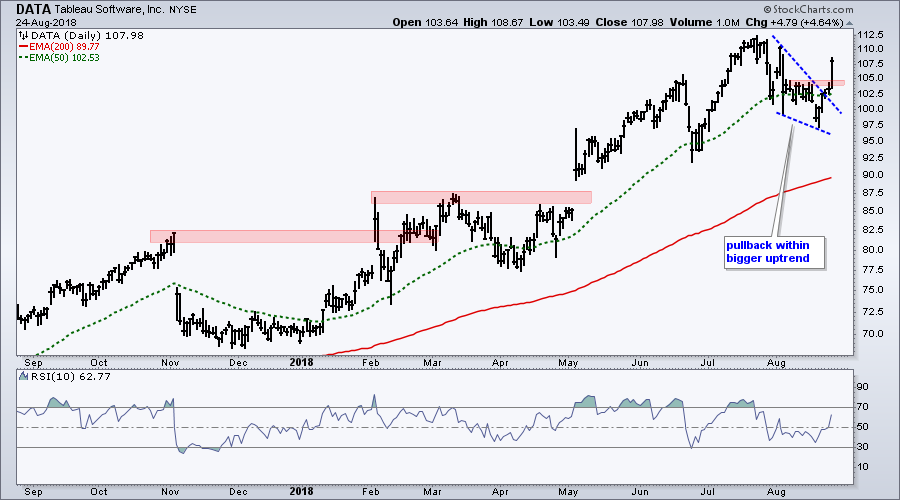 ---
HACK Hits a New High
The Cyber Security ETF (HACK) is also leading within the technology sector because it hit a new high on Friday. The CandleGlance chart below shows HACK with five other components hitting new highs. Note that HACK was oversold just a few weeks ago. The pink area marks the 255-day Price Channel and a move above this range indicates a 52-week high. Palo Alto (PANW) broke out of a trading range and Carbonite (CARB) broke out of a rising wedge in mid August. Fortinet (FTNT), CACI Intl (CACI) and Cyber-Ark show strong uptrends.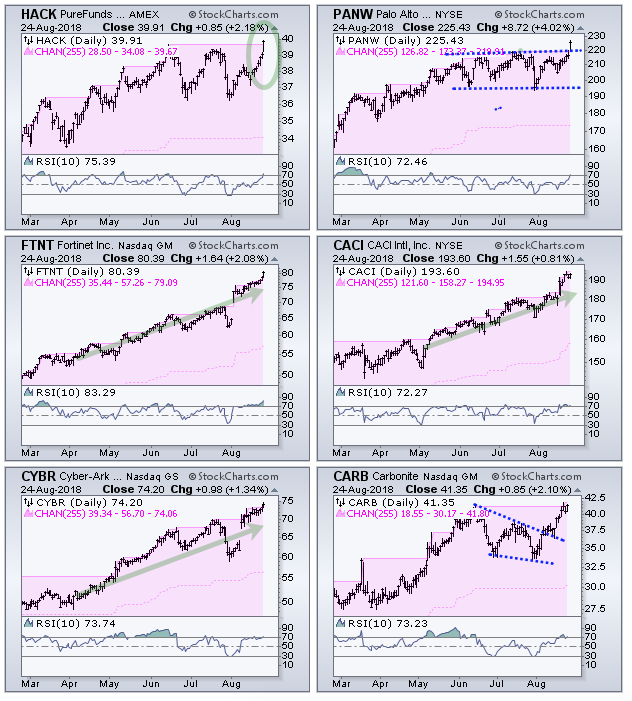 ---
Qualys and Proofpoint Bounce off Support
The next chart shows Qualys (QLYS) breaking out to new highs in June and the breakout zone turning into support (blue area). The stock fell back to this zone last week and bounced on Wednesday and Friday. The bigger trend is up, the group is strong and I expect 52-week highs in the coming weeks.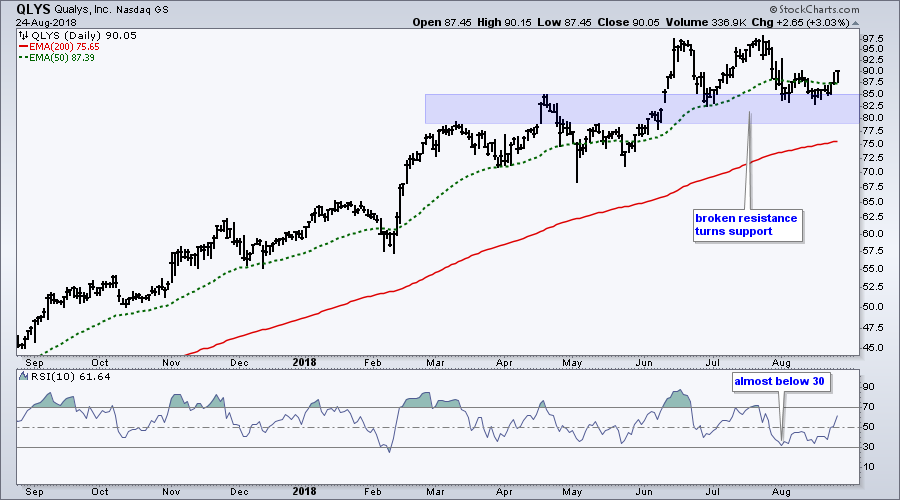 The second chart shows Proofpoint establishing support in the 111-114 area from March to August and bouncing off this support zone with a big surge on Friday. As with Qualys, the bigger trend is up and I expect this bounce to extend to new highs in the near future.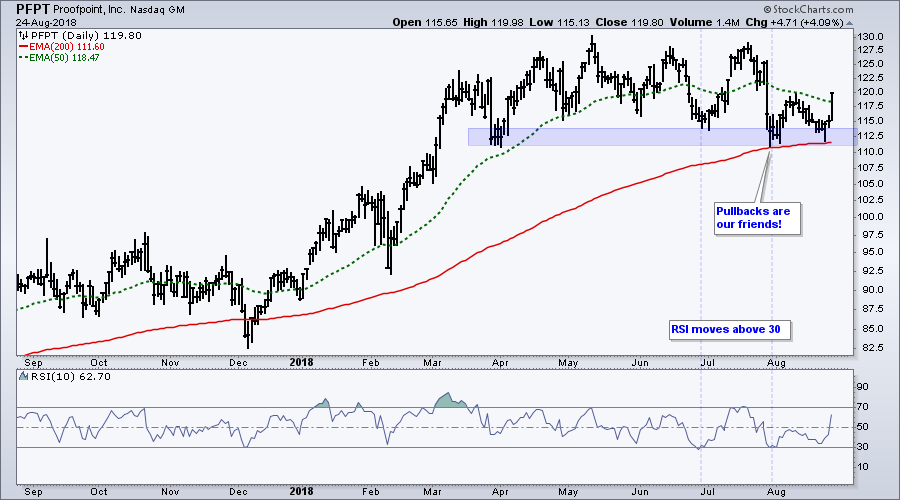 ---
Questions, Comments or Feedback?
I cannot promise to response to all correspondence, but I will read it and take into under consideration. I greatly appreciate all feedback because it helps me improve the commentary and provides ideas for the future. Sorry, I do not take symbol requests.

---
Plan Your Trade and Trade Your Plan.
- Arthur Hill, CMT
Senior Technical Analyst, StockCharts.com
Book: Define the Trend and Trade the Trend
Twitter: Follow @ArthurHill
---
About the author:
Arthur Hill
, CMT, is the Chief Technical Strategist at TrendInvestorPro.com. Focusing predominantly on US equities and ETFs, his systematic approach of identifying trend, finding signals within the trend, and setting key price levels has made him an esteemed market technician. Arthur has written articles for numerous financial publications including
Barrons
and
Stocks & Commodities Magazine
. In addition to his Chartered Market Technician (CMT) designation, he holds an MBA from the Cass Business School at City University in London.
Learn More