Chartists can compare performance by using the 50-day SMA as a benchmark level. Names that exceed their 50-day SMAs show more strength than those that do not exceed their 50-day SMAs. By this yardstick, QQQ is underperforming SPY and weighing on the broader market. Oh, and mind the gap as well.
QQQ was keeping pace with SPY until late February, which is when SPY held its 50-day and QQQ broke its 50-day. SPY also dipped below its 50-day in March, but the break was short and QQQ moved well below its 50-day (blue shading). SPY resumed its advance in March by holding above its 50-day as QQQ remained below.
Flash forward to May and we can see SPY holding its 50-day last week and QQQ breaking below. QQQ rebounded with the market on Thursday-Friday, but was not able to recapture the 50-day and continues to show relative weakness (and absolute weakness).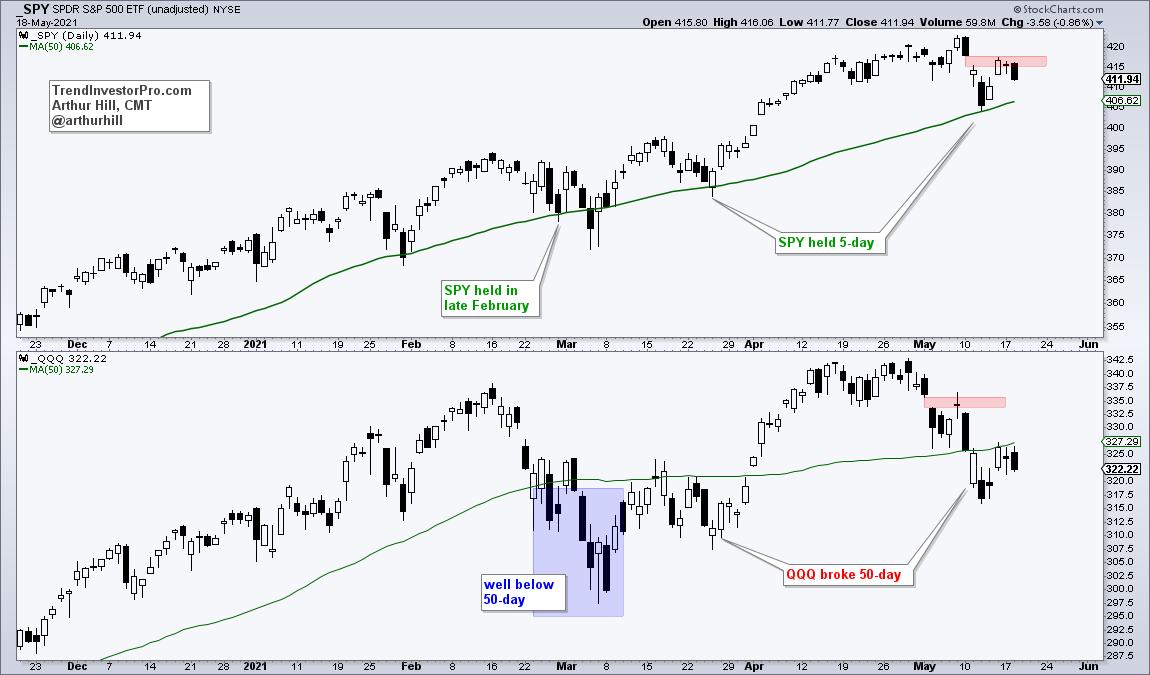 The gaps also show QQQ lagging. QQQ gapped down on May 4th and the gap held as QQQ turned back in the gap zone (red shading). SPY gapped down a week later on May 11th and this gap zone turned into resistance this week. Overall, I view both gaps as breakaway gaps that are short-term bearish. To turn things around, SPY needs to fill its gap and QQQ needs to reclaim the 50-day.
In addition to these gaps, I am also watching relative weakness in small-cap breadth and a 90% down day in SPY. These were covered in Wednesday's commentary at TrendInvestorPro. Subscribers also get access to strategy videos: trading falling wedges and trading the swing within a pattern. Click here to get immediate access.
---------------------------------------------