The Australian market is an important market to follow for global commodities. As a commodity cornerstone to Asia, this market can be very indicative.
Recently the Aussie chart broke to new highs. Check it out. In February and early March, the Australian market tried to take out the October highs. Both pushes rolled over. Now the chart shows two recent attempts in April to make and hold new highs. Both attempts have failed to stay above the October highs. The MACD has a significantly lower high building while the price has a higher high. This negative divergence shown with an orange arrow is concerning after 4 attempts to make and hold higher highs. The RSI has also made lower highs during these peaks which is a confirming sign of the weakness.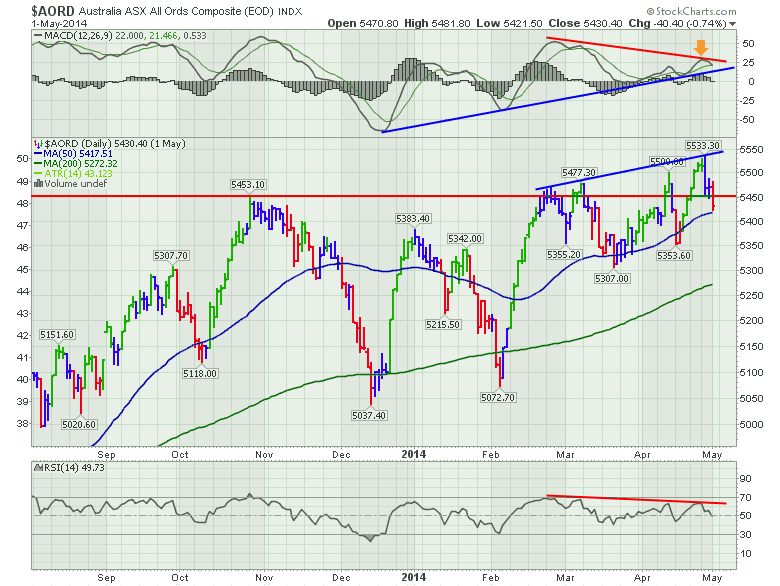 Any trend in Asian commodities is important for Canadians to watch. This is a critical chart for us. Why? Canadian markets broke out in October as the Australian market surged to new highs. Since then, we have gone almost straight up. With the Canadian market at the levels of the October 2007 equity top, we are near resistance as well. Should the Aussie market stall here while we are at resistance, we have bigger issues. Something is changing in the commodity markets. Both $BRENT and $WTIC are trading below the 40 WMA. Gold, Silver and Copper are all struggling below the 40 WMA even though the $USD is struggling to hold a support trendline that goes back two years. That is extremely odd. Weak commodity prices are usually influenced by a strong $USD. Here we have the opposite.A weak $USD and weak commodity prices.
To conclude, a weakening picture from the Australian beach front and all the commodities failing to hold above the 40 WMA puts Canada's new highs in jeopardy.
Good trading,
Greg Schnell, CMT