Air Canada (AC/B.TO) has been a phenomenal stock for the last 2 years. From July 2012 to July 2014 the stock went from $1 to over $10 for a 1000% gain. I recently covered off the stock in June, but today is a compelling day to look at the stock.
First of all, earnings are scheduled for August 7th, 2014 so that will be the next catalyst for the stock.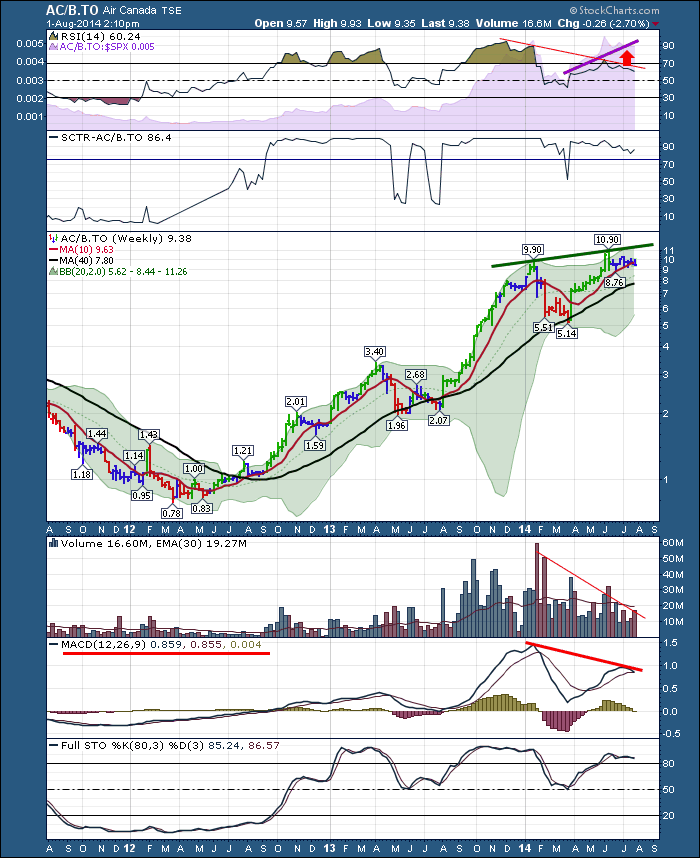 Today the stock is just barely above a confirming cross down on the MACD. With a significantly lower MACD momentum and the RSI showing divergence as well, this is a very important earnings announcement.
Up top, the SPURS trend line in purple was broken so now Air Canada is under performing the $SPX. The SCTR ranking is still top quartile, but I find the SPURS to be a better exit signal than waiting for the SCTR to break down.
Full sto's are still bullish so that helps. Lets quickly look at the Dow Jones Airline Index ($DJUSAR).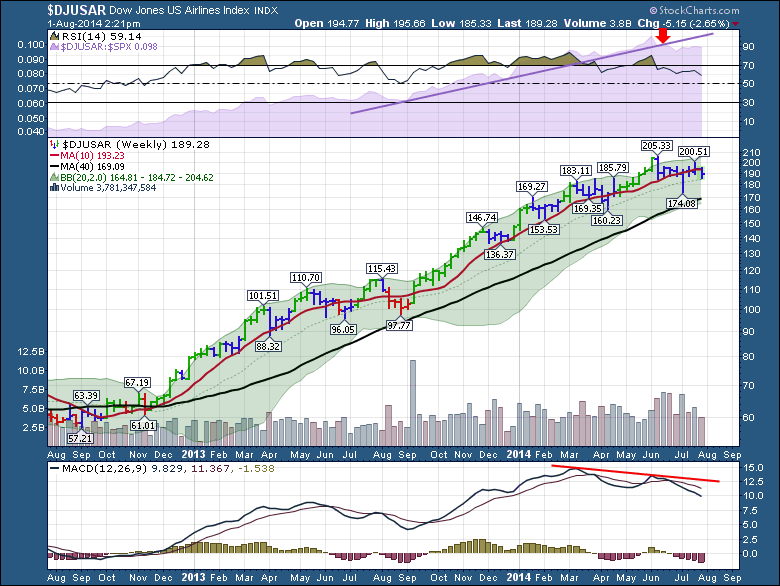 The price action is sideways since mid-May. This week looks to close near the lowest close in 12 weeks. So it is still in the range, but it seems to be weakening. While the MACD is still strong (nice and high) , it is making lower highs and lows.
It is a tricky time here. Air Canada's number one competitor, Westjet (WJA.TO) broke out to new highs this week but failed to stay above the previous high.
For me, its time to add some insurance to the trade. The overall market seems to be pulling back and the breadth is waning. Last of all, earnings are scheduled for August 7th, 2014 so that will be the next catalyst for the stock.
Good trading,
Greg Schnell, CMT
About the author:
Greg Schnell
, CMT, MFTA is Chief Technical Analyst at Osprey Strategic specializing in intermarket and commodities analysis. He is also the co-author of
Stock Charts For Dummies
(Wiley, 2018). Based in Calgary, Greg is a board member of the Canadian Society of Technical Analysts (CSTA) and the chairman of the CSTA Calgary chapter. He is an active member of both the CMT Association and the International Federation of Technical Analysts (IFTA).
Learn More