The Canadian oil stocks have been traumatized by the recent plunge in crude. If you like to take advantage of deep pullbacks in price, these charts have been severely hit. This was just a screen shot of the most actives from the home page $TSX hot box.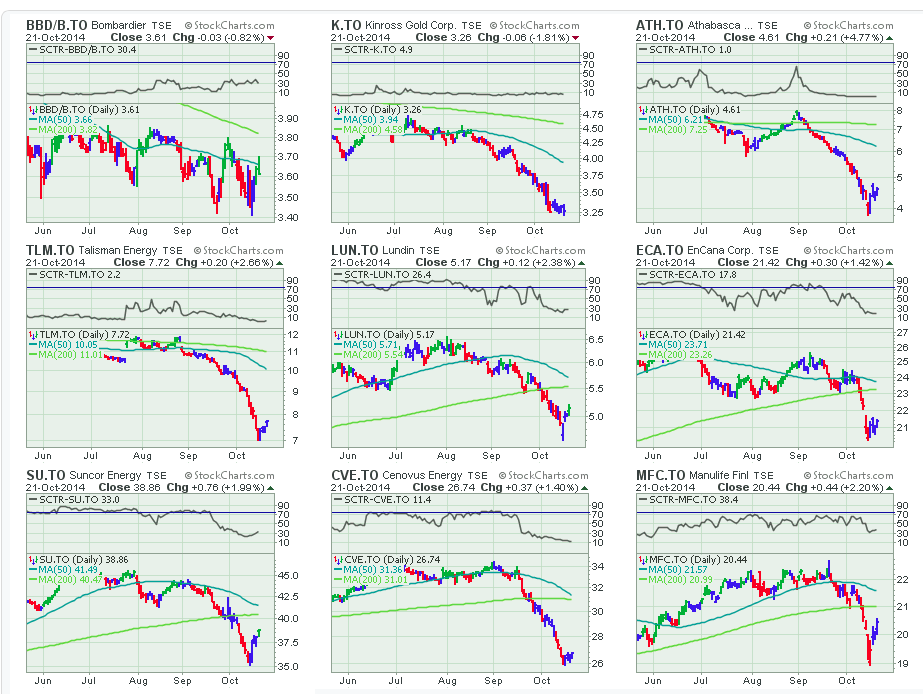 How else can we hunt for great stocks after this pullback? Well, the SCTR is a great place to look. Some of these stocks are already back in the top quartile of Canadian stocks. The last column is the SCTR ranking.

Even if you just want to find all the oil and gas producers, you can click on the SCTR report button on the home page, select Toronto stocks in the drop down menu at the top, click on the SCTR column heading to make sure the 99% ones are at the top, then click on industry. You can scroll down and see any industry with the stocks in SCTR ranking order. You can use the same list with gold miners as an example. I posted a strong list of high SCTR rated gold miners in the Market Roundup yesterday. Here is the same posting, in case you missed it.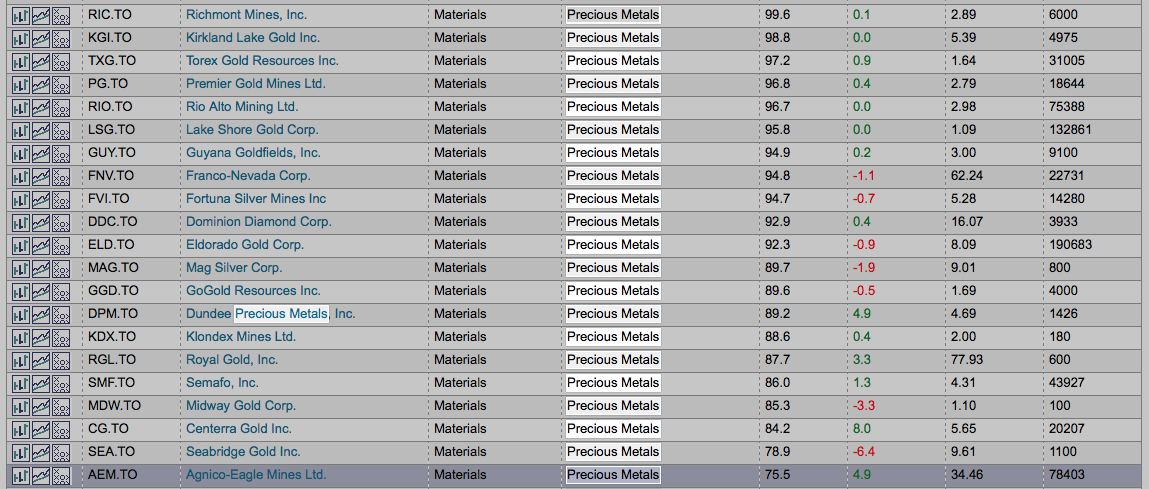 With the push off the recent lows, I will try to highlight some great looking industry groups and high SCTR rankings on the weekly webinar that will be on Friday this week. October 24th, 4:30 EST. Click here to register.
I also wanted to take a minute to point out some fantastic Technical Analysis events coming up in Canada in the next few weeks. If you register soon, it will make a difference for your pricing and helps the organizer line up food and room arrangements. I sit on the board of the Canadian Society of Technical Analysts in Canada. This is a shout out for a major meeting coming up in November that I am one of the key organizers for. We are hosting a simulcast meeting at 5 locations across Canada with remote and on site presenters all day Saturday November 8th. If you are interested, you can follow this link for way more information. Two world class authors will do a National presentation and each location will have on site presenters for the rest of the day. It is the annual national meeting for CSTA members and newcomers.
As well, I was in London for the IFTA conference. Chatting with Alex Elder, he mentioned he was doing a one day seminar in Toronto on November 9. He only had 3 spots left, the last I talked to him. You can find more information on his web page at Elder.com. Click here for the Link to the Toronto meeting. I use the Elder Impulse system candles on StockCharts.com all the time. They add strength to the presentation of information and clarity to changes in momentum. I also saw his newest book in London which is a major rewrite of his most famous work, Trading For A Living. The new version is called ...you guessed it...The New Trading For A Living. Here is a photo of Chip receiving a copy from Alex in London.
PS. You will be able to get Alex's book at the StockCharts.com bookstore as we should have it in stock over the next few weeks.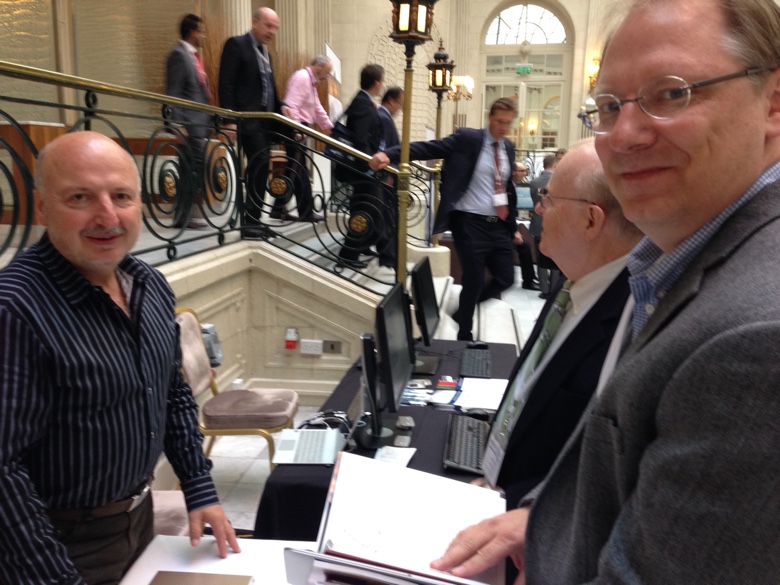 As the market rebounds with conviction here, there are some fast moving stocks. Using the SCTR rankings can really help you pick strong stocks in different industry groups and sectors. Hopefully you'll join me on a walk through the strong sectors, industries and stocks on Friday's webinar.
Good trading,
Greg Schnell, CMT