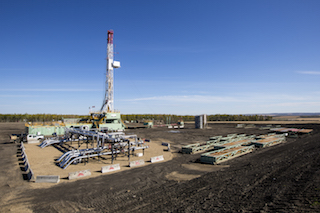 Encana, (ECA.TO, ECA on NYSE) widely considered one of Canada's powerhouse companies, just can't seem to get the mojo going. When Encana separated out the Oil related exploration and production into a distinct company called Cenovus, it was a difficult process to watch. The mother company, Encana, was solely focused on Natural Gas revenues and struggled as Natural Gas made fresh lows.
Photo - Copyright © Encana Corporation. All rights reserved.
As we watched the Natural Gas company suffer through years of poor price performance on the stock, investors have thrown out management, changed senior company execs and planned for better things ahead. When Natural Gas finally crawled back above $3.00 after hitting 3 year lows of $2.47 a few weeks back, I was optimistic we might start to see some follow through on price in the Natural Gas related companies. Encana has started to diversify again into the oil business as the realization of being gas only was clearly a difficult road. So Encana is still one of the big dogs in the business and I thought that would be a chart to smile at.
Just to help compare, let's start with the chart of Natural Gas ($NATGAS) that I presented on the webinar yesterday. You can see the last few weeks have been rising nicely. Look in the zoom box on the right.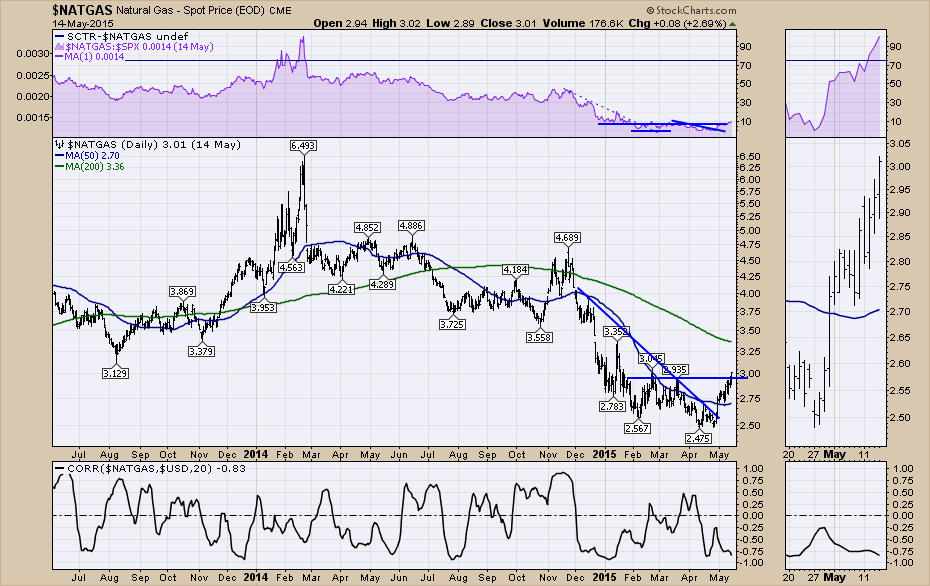 ---
Natural Gas does not correlate with the US Dollar ($USD) movements as shown in the bottom of the Natural gas chart. It also correlates poorly with the $SPX (not shown). So if Natural Gas can start to break higher here and outperform the $SPX, I would expect funds to move into the area as they like to own some non-correlated assets to help with risk aversion.
Looking at Encana using the Canadian chart (ECA.TO) shown below shows a different last few weeks. The Encana shareholders never got the memo that the gas price had started to turn up recently and looked to be breaking out of a basing formation. As an aside, all of the Canadian energy stocks have had a pullback recently related to a change in the regional government. This is showing up on Encana even though Natural gas is moving higher. This sideways consolidation is not a bad thing as it solidifies the shareholder base and weak hands give up the stock in frustration. The next few weeks should stabilize the stock after the political changes are accepted as the new reality.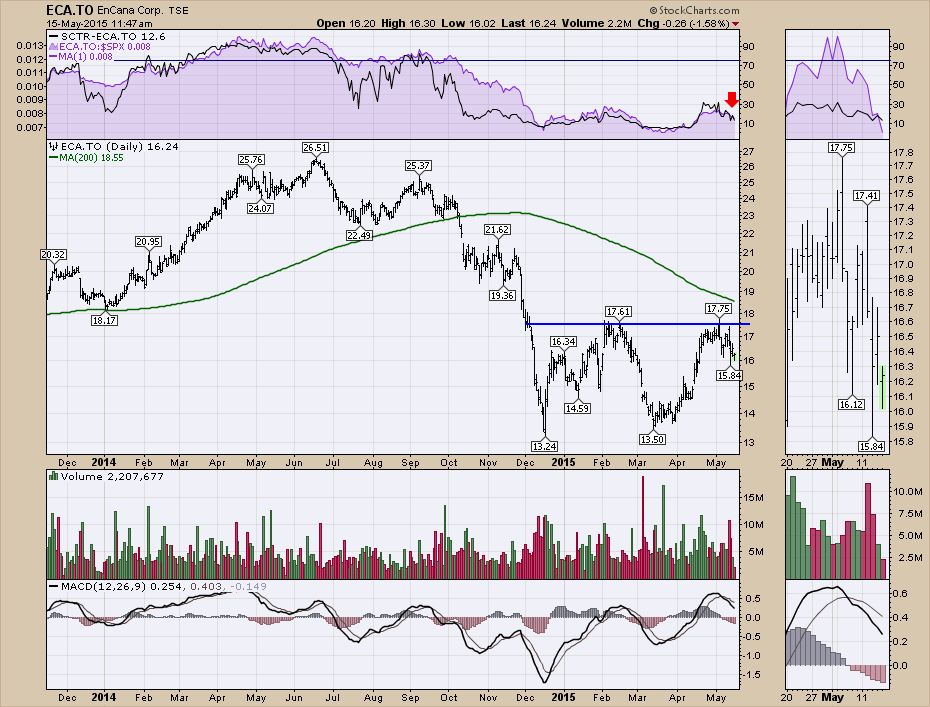 I think this is a good time to be watching the Natural Gas stocks for breakouts. The USA based companies might do a little better, but an increasing gas price cures a lot of chills. If the price of Natural Gas cannot hold the breakout, it could take a little while for these stocks to get moving. Today, at the time of writing, Natural Gas was little changed.
The Canadians are taking Monday off as the start of the summer long weekends. In this case we call it the May Long Weekend. The American friends will have to hold down the fort until the following Monday (May 25th) which is their Memorial Day. If you need some weekend viewing, we have recently changed up the webinar schedule. There are lots of recordings there. Martin Pring and I did a webinar yesterday that had very appreciative comments coming back. We tried something new with Martin and I concluding the last half hour using an open, unscripted dialogue about a few charts. It is a live broadcast and we did not rehearse any of the discussion. I think it came out as a valuable addition even though it has a few imperfections. I'd encourage you to grab your iPad with a cool one on the deck this weekend and check it out. Let us know your thoughts below this article on the new format. We'll try to do that twice a month and hopefully you find the discussion / debate valuable. The recording can be accessed here. Martin Pring and Greg Schnell 20150514.
You can subscribe to the webinar series on the Vimeo page. You can also subscribe to email and RSS feed alerts at the top right hand corner of this article. At StockCharts we are making a major push to try and differentiate the webinars so we are not covering the same stocks day in and out. Feel free to click on a few. Erin Heim is also rolling out a Decision Point Alerts Blog where she sends daily trade ideas out in a blog for you to investigate. That might be one for viewing in an email each night for StockCharts members. Decision Point Alerts. Erin ranked second in 2014 for Bond Market timing by Timer Digest which ranks different market timing systems. She did pretty well in Equities too!
Good trading,
Greg Schnell, CMT