One of the great influences in my life used to talk about how something was 'going like there is no tomorrow.' It's an interesting phrase and it reminds me of the US oil stocks rallying this week. Crude is stuck in the trading range between $43 and $51. But the indicators tell a different story. The MACD has a nice positive divergence. That should not be a surprise to anyone as the momentum on the major drop in crude oil last year was huge. Now that crude is stabilizing in a trading range the momentum lower is a lot less. The SPURS relative strength shown in purple is stabilizing, but it does not appear to be outperforming. So is flat the new black?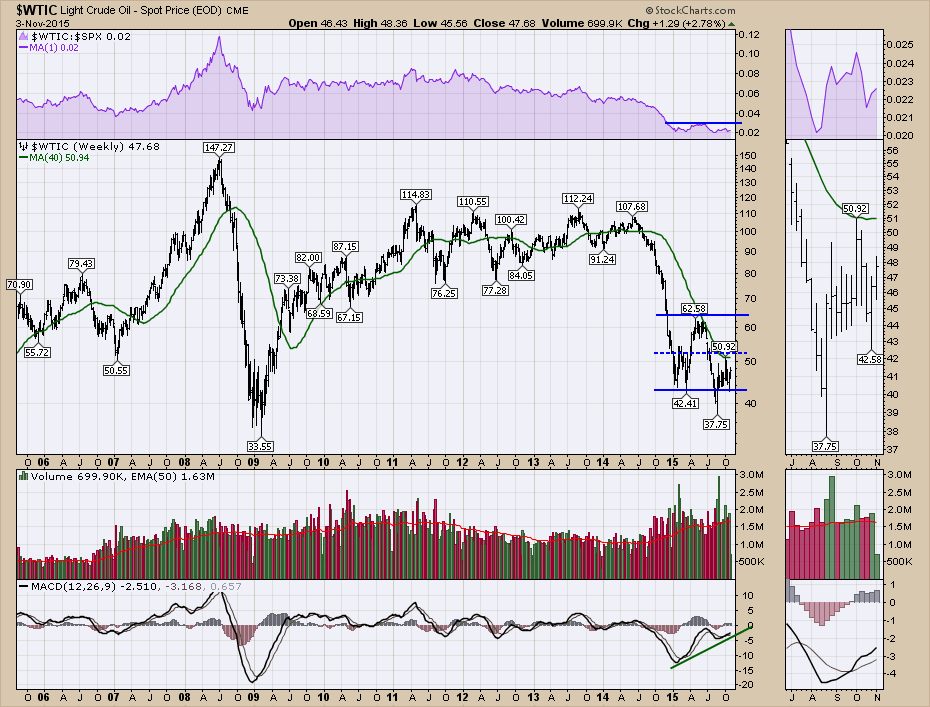 ---
Here is a snapshot of the exploration and production companies in Canada and their SCTR rankings, 50 and above. This list does not include the Canadian Oil and Gas Integrated companies like Suncor which has refineries and marketing. The point I want to demonstrate is this industry only has a few stocks with an SCTR above 50. The SCTR column is beside the Oil and Gas Producers column. We have 10 stocks out of the entire group above 50.

So why the sudden surge to the oil stocks? Are the investor lemmings on their annual migration into oil stocks regardless of industry issues? It has been a year since the pullback and many people feel the oil stocks are ready to accelerate as the worst is behind them. The Saudi's have a big budget coming in December which should help us understand if anything is going to change on supply. If Saudi chooses to shut in a significant percentage of their oil production that would help but Iran and Iraq are trying to produce even more. The refiners are making great money right now with the crack spread nice and wide. There are always winners at the bottom, and this time will be no different. The real question is where is the bottom?
For some people with an ultra long time horizon, the strongest stocks are targeted for accumulating if the investor has the capital to survive further downdrafts. If this glut of oil continues, the receding tide of demand will lay bare all those companies with too little capital and wash them into bankruptcy. We have pumped around a billion additional barrels into storage since the price drop last year. 2.5 Million barrels per day worldwide x 400 days roughly = 1.0 billion barrels of new oil going into storage above demand. We can debate how much is going into storage, but the bottom line is that supply and demand are not matched up yet. Some companies can be profitable at $60 oil but there are a lot of wells and capital programs that are not profitable at this level.
Bear market rallies are always swift. If the trend is not changing, then the bear market will resume in wiping out equity from these companies. The SCTR is showing which are the strong companies rising up and performing better. The weak companies might stay weak for a long time.
Here are some examples from the list. They could turn lower tomorrow as I have not seen a reason to expect demand to change.
We'll start with Advantage Oil and Gas (AAV.TO) as the chart forgot there was a huge slump in the price of oil. This chart has exceeded 2014 highs.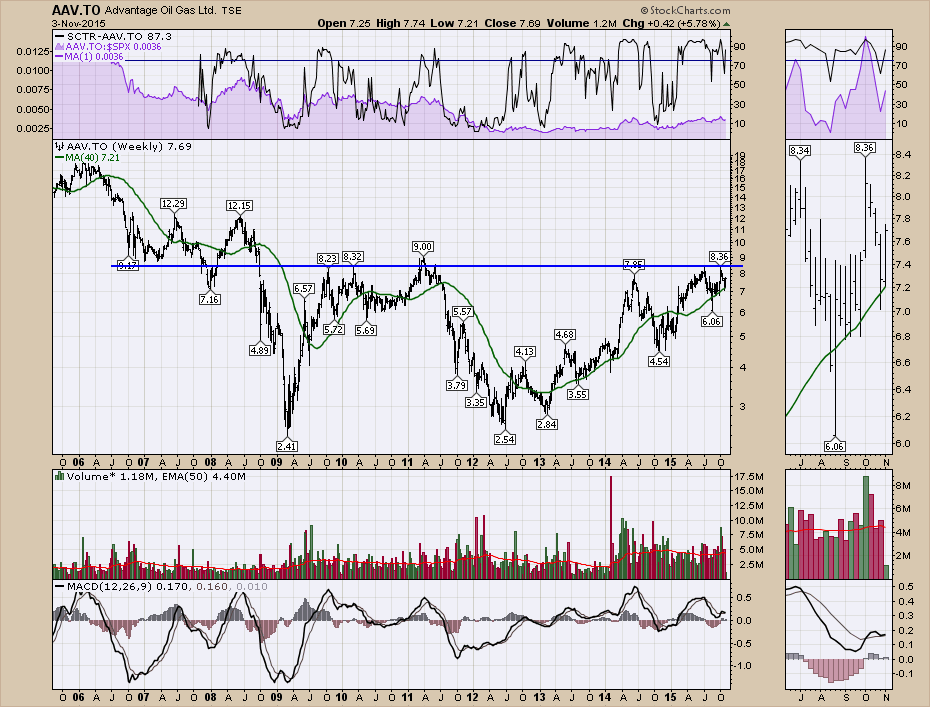 Here is Granite (GXO.TO) which trades 3 million shares a week.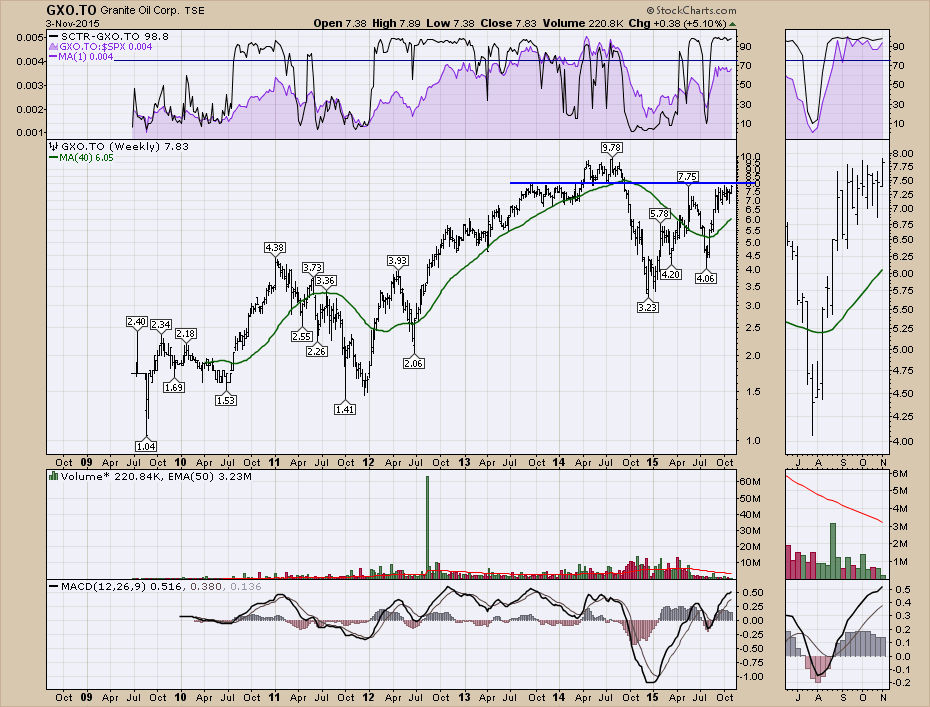 Parex (PRX.TO) doesn't look like an oil stock.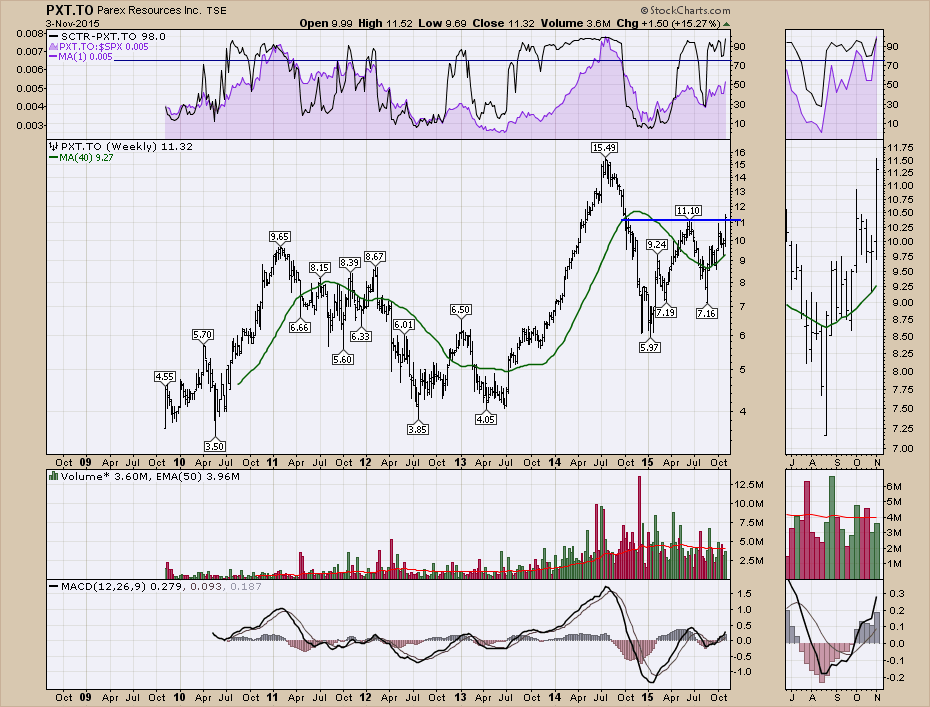 The last example is Raging River Exploration (RRX.TO). The SCTR is just climbing above 75.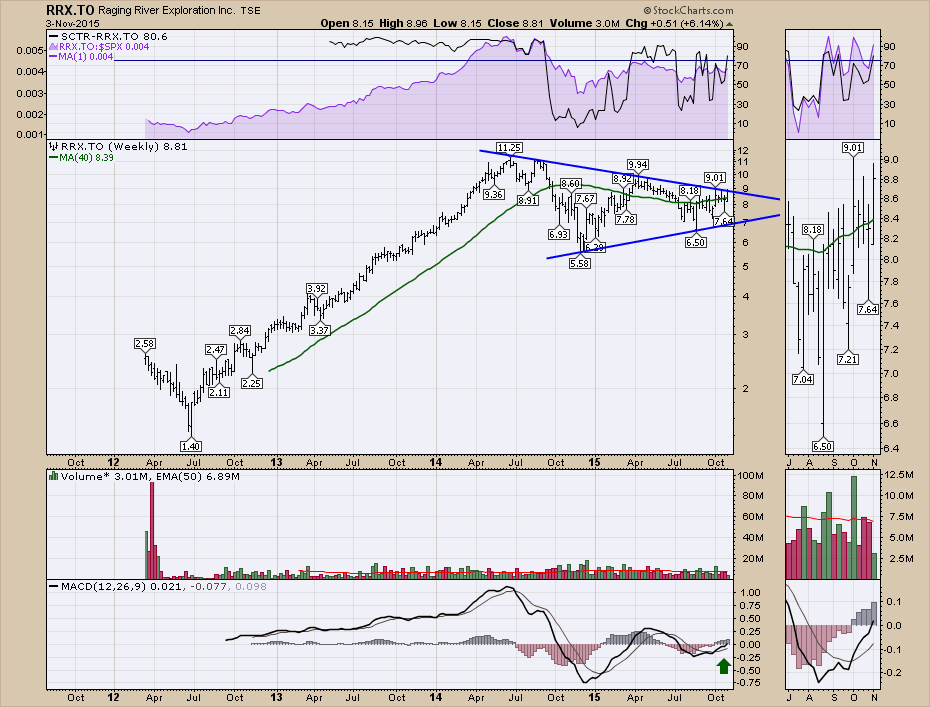 So there may be opportunities in the oils. My conviction level is low, but so are the prices. Stay with the best, avoid the rest and make sure your stop is close. This could be sideways for years, but price action says there is a rally in the industry group.
To close, the oil stocks are rallying like there is no tomorrow. For some of the E&P companies, that's true. Buying beaten up sectors takes patience and financial strength. If the relative strength starts to break down, I would be focused on capturing profits.
I will be doing a commodities-focused webinar on Thursday at 5 EST. Commodities Countdown 20151105.
Good trading,
Greg Schnell, CMT