If you've owned Canadian stocks and have been invested in the $TSX 60, you probably have already noticed the change in portfolio value. I think the real problem in waiting this long to tell long-term investors that we are in a bear market, is the amount of portfolio damage that has been done. Hopefully, some of the information on my blogs and webinars helped you to be aware of the major trend changes and allowed you to get out early.
So while it may be a mute point, The $TSX last touch of the 200 DMA was back in June. Let's look at the signs on the chart.
The SPURS ( SP Rel Strength) has been declining since the market top.
After falling below the 200 DMA, the market rallied and made a series of higher lows but could not make new highs.
In February 2015, investors spent almost five weeks trying to push to higher levels but were unable to. Exhaustion.
While both the oil and materials sectors were waning, the transportation industry groups were starting to weaken significantly.
Once the 200 DMA rolled over, the market continued to make a series of lower lows and lower highs.
February March April all showed volume declining while the market was rising. I find that clue hard to trade.
The MACD stayed below zero on a daily chart. Daily charts can easily surge to positive territory.
The ATR was clearly becoming elevated as shown on the bottom panel.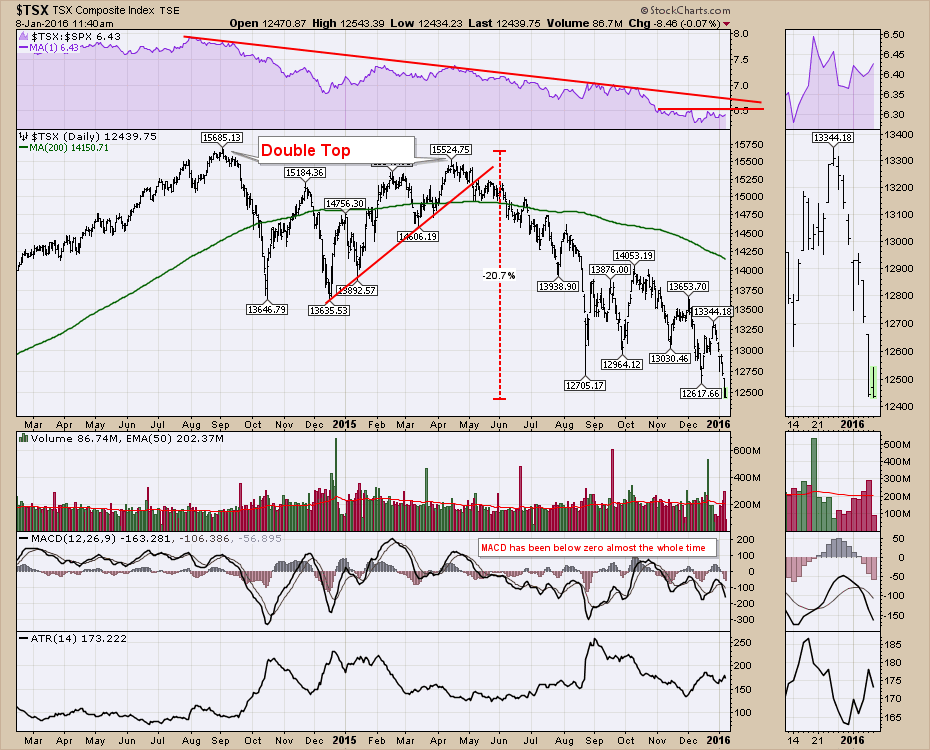 So when will it be over is the real question. The right answer to that will probably be viewed in different ways.
I would suggest other coincident factors will start to turn higher in sympathy with the $TSX. When the broad macro trend changes, the opportunity to make real gains comes to the forefront.
As an example of things that might help guide us:
The $TSX SPURS will start to make three-month highs.
The Australian market SPURS will do the same.
Commodity markets will improve. Almost all of them are below their 200 DMA right now. When they start rising above as a group, this will be helpful.
The $CRB with start making 3-month SPURS highs.
Consumer Staples will no longer be the top performing group.
Big name large-cap growth stocks will start to emerge in Canada on top of the SCTR list.
Emerging markets will start to improve.
Our Bullish Percent Indexes will start to make higher highs.
If the vast majority of this list starts to show strength, investment strategies will be changing. I plan to stay focused on the Canadian and USA sector rotation models while continuing to look for basing patterns on the commodities and emerging markets. Rather than try to anticipate the bottom, as bear markets can be fickle, we can wait for a growing trend change. Trading the market we are given, rather than the market we want is important. Right now a defensive portfolio alignment is working way better than trading the growth names. Short-term trades can also work but they have to be trades placed with a short-term target. For investors following the JCB and ECB as their investment philosophy, it has been a very painful route. The charts continue to tell us to stay away from those areas.
For more ideas on what Canadian stocks are currently shining and improving, I will be doing a Canadian Technician Webinar on Tuesday, January 12th. The Canadian Technician Webinar Registration Link. I plan on demonstrating how to find the stocks (how to fish for the stocks) that are working in Canada and discussing other ideas to help make money in this otherwise difficult market. The main names are going to have trouble. We'll have to think outside the box (TV) to find success. I put a lot of effort into the webinars as I can cover so much more information in an hour than in a blog format. If you get a chance to watch the recordings, they also show strategies and areas to look for tradeable ideas. The Commodities Countdown Webinar 20160107 had a lot of ideas regarding Japan, the $USD, Metals and miners, bonds, and overall trends.
As the new year begins, click on the yes box below the Canadian Technician and The Commodities Countdown blogs to subscribe. Because of Canada's posture in commodities, this can be very beneficial to follow both blogs. You can also follow me on Twitter @Schnellinvestor. New Year, new start. Let's make some money in the market we are given.
Good trading,
Greg Schnell, CMT