There is a collection of REIT's that are performing in Canada. Here is a look at a few of them. As we struggle to find yield everywhere, this is a list of some nice looking charts that pay a monthly dividend and have some potential for capital growth as well. Some need to go on a watchlist for entry, others look attractive here.
Killam (KMP/UN.TO) still pays a 5% yield even after running for a couple of months above the old highs. A little concerned that the relative strength trend in purple is breaking. This might set up a better buy point a little lower.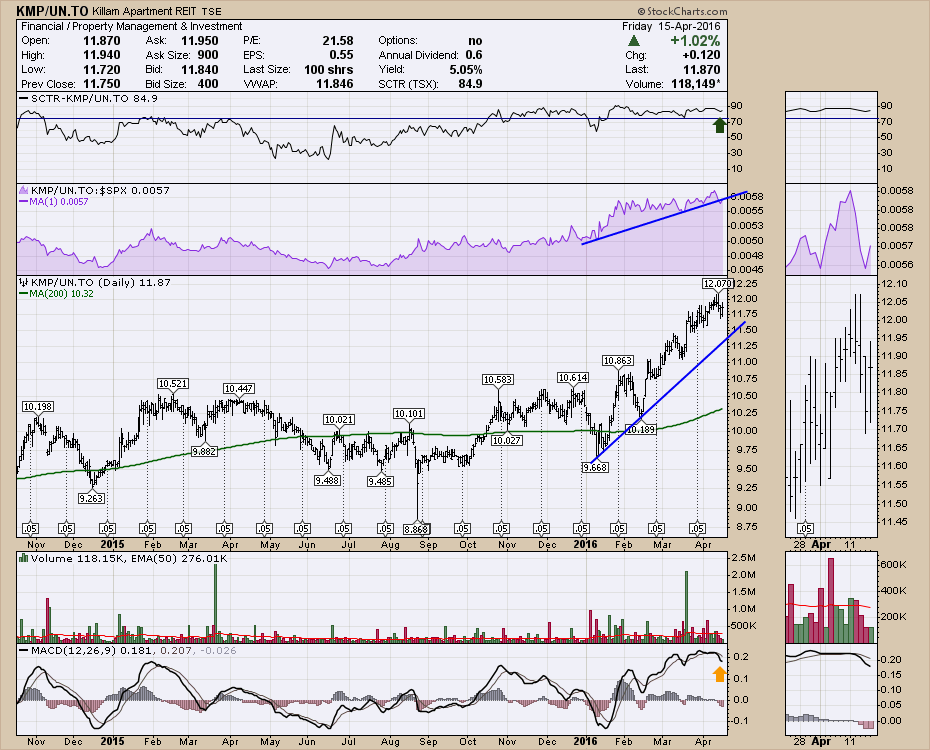 ---
Next is Northwest Healthcare. The yield is 8.5%. This is also testing the relative strength uptrend. Currently, it is bouncing off the breakout level when it made new 52-week highs. If the MACD can continue to turn up, this could be a nice entry for the next leg higher. The volume has been steady since the gap down. If it can't stay above the thin blue line, I would move on. That gap down might be symptomatic of a change in trend.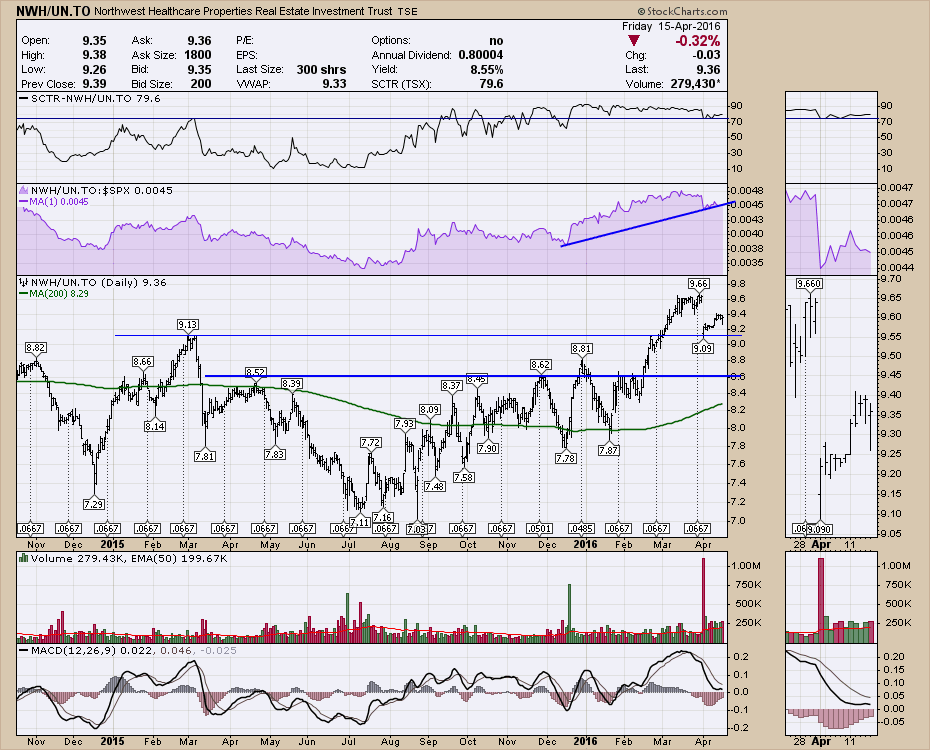 InterRent Real Estate Investment Trust (IIP/UN.TO) is a nice chart for the watch list. The yield is down to 3% so it might need to pull back before the yield buyers will be interested. The trend from bottom left to top right is stellar.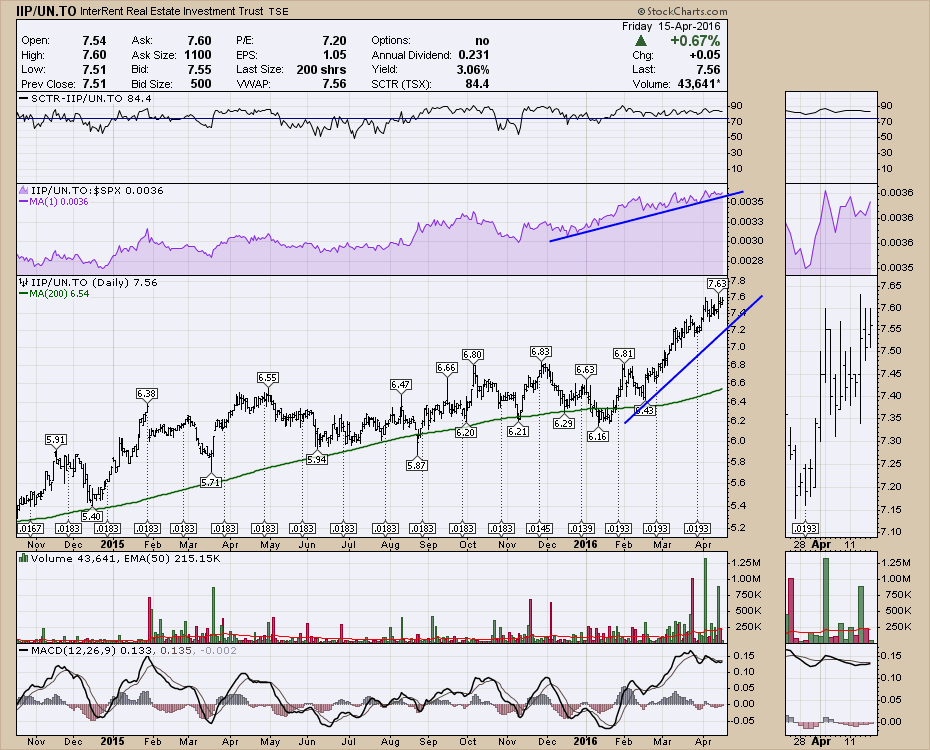 The Pure Industrial Real Estate Trust (AAR/UN.TO) is another nice chart. A 6% yield and it is trying to break out to new highs.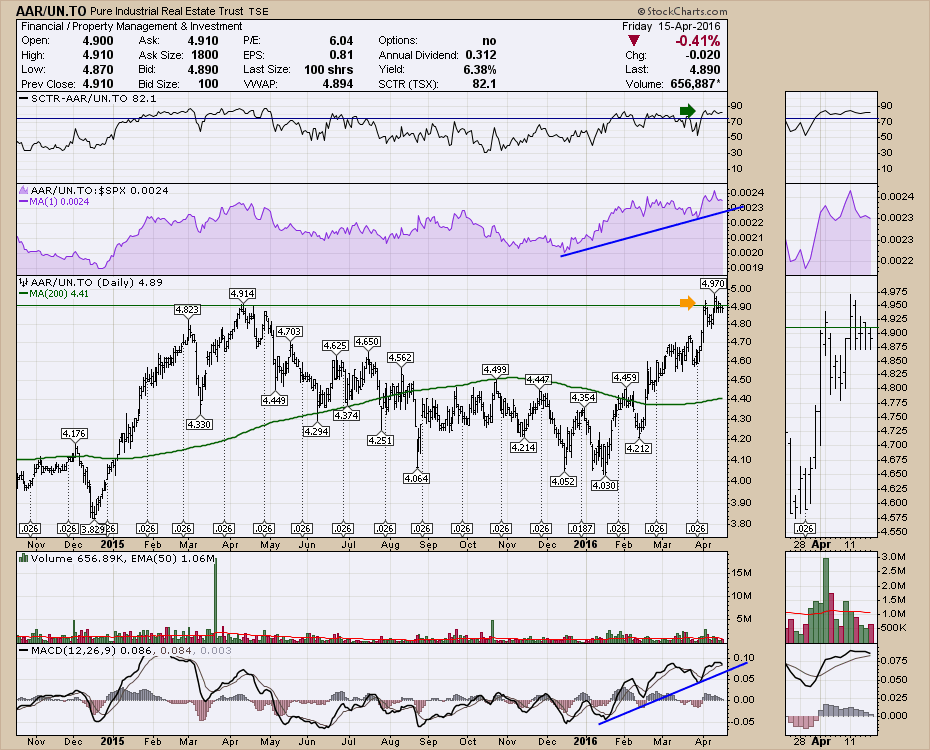 The Smart Real Estate Investment Trust (SRU/UN.TO) is another nice chart from bottom left to top right. The yield is just shy of 5% and the chart has been consolidating sideways for a month.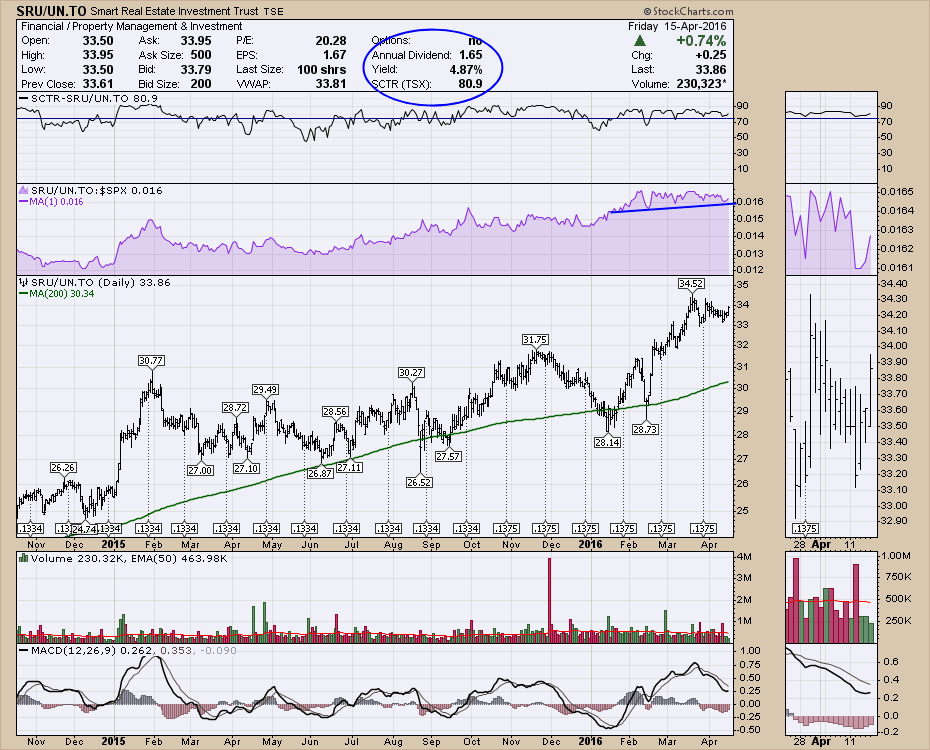 Chartwell Retirement Residences (CSH/UN.TO) is in one of the consistent areas of demand. Retirement residences. The yield is a little low at 4% but another potential watchlist stock. The Relative Strength in purple has started to break down and that is usually a caution for me as an entry point.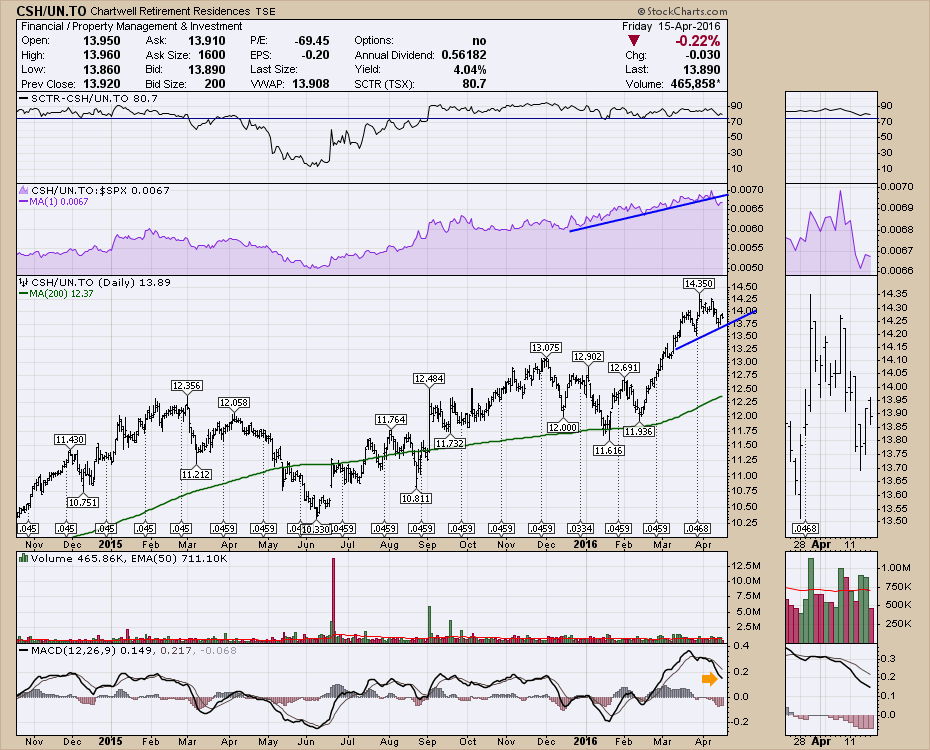 Crombie Real Estate Investment Trust (CRR/UN.TO) sports a 6% yield and the Relative Strength to the S&P 500 has been holding up through this recent thrust. The MACD momentum is waning a little but the chart looks nice. Waiting for the MACD to reset at a lower level would be an idea for the watchlist but the yield is pretty strong. I'm not convinced it will give a big pullback as everyone seems desperate for yield.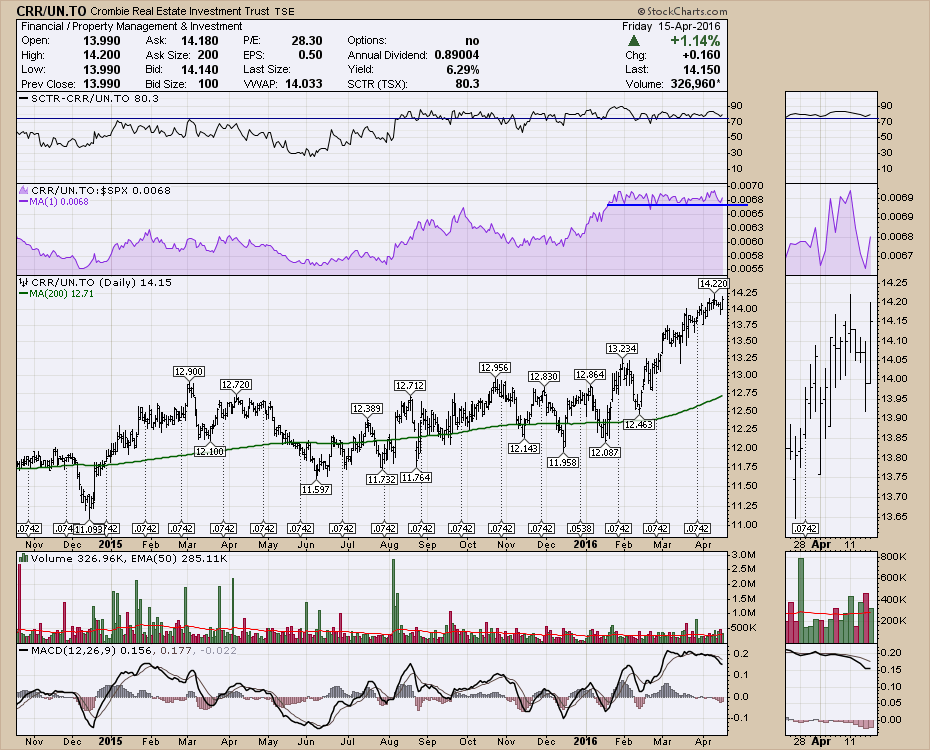 Cominar Real Estate Investment (CUF/UN.TO) has a nice yield at 8.5%. The MACD is pulling back gently as the stock moves sideways. This looks like it is warming up for a move higher, especially with the attractive yield.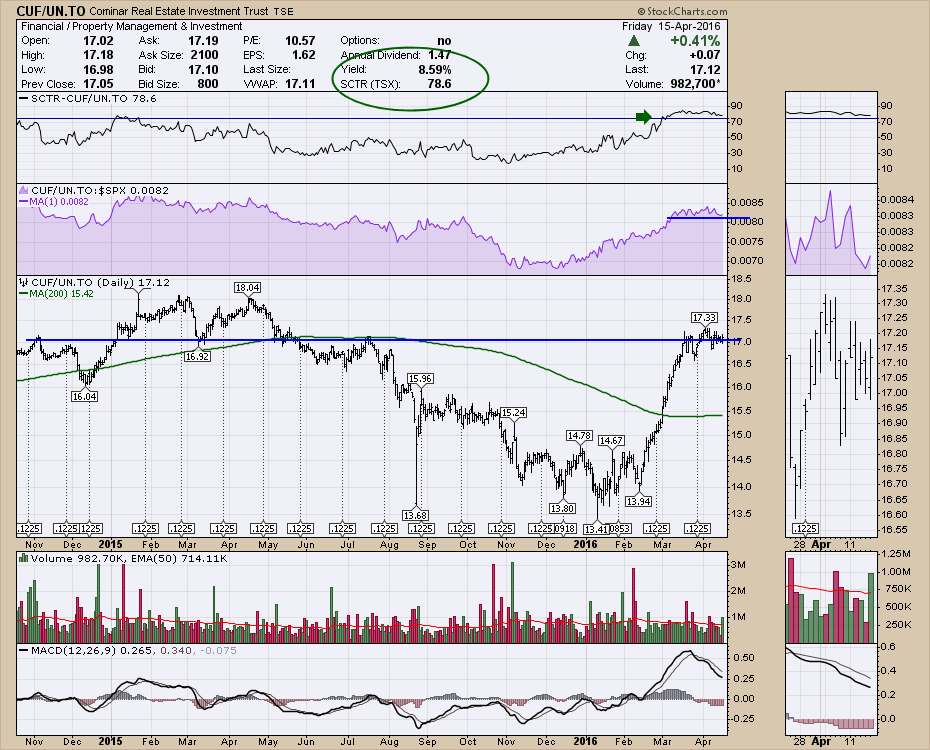 Canadian Apartment Properties (CAR/UN.TO) is just starting to break out to new highs but the yield is lower at 4%. Last year they bumped the yield in May.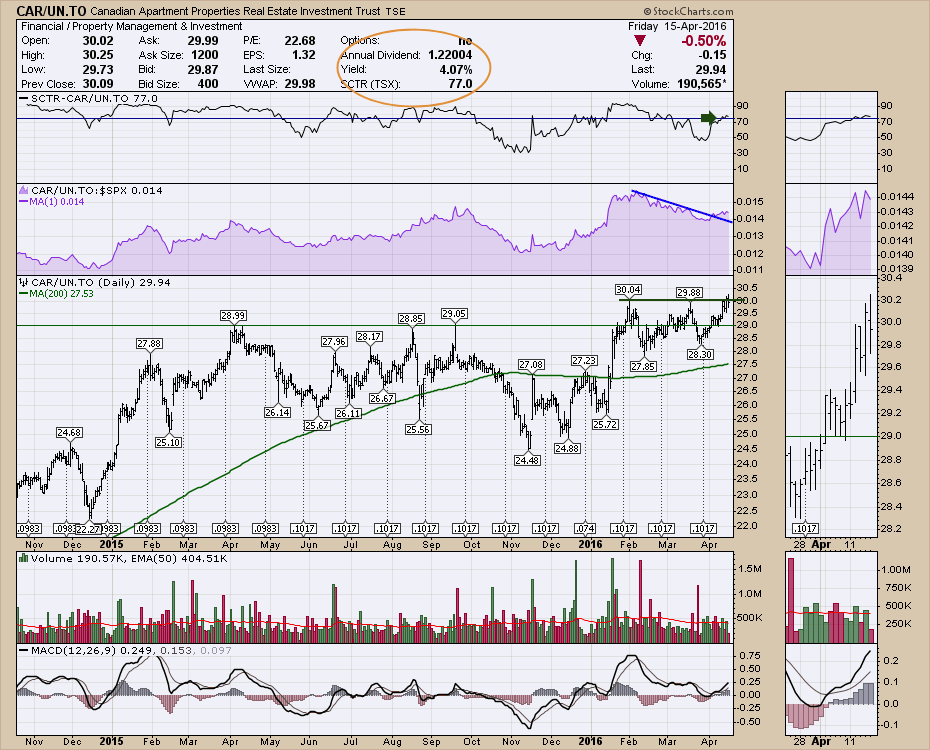 Lastly is H&R Real Estate Investment Trust (HR/UN.TO). The REIT is breaking out to fresh 9-month highs with a 6% yield. The volume on Friday was strong.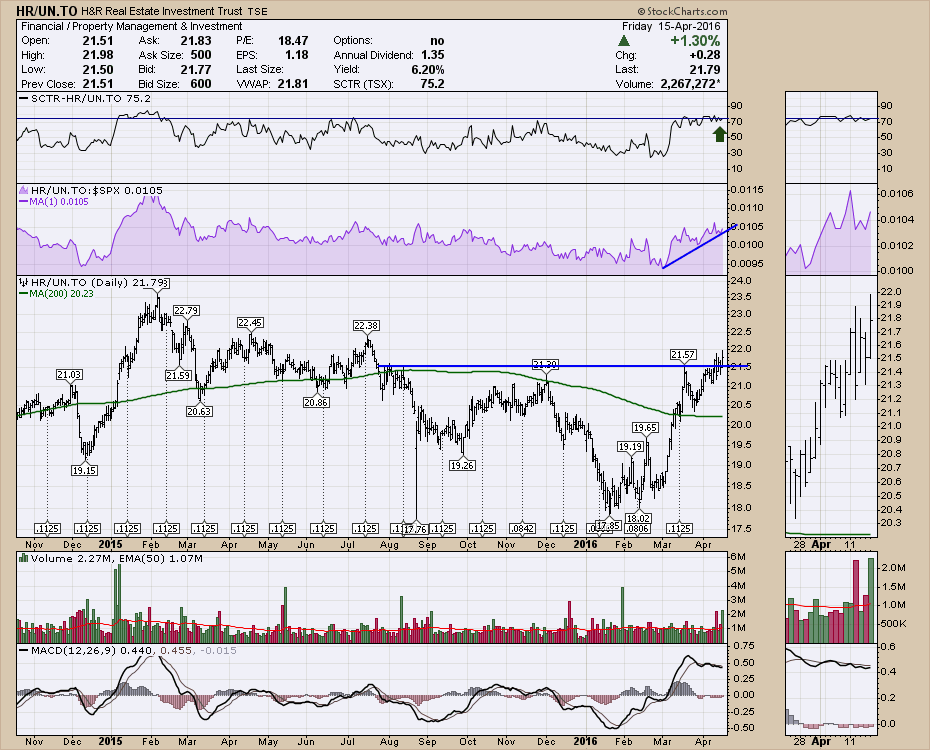 As you can see, there is a broad collection of yields in the REIT space. I think a few of them are attractive entries whereas others might need to pull back to get the attention of yield-focused investors.
On the broader market, the overall market keeps pushing higher. Canada remains in a zone of indecision. I'll be covering more off in the webinar this week and you can click here to register. The Canadian Technician 2016-04-19.
For Canada, a large part of the recent rise has been the breakout in both the materials and the energy sectors. With news pending out of Doha on the oil countries negotiating freezing production limits, this could be a pivot point for the oil market. As this point, I am more likely to believe the historical norm that what is talked about doesn't transpire. But what is more important is, will the investors listen to the statement or sell the news? Just to add more volatility, the earnings period and the Options Expiration Day within that earnings season can mark some significant trend changes. That date was Friday, so we'll see how the market starts to perform coming through the earnings now.
If you would like to subscribe to this blog, please click on the yes button below. If you want to follow the oil story more closely, I also write the Commodities Countdown blog. You may wish to register for that blog as well, as you need to register for each blog independently. Click Yes under the article. Lastly, you can get some chart updates between blogs and webinars on twitter. You can click to follow. My Twitter handle is @Schnellinvestor.
I will be doing a presentation to the Winnipeg Chapter of the CSTA on Saturday, April 30th. This will be web broadcast outside Winnipeg. Due to a limited number of connections, please attend at a local CSTA chapter if at all possible. Contact the Winnipeg CSTA chapter for more information. CSTA.ORG
Winnipeg Special Event Saturday, April 30, 2016. 10:45 AM - 5:15 PM EDT
Good trading,
Greg Schnell, CMT