The Gold Miners ETF (XGD.TO) has been the standout performer of the year. Friday's close marked an exceptionally interesting place on the charts. From January's low to Friday's high, the ETF is up 95% from the low to the high! Remembering that the ETF is an average of sorts, many individual components surged a lot more than that. However, the price action on Friday was not that good. The ETF opened to a new high, traded higher and then spent all day drifting lower to close at the lower end of the range on high volume. That is a technically weak candle.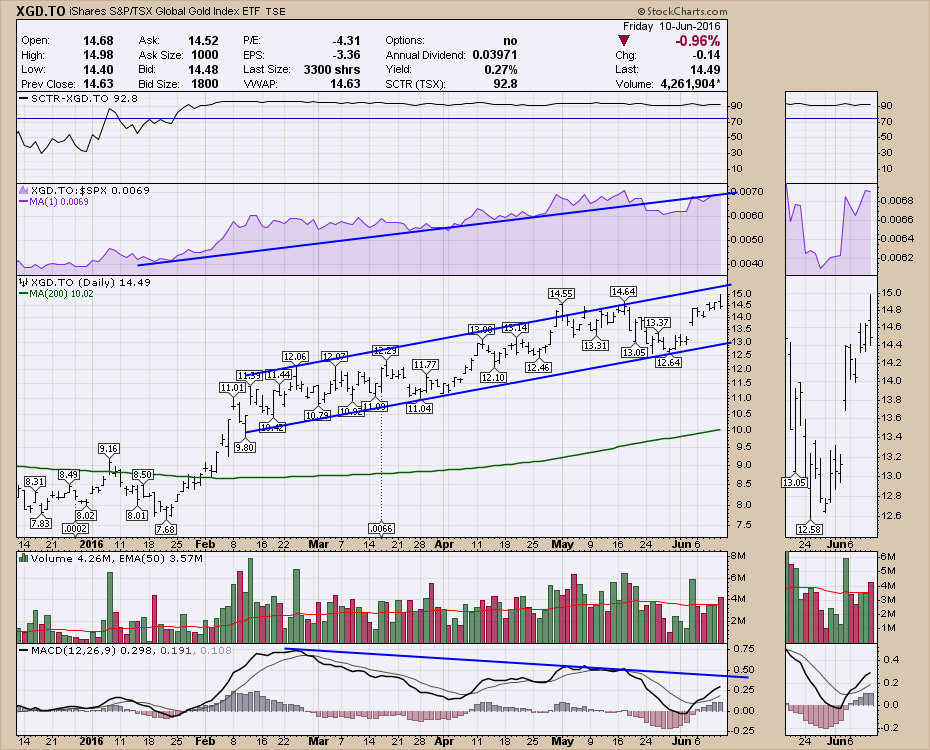 The MACD has been marking out some negative divergence with a lower high in May compared to February. The next week should be interesting to see if it starts rolling over again. An ETF running 100% in a few months might need some consolidation but this has been such a hot money trade, I am inclined to think it might be even more heated on the way down. One other thing that can happen when a massive trade ends, is a volatility surge. That happens in a highly volatile trade near the end of the run. You may see a pullback, then a surge with a massive gap up (6% in this case) and then over the next few days, it runs out of steam. That condition seems to be there.
---
Here is the chart of gold on the same time frame. As you can see, Gold (GLD) has not been in a rising channel, but the miners have been. As Gold is currently testing the previous resistance and the MACD is just returning to zero, this could represent an inflection point for gold and the miners. If the MACD rolls over into negative territory next week, this gold miner trade could unwind. The fact that gold gapped up and closed near where it opened but the miners open slightly higher and closed on the lows is a slight signal that bears watching if this is nearing its end.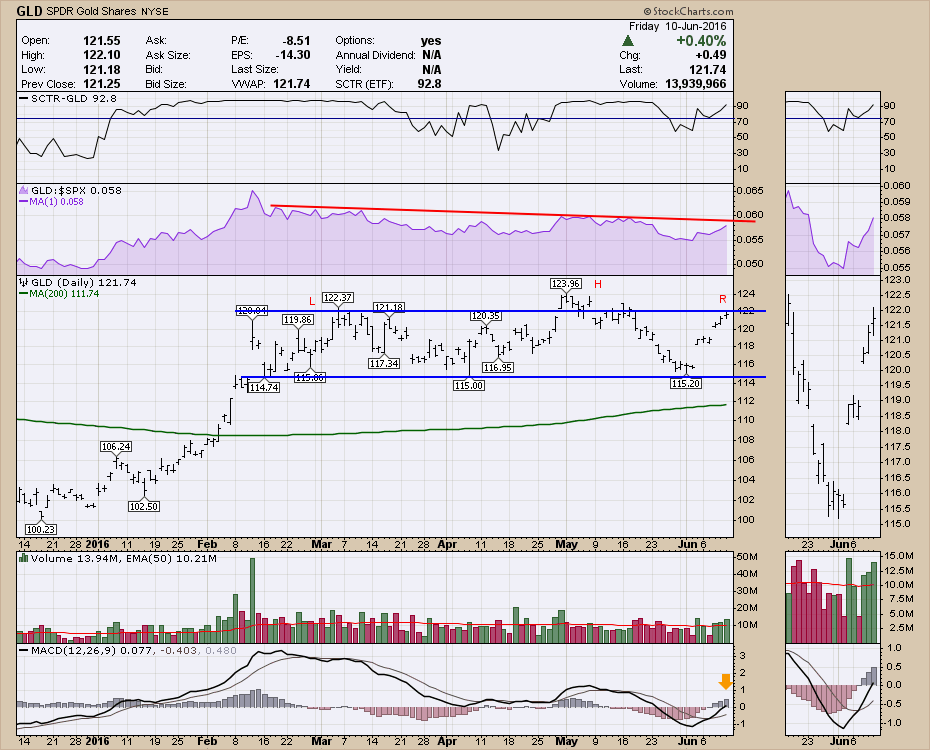 One day does not make a trend, but after a massive move, traders should be looking for where to take profits. I think the condition warrants tight stops. With Gold at resistance and the miners trading down on a day that gold trades up, gives me cause for concern. With the Brexit vote approaching, that could send some huge shock waves into Gold between here and month end. Position size should be adjusted accordingly.
Good trading,
Greg Schnell, CMT, MFTA.