One thing we continue to use technical analysis for is the balance between emotion and the market. When the market is roaring, we need to be a part of it. We also need to be aware of when the market is in an exaggerated state. Conversely, when the market feels just horrible, it presents some of the best buying opportunities. Using technicals to help understand where we are in the market extremes is important.
One of the indicators we use at StockCharts is the Bullish Percent Index. For more information on the Bullish Percent Index, click here for the ChartSchool Article. A simple 10 WMA captures most of the trends. One of the concerns now is the sell signal as the $BPTSE has broken below the 10-week moving average (10 WMA).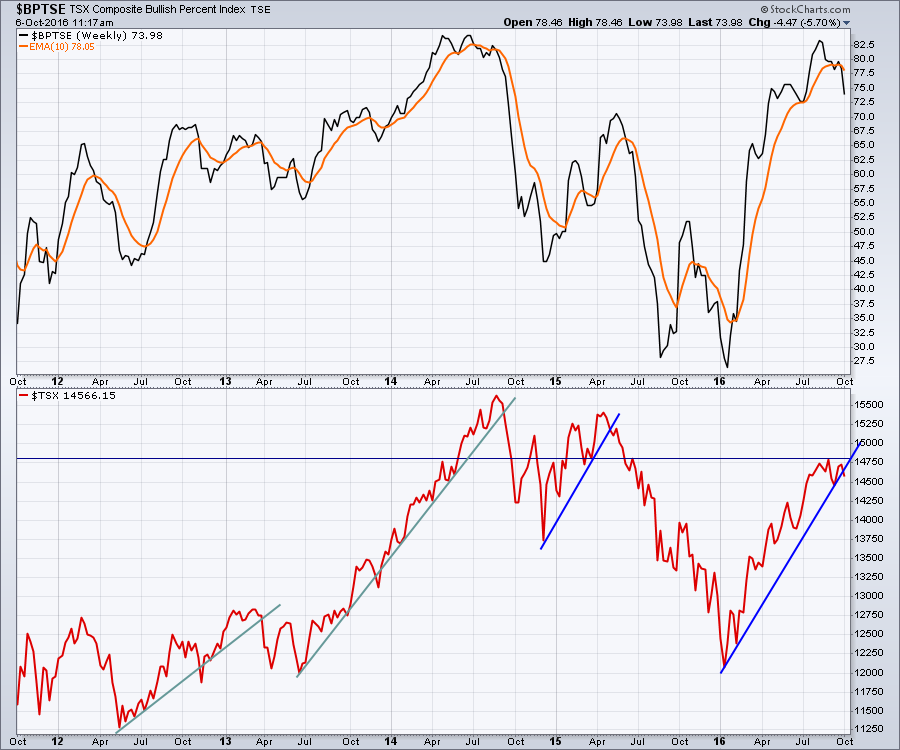 ---
Looking at the trend line on the $TSX it looks vulnerable here as well. At this point, caution is in order.
The last two weeks have had very choppy trading. This is a screen with 10 days of 60-minute bars that I have on one of my monitors. As we can see below, the markets have swung back and forth, making it difficult to make money in this choppy environment.
There are other technical breadth indicators starting to weaken as well. Below is one I like to watch. The centre panel shows the New Highs - New Lows ($TOHL). What I have noticed is that when the market stops making new highs the market is in a corrective mode. I know, that's not so revolutionary! However, the Net-New-Highs level around 50 is interesting for the Canadian market. Notice during the 2007-2009, we were not able to make more than 50 Net-New-Nighs for almost 18 months with few exceptions. You can see this with the shaded area in blue. During those periods the market pulled back. In 2015 we had the same problem. Recently we have been making a lot of Net-New-Nighs, but it has been diminishing. In 2010, 2011, and 2015, you can see the slow trend of lower numbers of Net-New-Nighs. Historically, when it stopped getting more than 50, the market struggled. It is not an urgent issue, but the chart warns that we are finding less new high breadth in the market.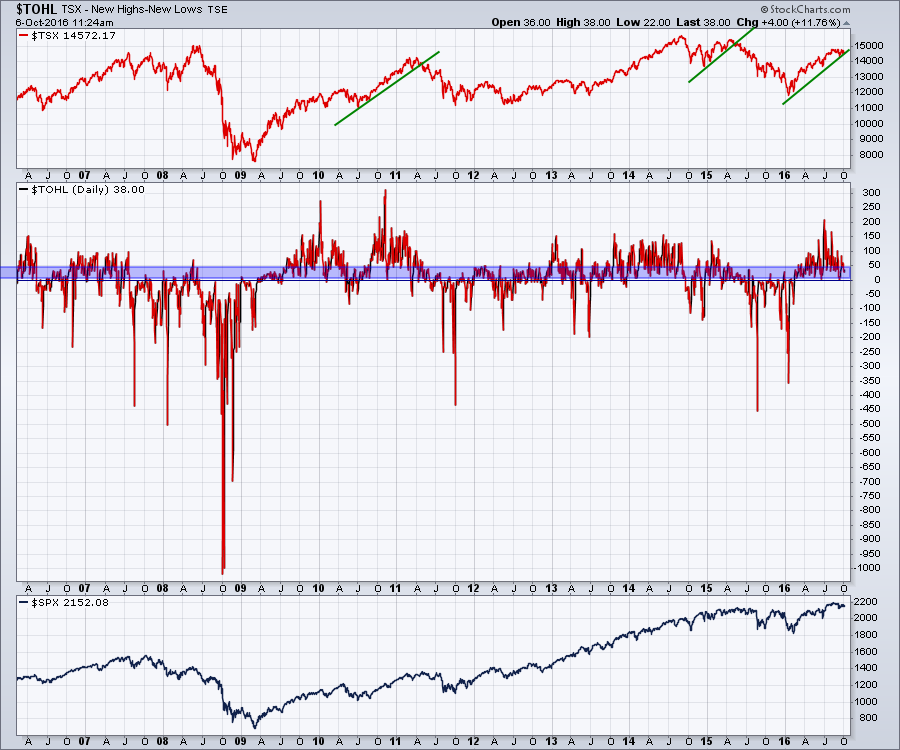 Here is a zoom in on the same chart. You can see that this is not a tight rule, but it is a warning when the Net-New-Highs stop getting above 50. A chart to watch. You can click on the chart to make it live on your page, then click annotate and add some small annotation like an arrow or something. Then click save and it will keep all the previous annotations as well.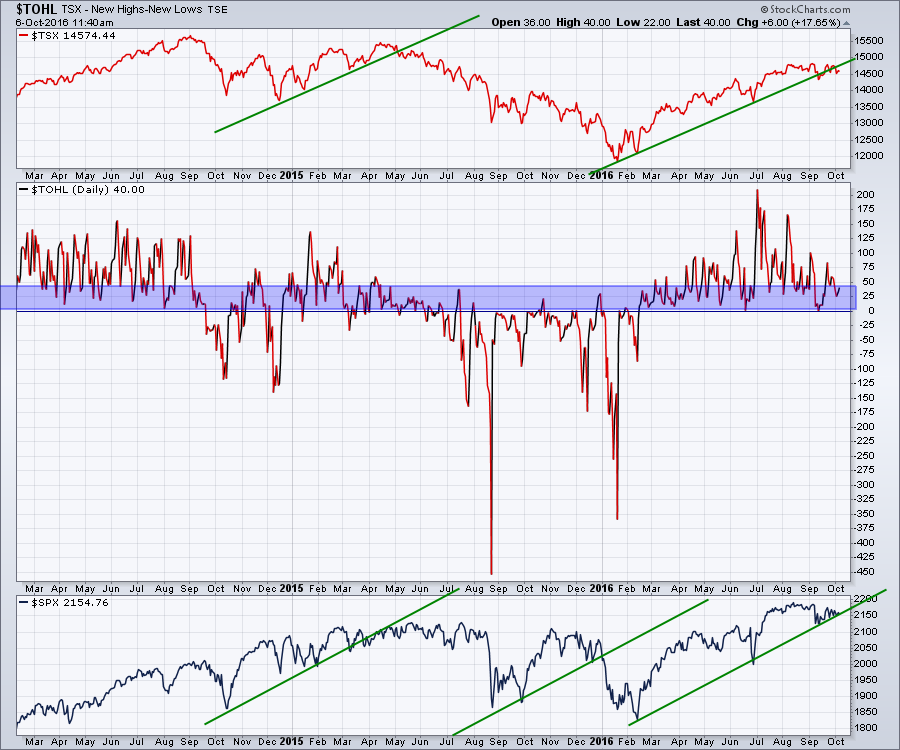 There is much more on The Canadian Technician Webinar 2016-10-04.
I will also be hosting the Commodities Countdown 2016-10-06 at 5 ET. If you would like some technical insights on the move for oil above $50, Natural Gas above $3 and Gold breaking below $1300, please join me.
I also keep a listing of important charts on the Commodities Countdown Chart link. You can click here to see some charts I think are important. Commodities Countdown Chartlist.
Feel free to click on the Yes button below to get a few of these in your mailbox every week. I won't bombard you every day with this!
---
The CSTA is holding their annual Technician's Day on October 15th, 2016. Follow this link to register. CSTA Technician's Day 2016-10-15. This is available in person in some major cities or by webinar for everyone.
---
The Calgary Chapter of the CSTA will be meeting Tuesday, October 11th. WWW.CSTA.ORG for more information.
Good trading,
Greg Schnell, CMT, MFTA.