Recently one of Canada's Marijuana related companies changed their ticker symbol to WEED.TO and since then the stock has started to trade a little better. The company's previous ticker was CGC.TO for Canopy Growth Corporation. Here is the chart. The company changed the ticker symbol 5 days ago.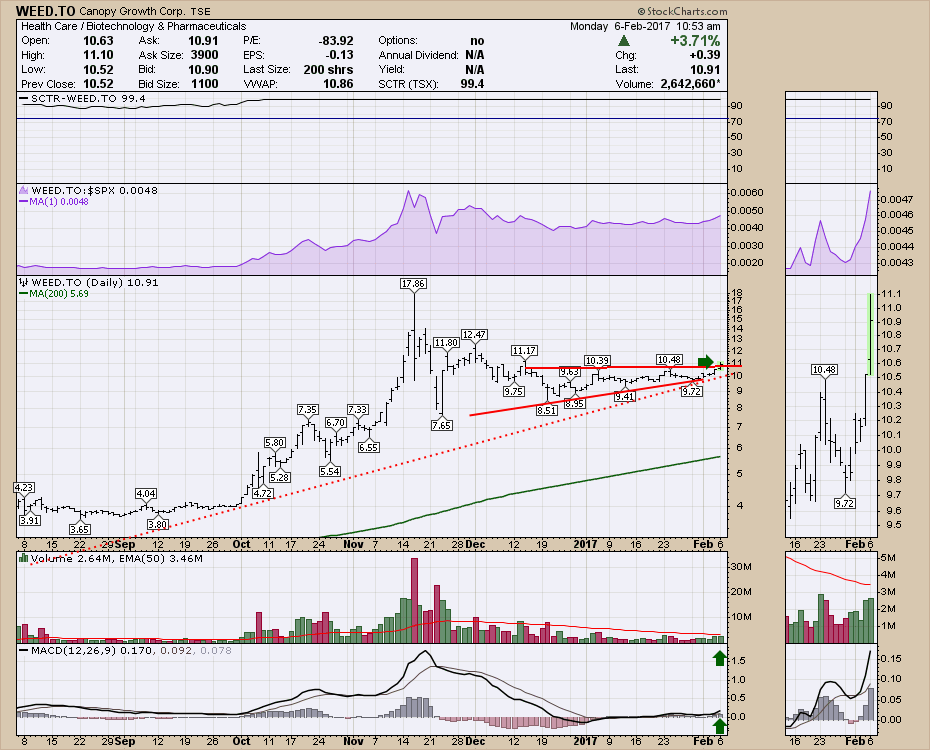 ---
Marijuana is the new party stock. Discussed at every house party, discussed at every bar, this is sure to bring in millenial investors. For technical traders, it's a ticker symbol to invest in while it's rising not falling.
Currently, the breakout looks good. After the parabolic surge and a 60% pullback in November, this weed stock looks to be getting more puffs after basing for 2 months.
Understanding parabolic trading is one of the most important styles a technician can manage that is rarely successful as a fundamental trader. I'll spend some time on The Canadian Technician Webinar 2017-02-07 at 5 PM ET discussing the all of the marijuana stocks I have in a chartlist. I'll also send StockCharts members a copy of the chartlist with all of the stocks in it. Just send me an email at gregs@ to get a copy! If you are not a member, click here to sign up for a 10 day free trial which will make you eligible so I can transfer this chartlist to you! Use BESTCHARTS for the coupon code.
Good trading,
Greg Schnell, CMT, MFTA.