Marijuana names absolutely soared the last two weeks as Canadian legalization approaches. With the rumour of partnership deals in beverages and snacks, the euphoria couldn't be much higher. That might be the problem. Who doesn't own the stocks that wanted to? The ETF is up 50% in 2 weeks! Individual stocks are approaching 50% to 140% gains in the same period.
Here is the Medical Marijuana related ETF. With the volume doubling between Thursday and Friday and now Friday to Monday, this looks pretty significant. The volume today was 5 times average volume!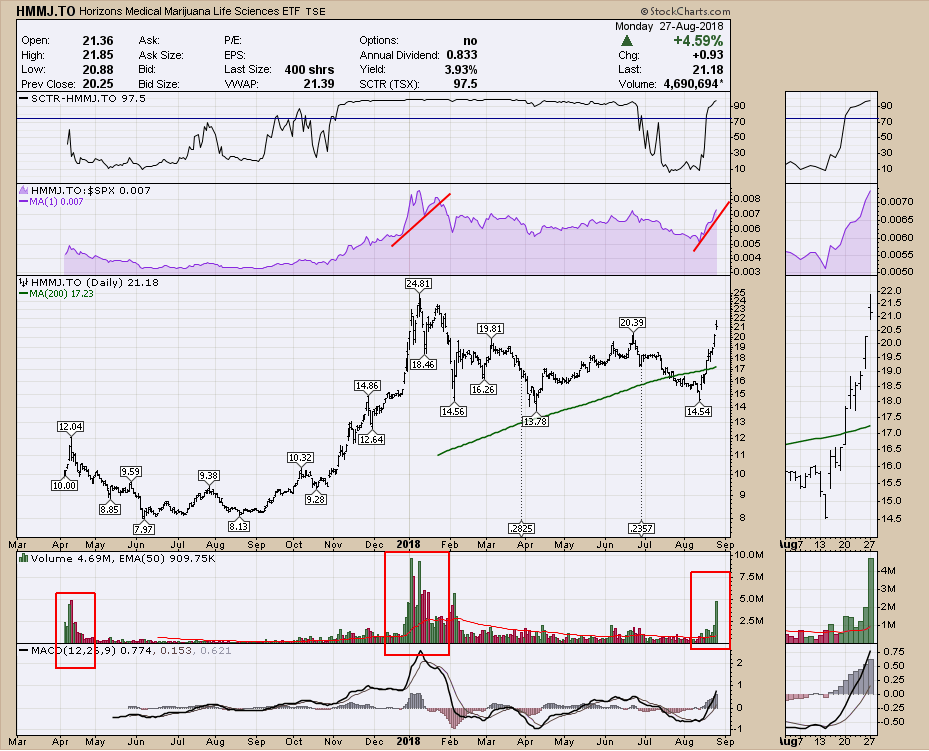 ---
Some of the other names are showing the same volume pop. Aphria is showing 4.5 times the average daily volume while Friday was 3.5 times the normal volume !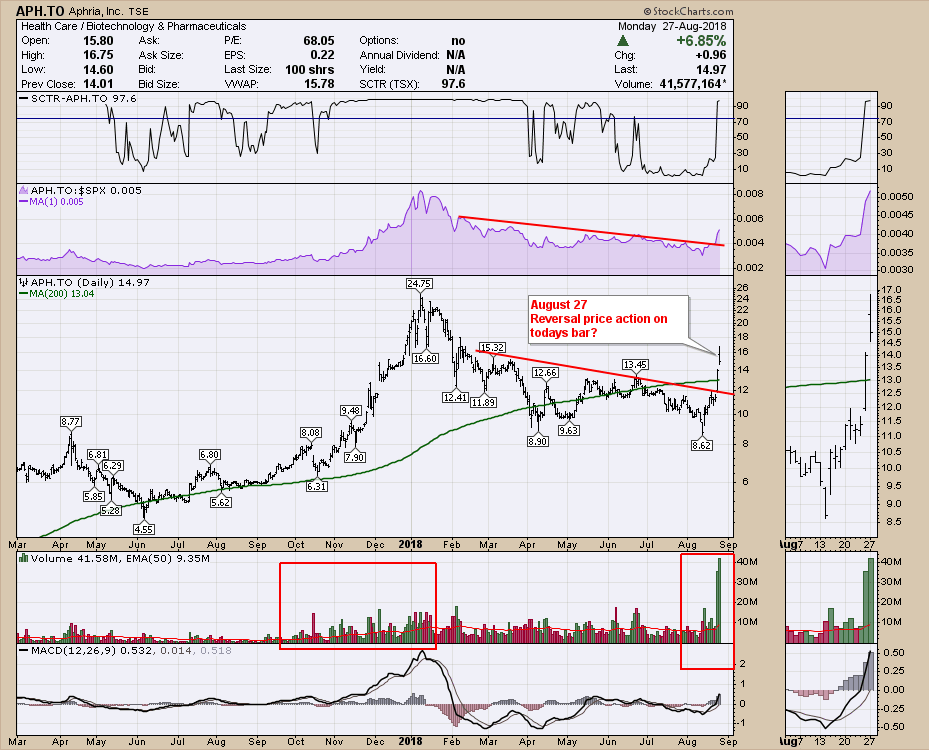 The big mover today was Cronos. Notice the price profile when they exceed the average volume by so much. You may not be at the end of the move but you are getting close. The bottom line is the marijuana move might need to relax a few days. Conversely, it's not uncommon for these stocks to pull back significantly. Traders beware.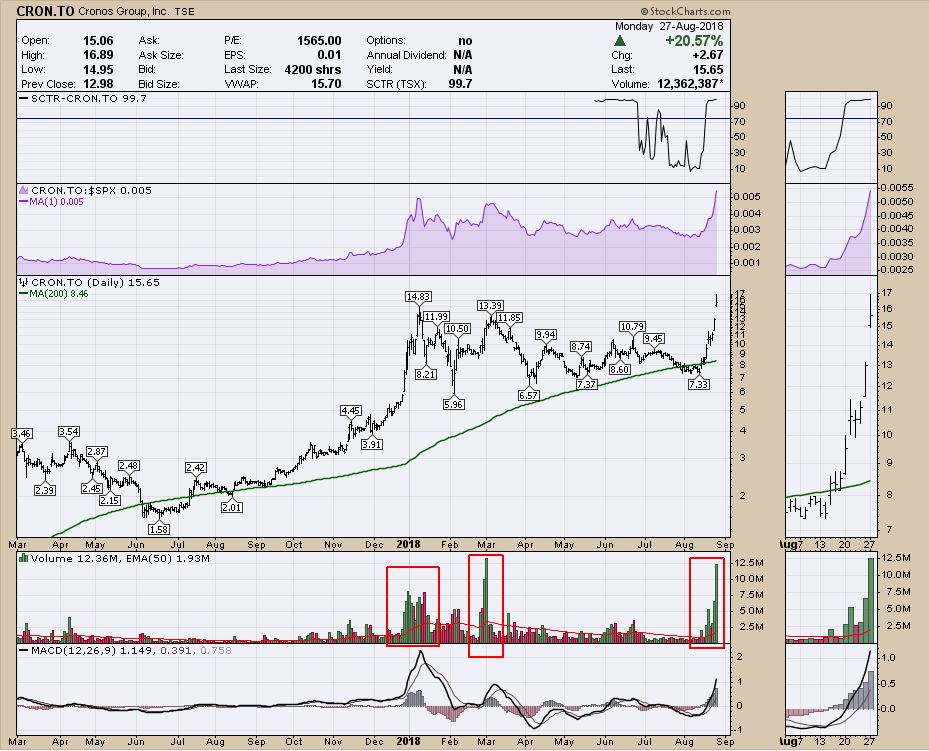 In the normal sectors, the industrial metal miners and precious metal miners look ready to move. All of the industrial miners and precious metal miners are setting up with a full stochastic trading methodology that I presented at ChartCon 2018. You can still subscribe to the video collection and watch 16 presentations at your leisure.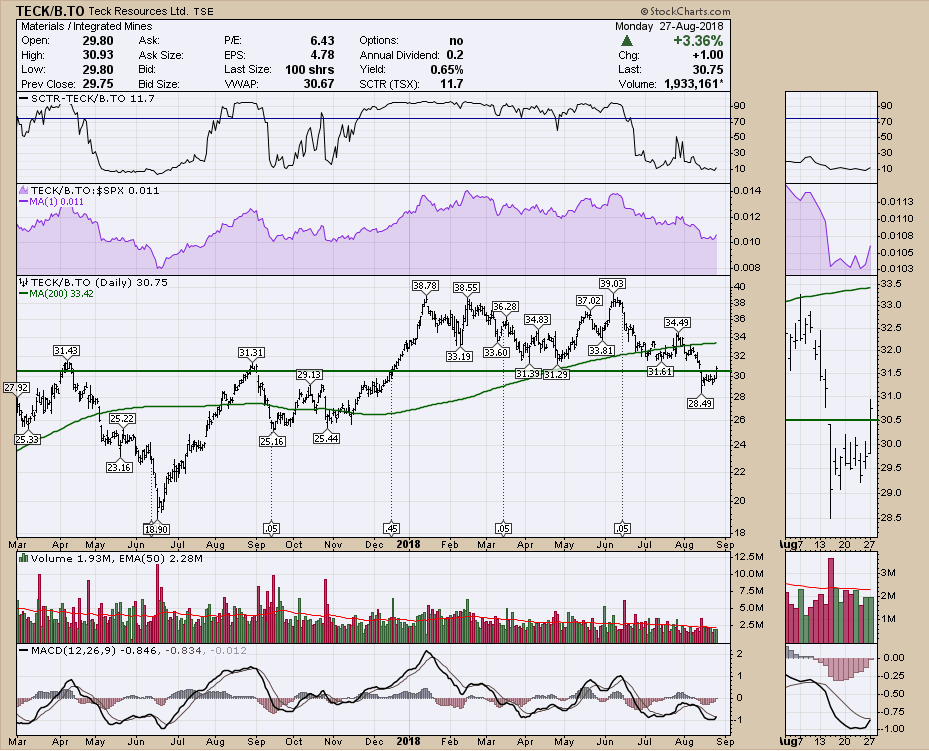 The MUSTA agreement - Mexico US Trade Agreement was announced today. That created some optimism for the auto parts and auto industry. There were big moves across the industrials. These stocks are also signalling on the same Full Stochastic trade plan from ChartCon 2018. An example of the industrials that have pulled back can be found in the chart of Martinrea.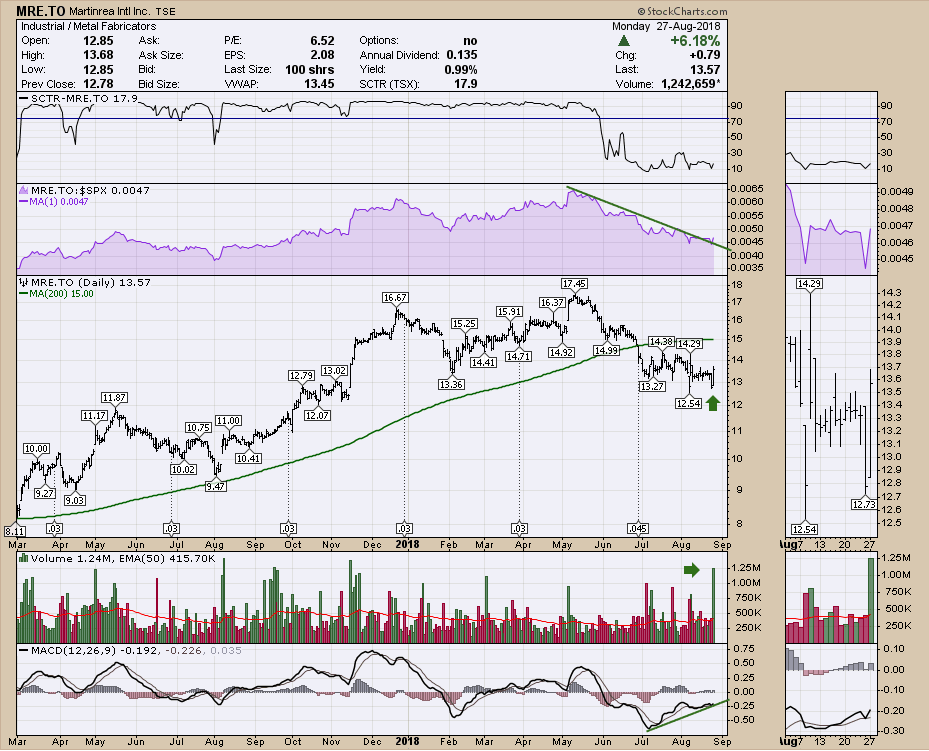 The performance chart of the Canadian banks has recently accelerated with the earnings announcements. The chart below shows the three month trend.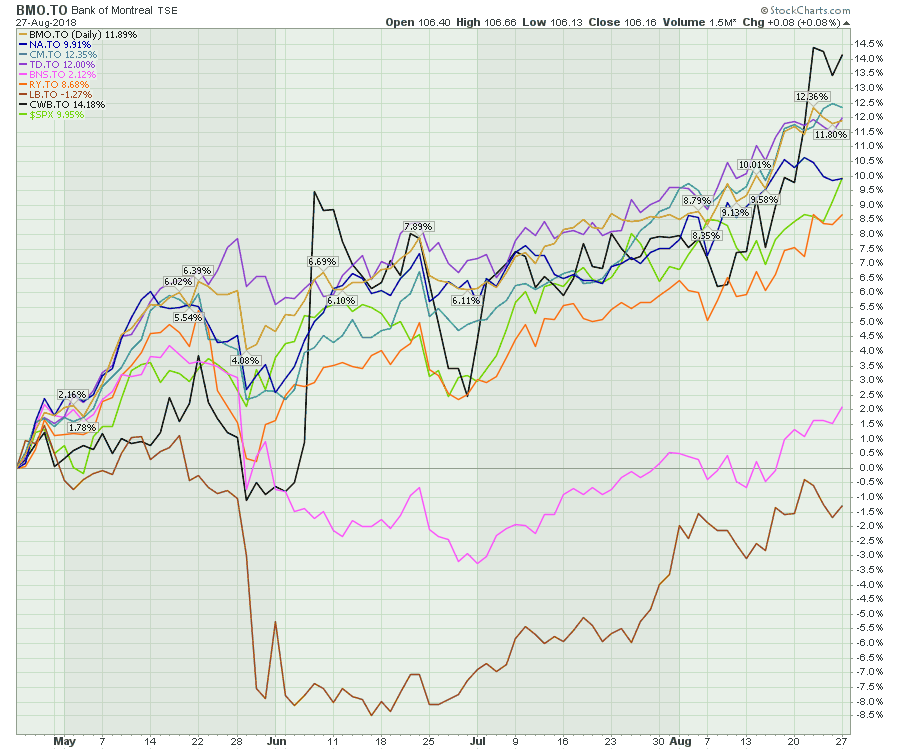 While I have been cautious since the middle of June when I presented in Toronto at the CSTA annual meeting, I think the change in breadth last week supports the $TSX trying to break out.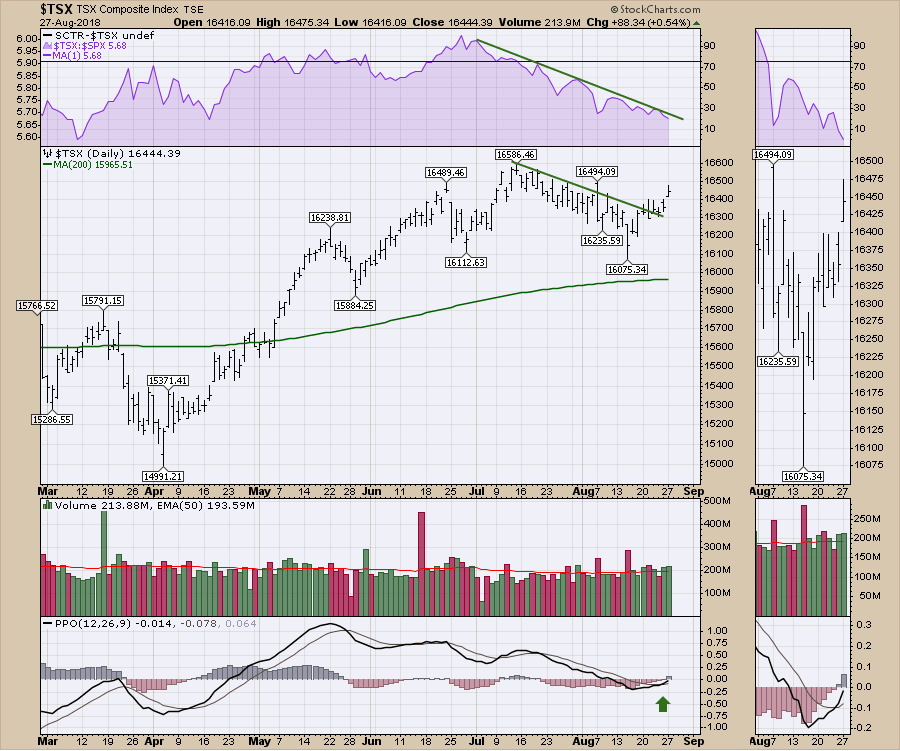 There is a lot more in the video. I walk through all the sectors but the key takeaway is that breadth seems to be improving on both sides of the border. With Chrystia Freeland in Washington to try and wrap up trade negotiations with Washington, watch for more fireworks either way in the cross border trade area.
---
The Canadian Technician.
---
The Commodities Countdown video covers off the setups in the precious metals charts this week.
---
The Final Bar.
---
I appeared on MarketWatchers Live August 24th, 2018 hosting a segment called Everything StockCharts. You can see the entire show here.
---
You can also click here to see Market Watchers Live Monday August 20, 2018.
---
If you are missing intermarket signals in the market, follow me on Twitter and check out my Vimeo Channel often. Bookmark it for easy access!
Good trading,
Greg Schnell, CMT, MFTA
Senior Technical Analyst, StockCharts.com
Author, Stock Charts for Dummies
Want to read more from Greg? Be sure to follow his two StockCharts blogs:
Commodities Countdown and The Canadian Technician
Announcement from the Author
{{ announcement.content }}