With the volatility surging, the indexes have really been flopping around. The $TSX continues to struggle. The outside bar forming after Thursdays wild ride is not bullish. The intraday action was better on Thursday, but we will need these levels to hold.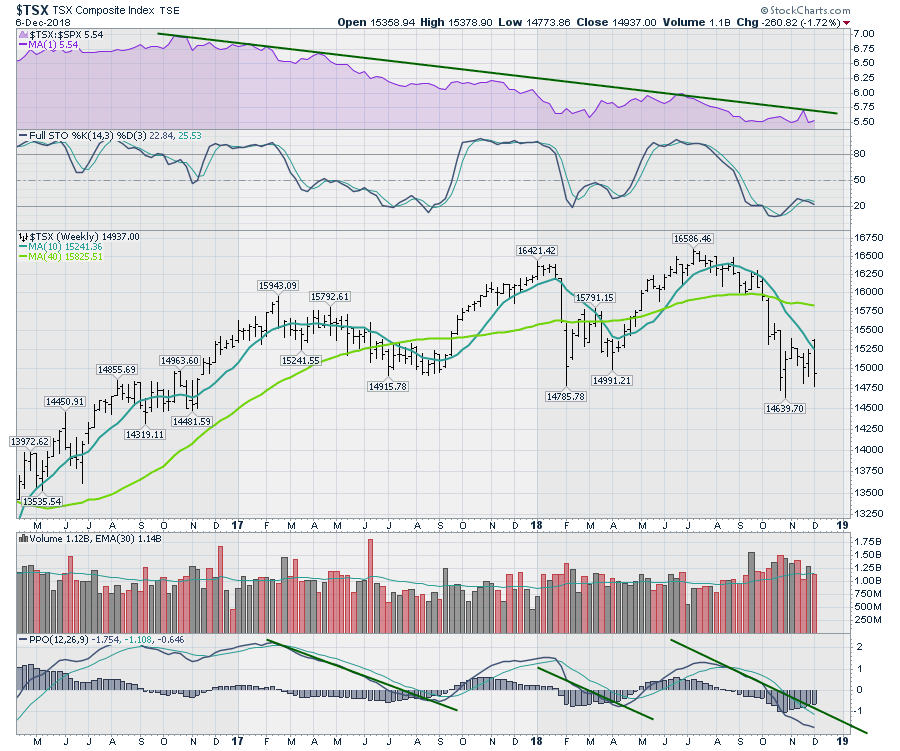 The 10-minute chart (a shorter time frame than I usually look at) shows the price moving from the top of the range to the bottom this week. Currently, it is trying to rally out of the hole.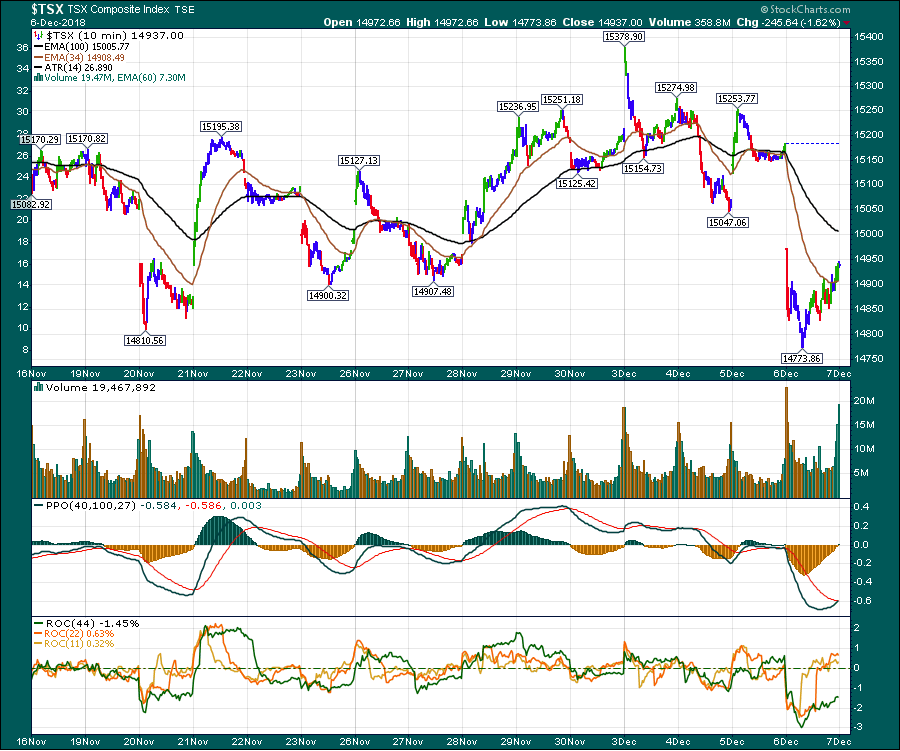 With the wide swinging market, portfolios are being swayed up and down wildly; even the defensive stocks are moving in wide ranges. The growth stocks that started off having a great fourth quarter are now looking questionable. One example is GOOS.TO. The significantly lower momentum of the PPO for the December high compared to the June high is worrisome. As the stock retests the prior high, we want to see price break out with momentum improving. Currently, momentum is rolling over.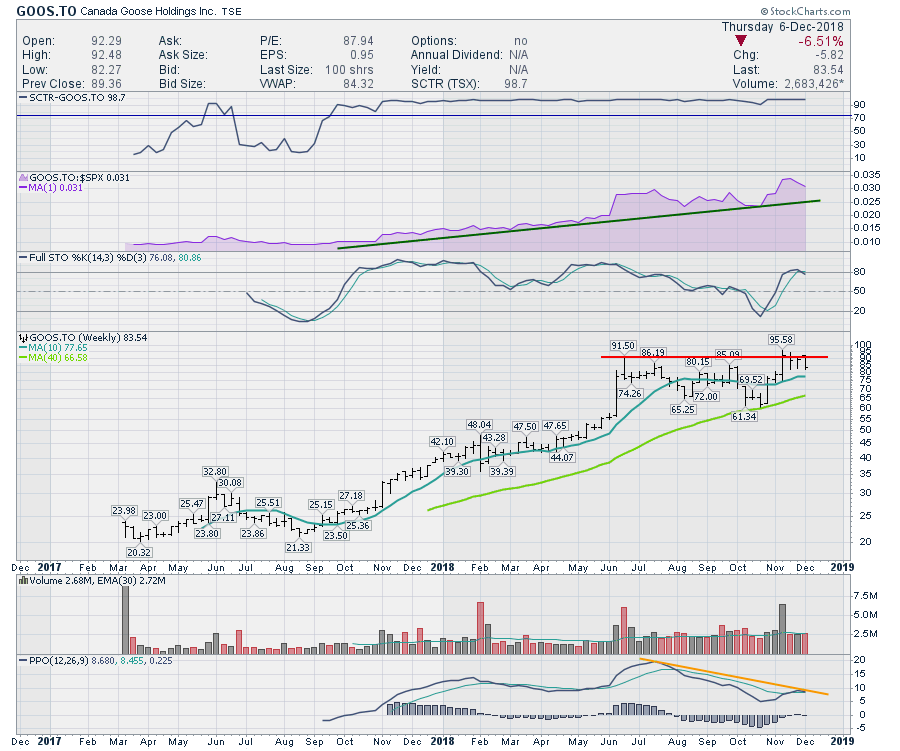 An example of this same chart shape recently happened on one of the Marijuana names. One difference, however, is that the PPO is still well above zero; that said, the chart could easily break lower.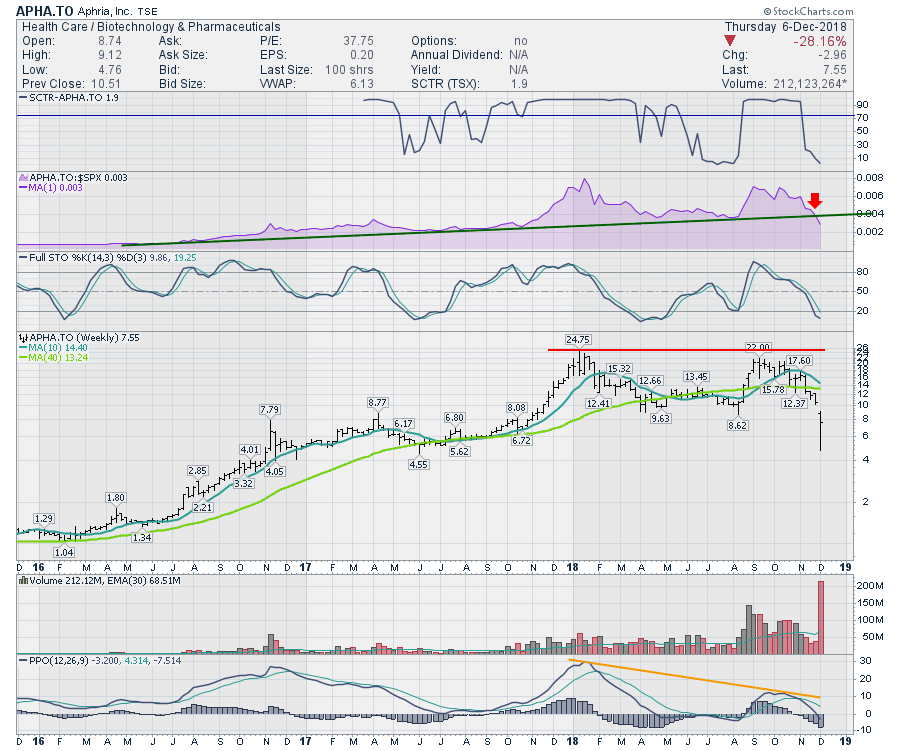 While the Canadian price of crude oil is substantially lower than the $WTIC price, there are a few things coming into play here. The governments are getting involved to reset the broken market. The Canadian oil stocks might behave differently than the US stocks as the $WTIC-Canadian price differential improves.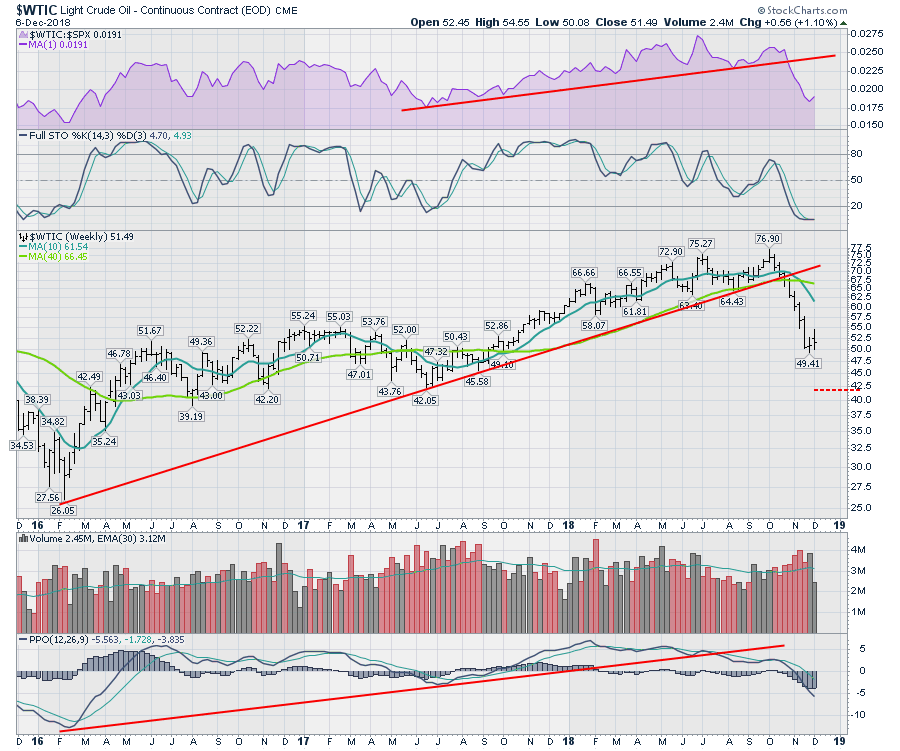 The chart of XEG.TO shows the industry response. Muted after the big down drafts this week, but better than nothing. I am now watching these charts for bases to start setting up over the next month.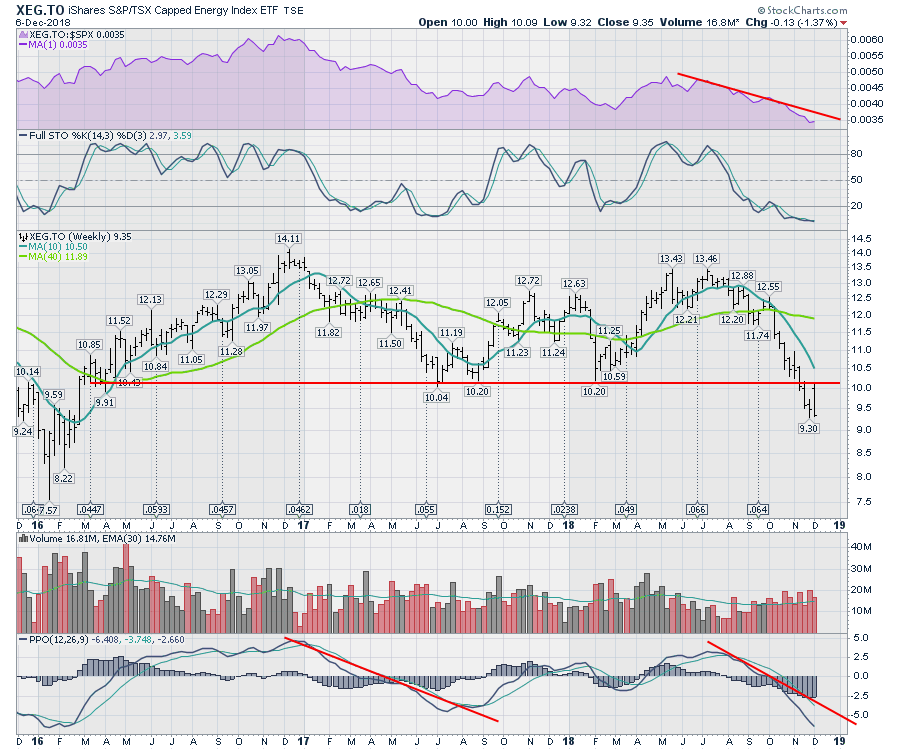 On this week's Canadian Market review, I spent a portion of the video covering the Canadian oil stocks. Don't let the opportunity slip away: start following what is working in the Canadian oil space for some nice 2019 opportunities.
---

If you are looking for a small gift, you might have family or friends that would like to learn more about the basics of charting; if so, they'll love Stock Charts for Dummies. The first section of the book walks through all the chart settings to get the charts you want, the second section explores why you might use charts for investing and the third section is about putting it all together.
Click here to buy your copy of Stock Charts For Dummies today!
---
This Final Bar video shows three simple scans users can work through to help find strong stocks off of the lows.
If you are missing intermarket signals in the market, follow me on Twitter and check out my Vimeo Channel. Bookmark it for easy access!
Good trading,
Greg Schnell, CMT, MFTA
Senior Technical Analyst, StockCharts.com
Author, Stock Charts for Dummies
Hey, have you followed me on Twitter? Click the bird in the box below!
Want to read more from Greg? Be sure to follow his StockCharts blog:
The Canadian Technician