With the markets plunging hard to close out the week, it was interesting to see some of the banks trade slightly better than the overall index drop on the day. The Fed meeting Wednesday and the quadruple witching day for options on Friday are some catalysts for a change in trend. Here is the sector performance for the week.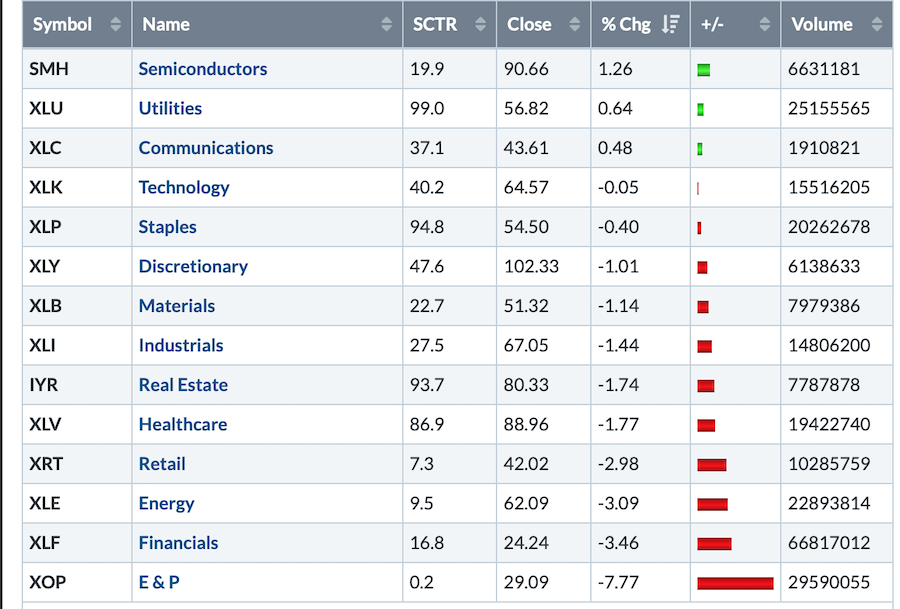 Looking through the list, the semiconductors finished up on the week even after a tough Friday. The Communications sector is also a little bullish so that helps. The oil exploration industry was crushed as a part of the energy sector! Having the financials sector as the worst over the whole week is really quite concerning. Lastly, retail continues to slip which surprises me the most with the level of employment.
For the commodities, silver miners squeaked out a gain on the week.
The marijuana names continued to plummet this week. What makes that so concerning is that we are 2 months after Canadian legalization as well as the hemp farm bill passing this week. It seems that all the fundamental information is not helping the stock performance for the industry. Here is the Canadian ETF that tracks the Marijuana companies.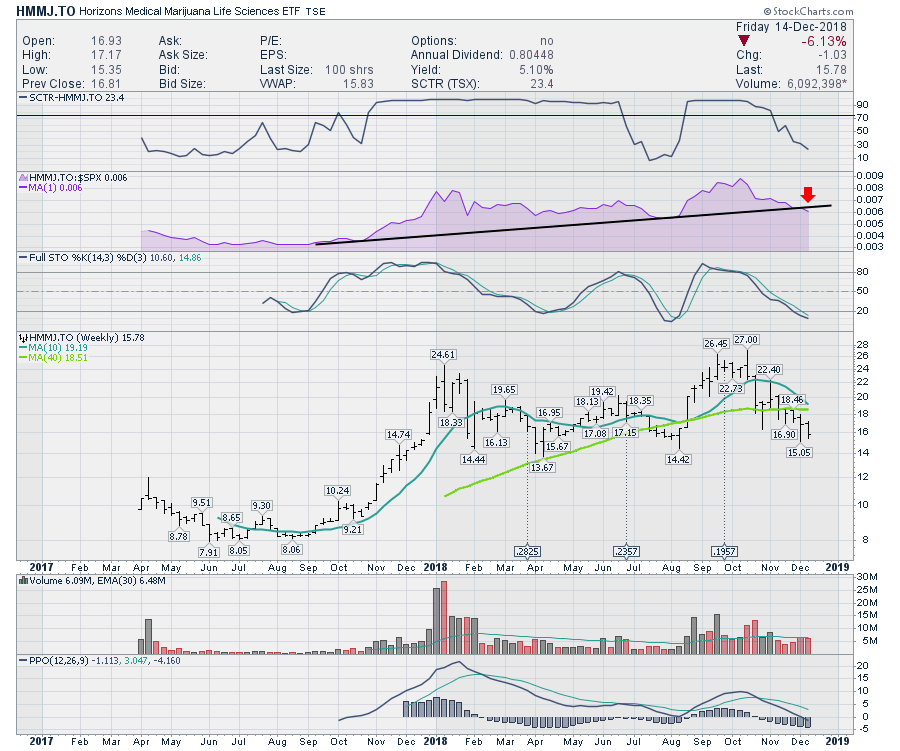 On the video I talked about the challenges in the financials as well as the weak performance in the commodity space. There was not a lot of new information on the currency charts.
---
I have been discussing the gold setup for weeks now, but the breakout seems to just be getting started. In the video, I work through gold and would encourage you to view this setup in detail. With the US Dollar pushing higher again this week, the gold-related trade has slowed.
---
This Final Bar video shows some concerning charts. However, getting ready for the next rally is key.
---
For those of you who are looking for a small gift, you might have family or friends that would like to learn more about the basics of charting; if so, they'll love Stock Charts for Dummies. The first section of the book walks through all the chart settings to get the charts you want, the second section explores why you might use charts for investing and the third section is about putting it all together.
Click here to buy your copy of Stock Charts For Dummies today!
---
If you are missing intermarket signals in the market, follow me on Twitter and check out my Vimeo Channel. Bookmark it for easy access!
Good trading,
Greg Schnell, CMT, MFTA
Senior Technical Analyst, StockCharts.com
Author, Stock Charts for Dummies
Hey, have you followed me on Twitter? Click the bird in the box below!
Want to read more from Greg? Be sure to follow his StockCharts blog:
The Canadian Technician