I have been very pessimistic of late, as the combination of declining breadth, a bond market firing off signals, and commodities plummeting all adds up to an ugly situation. At the end of May, a significant number of indices worldwide all closed below the 20-month moving average. That definitely shows weakness. More importantly, a lot of them moved below in May.
Above: $SPX, $COMPQ, Canada, Australia, Russia, Brazil, India
Below: $INDU, $RUT, $NYA, Germany, France, England, Spain, Italy, Korea, China, Hong Kong, Taiwan, Japan.
Five days into June, a lot of these indexes are trying to turn up. While the Fed seems to be the base builder for any weakness, we've also seen a change in the US Dollar. If the US Dollar weakens, that is usually helpful for commodities and emerging markets. Notice that the commodity countries of Australia, Canada, Brazil and Russia all held up above the 20-month moving average.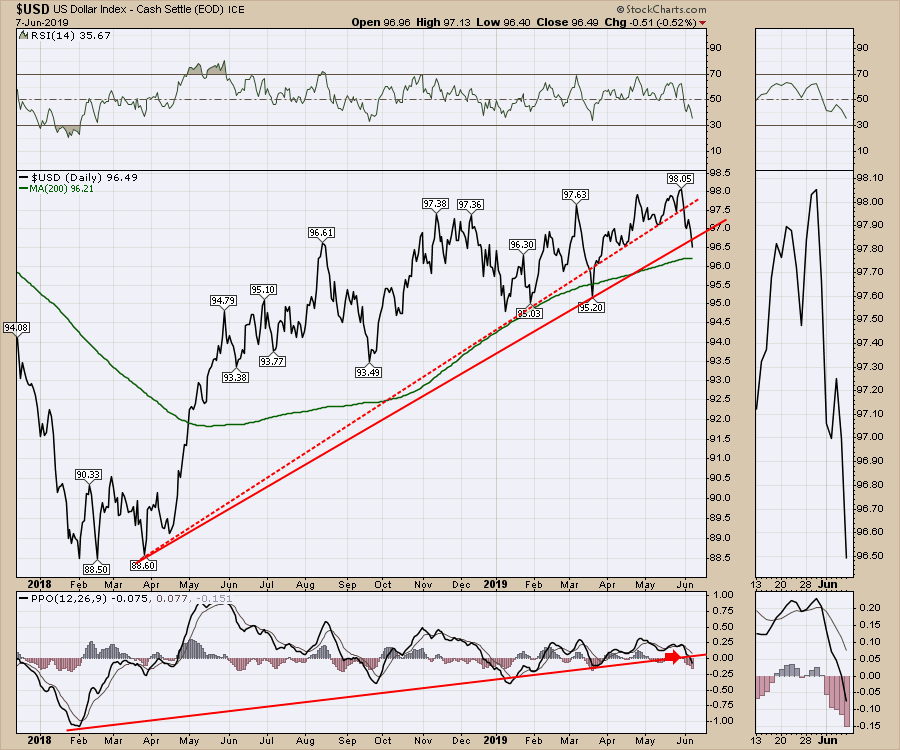 The US Dollar on a weekly chart looks more severe. While we still have the 40-week moving average just under the current level of support, it appears weak.

The commodities are ugly here. This week, however, a couple of wonderful signals showed up. One was the hammer candle on oil's weekly chart. The hammer showed up near the $55 level, which has been an important level over the last 5 years. Bearish notes on the chart include the Full Stochastic indicator still being in free fall, but down at 20, so any bounce here would kick off a new stochastic buy signal. The RSI created a bear market signal by dropping to 30 in December. After a rally and a pullback, a bounce at the 40 level is where bull markets find support. It is important that oil holds up here as an indicator for global activity. Lastly, the PPO dropping below zero is terrible. This is where rapid downside acceleration can occur when momentum goes negative. The next two weeks are important!
$COPPER is trying to find support at a 17-year trend line. If the US Dollar is going to break down, we might find that Copper can rally off of this support line. The PPO is currently pointed down and below zero, so that is concerning. A bounce here would suggest a big bull market is underway.
Again, the interesting reason to be looking intently towards commodities is that the four commodity countries of Australia, Canada, Russia and Brazil all held above the 20-month moving average I mentioned above.
Lastly, one signal I have been waiting to see is the Net New Highs finally breaking out to a level higher than 150.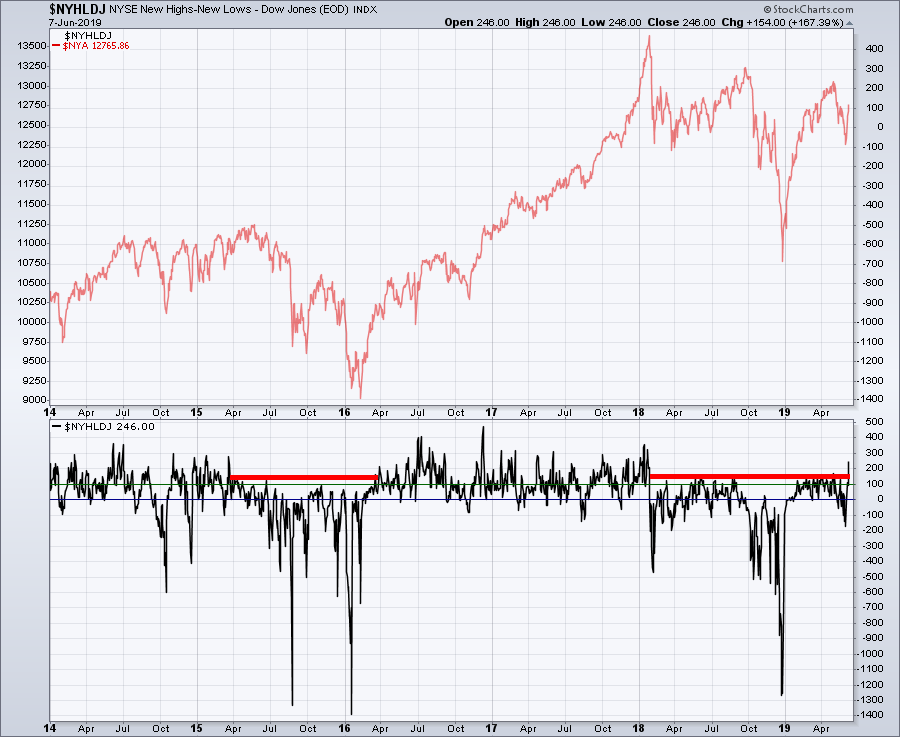 Here is the link to this week's US Market Review video.
Good trading,
Greg Schnell, CMT, MFTA
Senior Technical Analyst, StockCharts.com
Author, Stock Charts For Dummies
---
Want to stay on top of the market's latest intermarket signals?
– Follow @SchnellInvestor on Twitter
– Connect with Greg on LinkedIn
– Subscribe to The Canadian Technician
Announcement from the Author
{{ announcement.content }}