Big names fell big on Monday. In particular, the large tech names tumbled in unison on what proved to be a miserable day in the technology sector.
Facebook got a face wash, finishing down 26% from the highs. The 2018 high has the chart looking messy, down a long way from the highs of 2018. The SCTR is leaking substantially and the uptrend in the relative strength is broken. Volumes soared on this down Monday. The PPO has moved back below zero, which is not bullish. The good news is that the $160 level looks like potential support.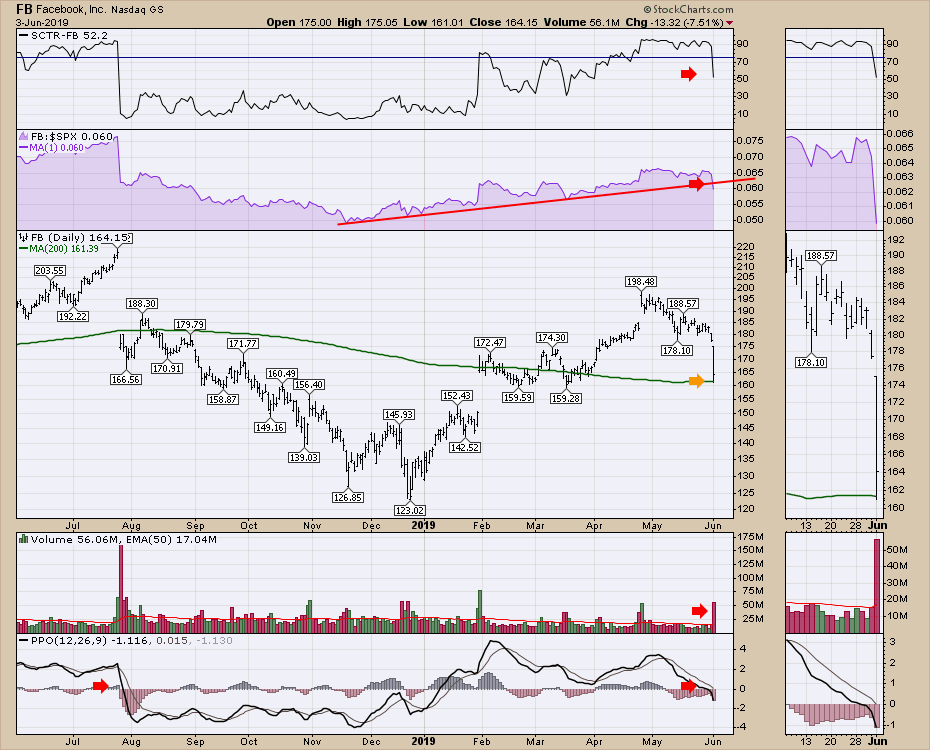 Apple kicked off their worldwide developers conference today. The stock sold off on what should be a day of new product releases. The ancillary news was a potential DOJ anti-trust probe. The SCTR has been weak since last November and the relative strength has been falling throughout May. This $170 level may also be an area to test for support; however, it is still dropping even with a $75 billion buyback schedule in progress.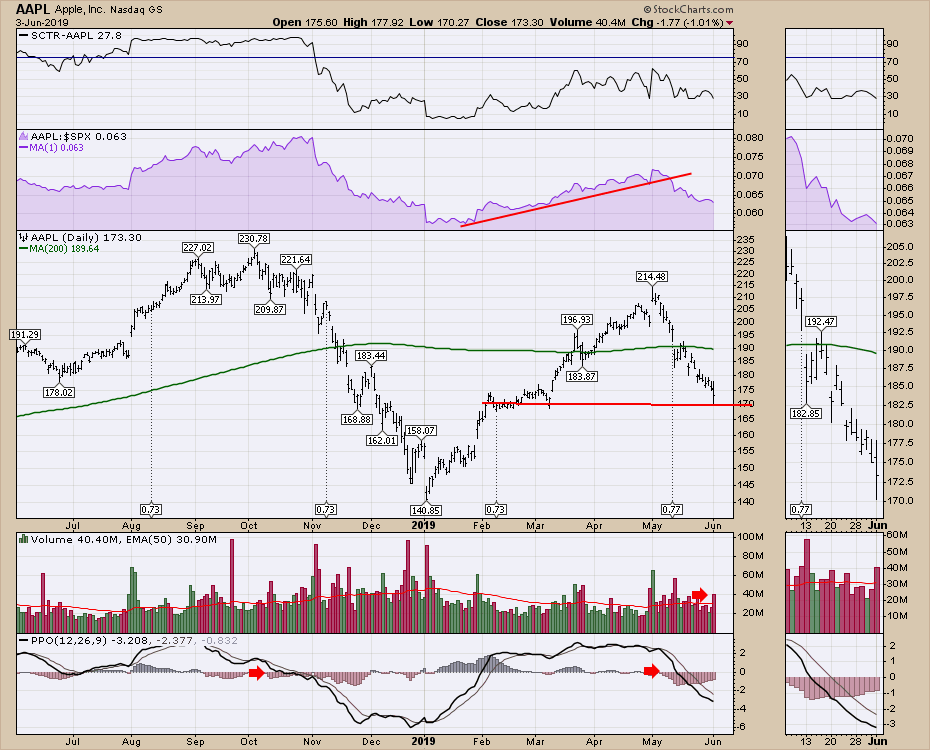 Amazon also got lost in the jungle of falling stocks today. The good news is that it is only down 17% off the high of 2018. The 200-day moving average was clearly not supportive for the stock today, though. Perhaps the $1575 level will be the next level to be tested. The volume today was double the average; a negative PPO completes the negative picture.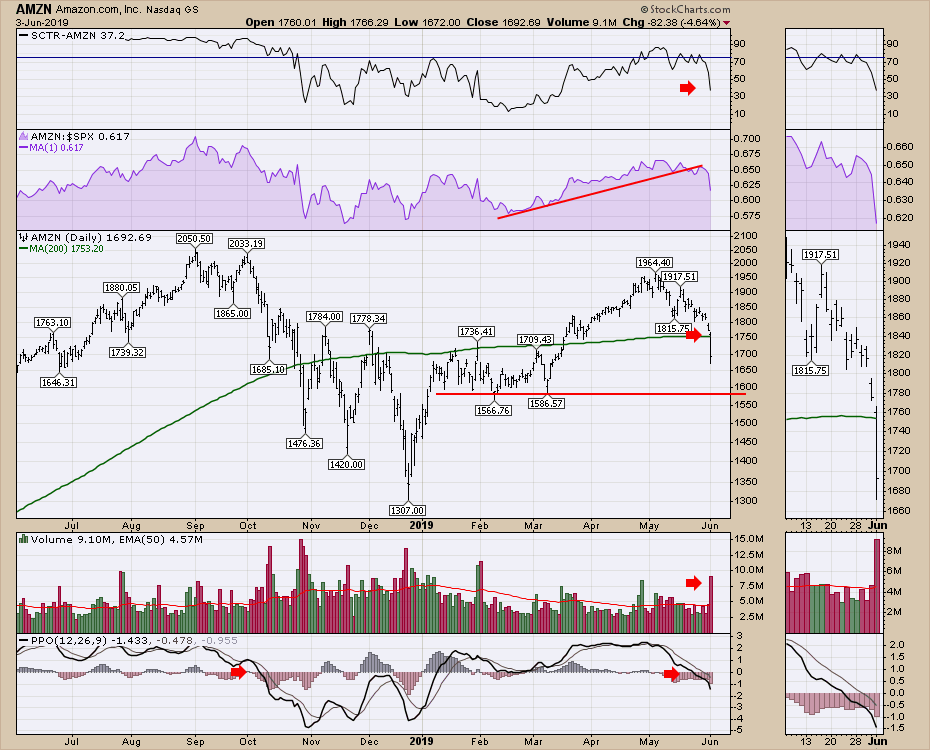 Netflix is a little better as, while it is still within a sideways consolidation, it is also 20% off the highs of last year. The volume was not soaring, but the stock still does not seem to have any positive momentum, with the PPO going below zero.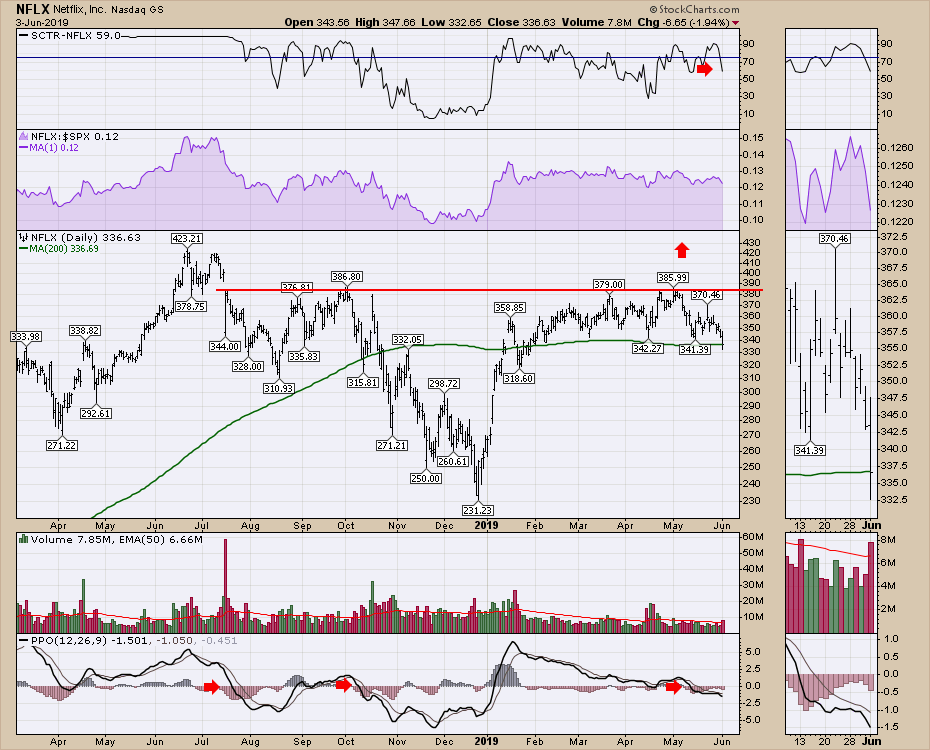 Alphabet found a fresh high in April, but, by June 3rd, this chart was heading to a hospital. The double top on the Alphabet chart is pretty obvious at this point. The SCTR is at one-year lows, as is the relative strength.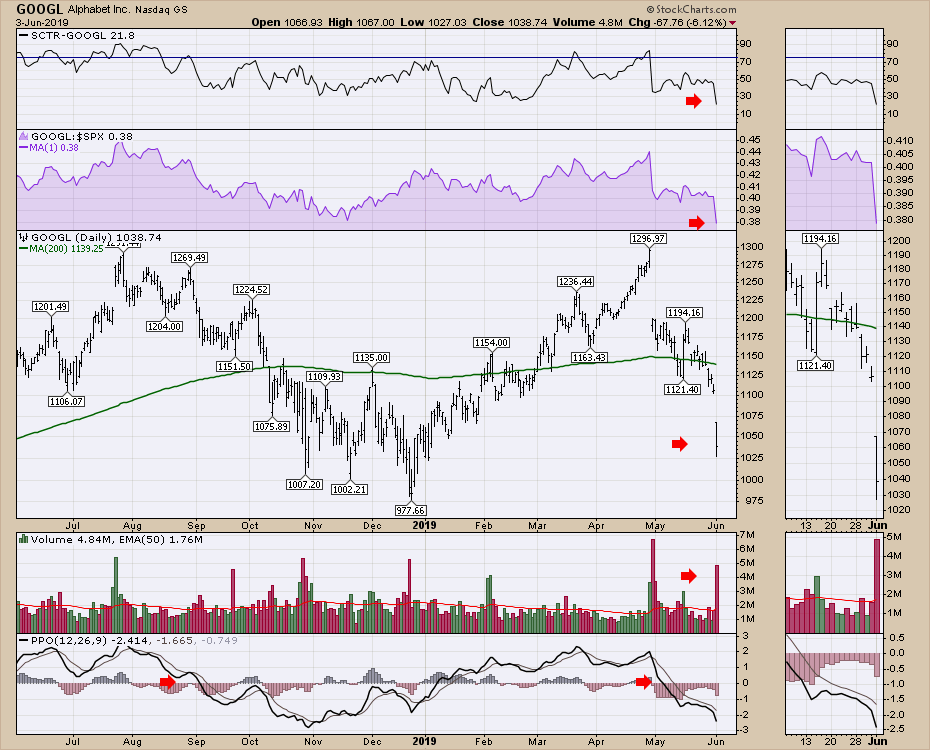 GOOGL is now down 21%.
The group looks like a mess. Most of the fang gang have not made new highs in 2019 even while the $SPX has. The gap is becoming more obvious as this market crackdown continues.
Good trading,
Greg Schnell, CMT, MFTA
Senior Technical Analyst, StockCharts.com
Author, Stock Charts For Dummies
---
Want to stay on top of the market's latest intermarket signals?
– Follow @SchnellInvestor on Twitter
– Connect with Greg on LinkedIn
– Subscribe to The Canadian Technician