The Canadian market has not been able to break to the upside, instead continuing to test the 16500-16600 level.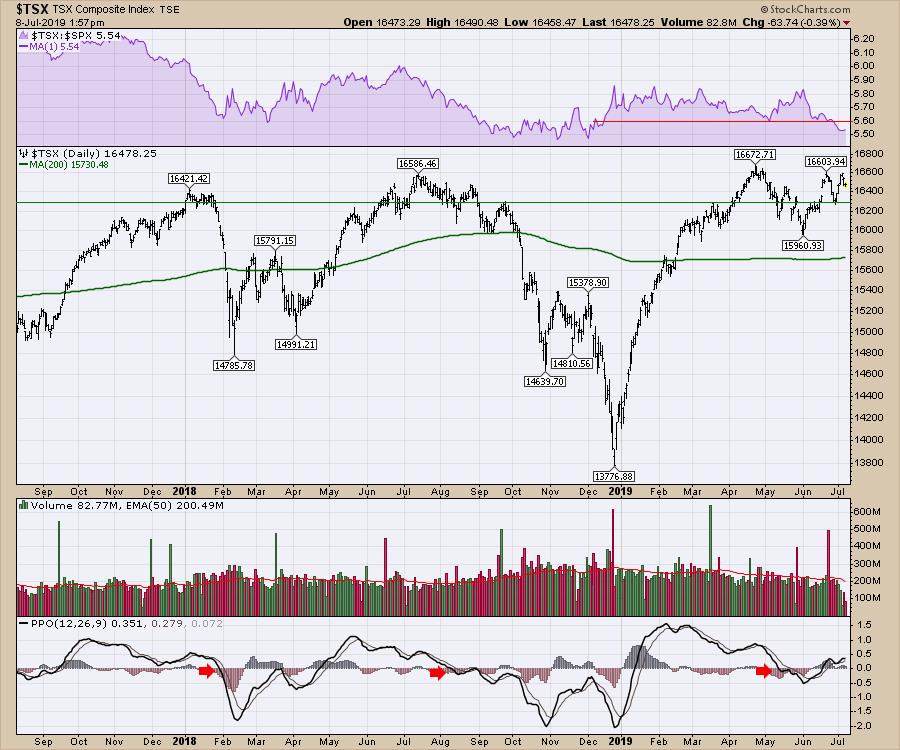 Although Gold stocks recently went on a run, financials have been held back. That static $TSX chart looks set to break to the upside if this heavily-weighted group can break out. While the chart is still up into the right corner, the volume on this particular ETF has been anemic. We need to see some movement with some volume. Three different Canadian Financial ETFs have all shown tiny volume lately - not just during the Canada Day/Independence Day/Calgary Stampede low volume week, but the 3 or 4 weeks before that as well. Looking left on the chart, the price surges in the latter half of 2017 and again in Q3 2018 didn't have any volume acceleration, so I'll remain focused on the chart shape. The PPO momentum looks like it is trying to turn up, but, if it turns down from this flat span, that will be a big negative.
Oil and Gas continue to live on the blues end of the page. While the hope of TMX construction starting this fall is important, there won't be a rapid improvement in exit volumes. There are lots of sharp edges digging in on the Canadian energy file, a whole host of issues including foreign financing of protests, the redwater decision on bondholders, election interference, pipeline capacity, small awareness of big changes in industry GHG improvements, etc. If the industry ETFs like the one below break down, that will make it very difficult for the smaller companies to continue to get financing.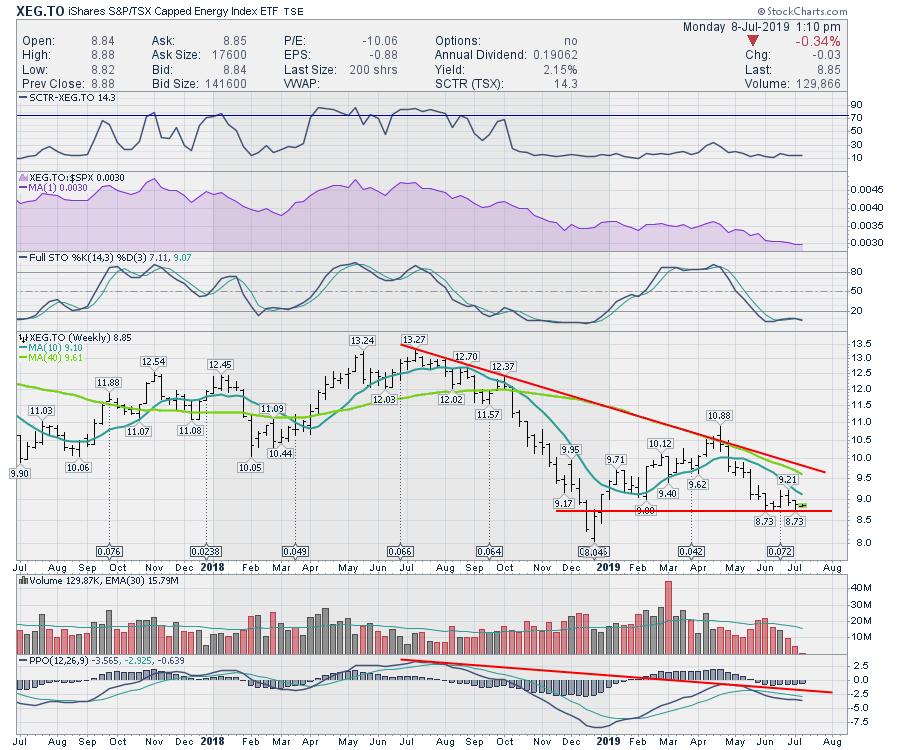 The currency charts can impact the oil business as well. One difficult reversal that showed up last week was the US Dollar. The reason I use the word difficult is that USD looked to be breaking down, which caused money to move towards investments that do well with a dropping US Dollar. Investment ideas like emerging markets and commodities can do well in that backdrop. This significant turn puts that trade schematic at risk. This is always an important chart for me, but it is important that it continues the downtrend; if not, my bullish macro thesis for the second half might be a problem.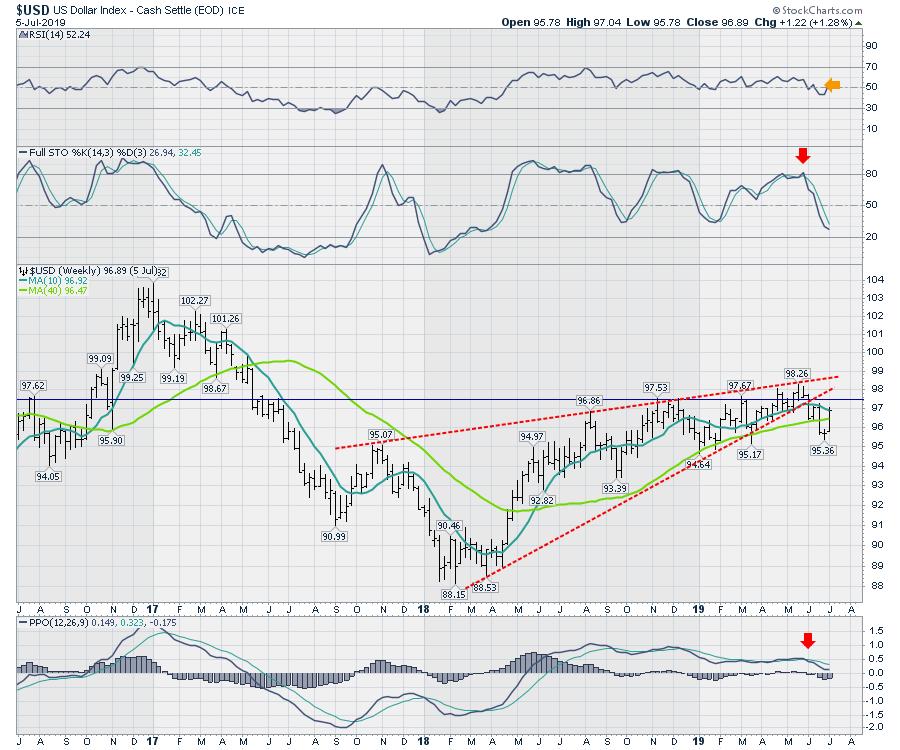 Charts like Lumber and Copper are sitting on long trend lines. While they have a little room to maneuver around those trend lines, breaking significant long-term rising trends suggests big caution for commodity investors.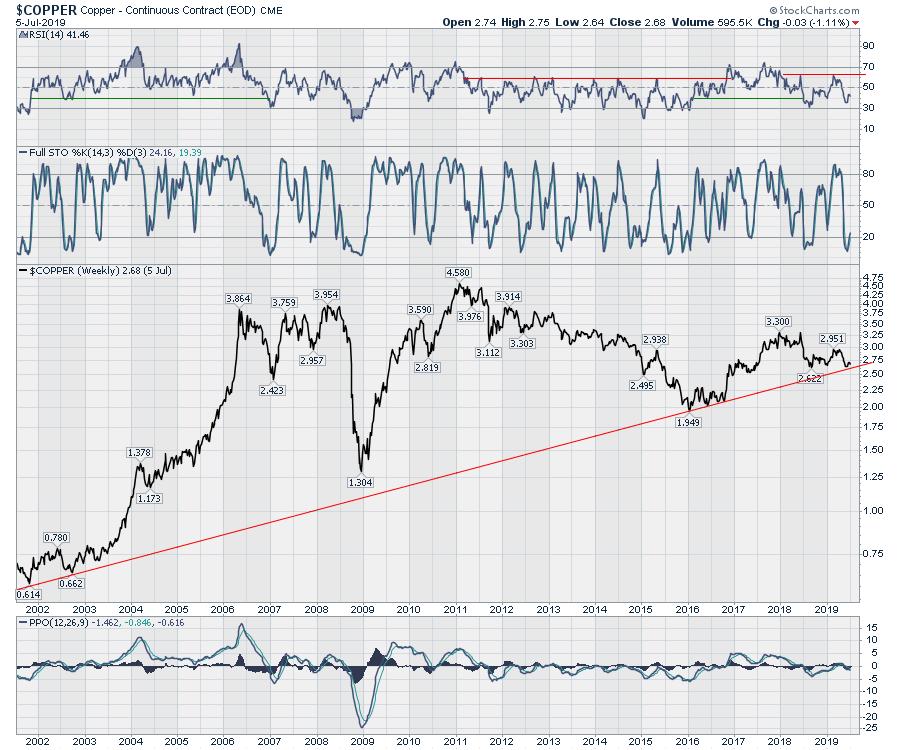 Lumber has more room to move, but we wouldn't want to see this momentum getting any weaker. This momentum dip below zero on the PPO is concerning. Turning back up is good news as long as it continues to do that.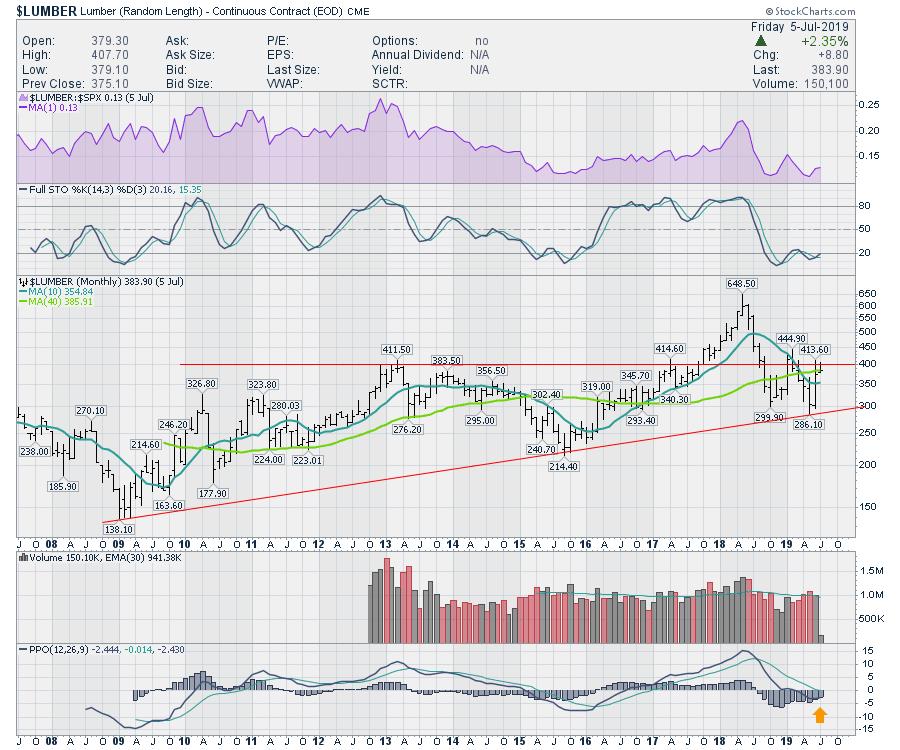 On the Canadian Market Review video this week, I went into a significant amount of detail about the current bullish backdrop. I also highlighted numerous stocks that look interesting over the next few weeks.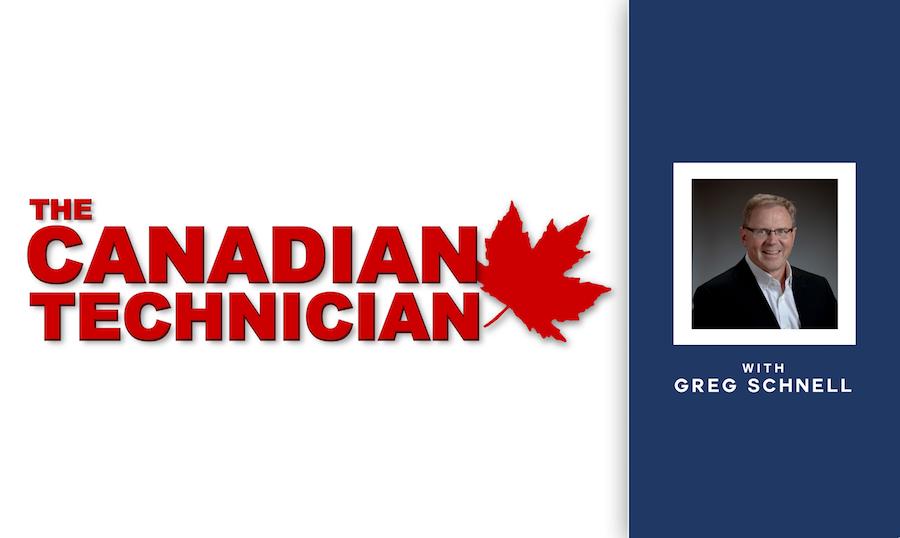 Link to the Canadian Market Review July 7, 2019
If you would also like to see the US market review, that is available through this link. You can also catch the most recent edition of Market Buzz.
Lastly, I do want to mention some of the benefits that basic members can enjoy even if they are new to charting. The ability to save charts the way you like them, or quickly move between daily and weekly time frames is very helpful. Members also have access to exclusive members-only market commentary from Martin Pring, John Murphy, and Arthur Hill. Click on the link to start a one month free trial. Become a member today! We are working hard to earn your business!