With the launch of CoinBase today, the world exchanges are intertwined to the reality of crypto trading. Every casual conversation has kids telling their parents to buy crypto. The crypto fathers have an ear-to-ear grin as COIN represents the most unique dichotomy imaginable. A coin exchange bank trades 50% higher in market cap than ICE, which is the owner of the NYSE. More interestingly is that the crypto exchange stock price is priced in USD. How soon until the SEC allows financial reporting in crypto, rather than reporting in USD or fiat currency, as the crypto twitterati continue to deride the government currencies?
Here's the chart of $BTCUSD today: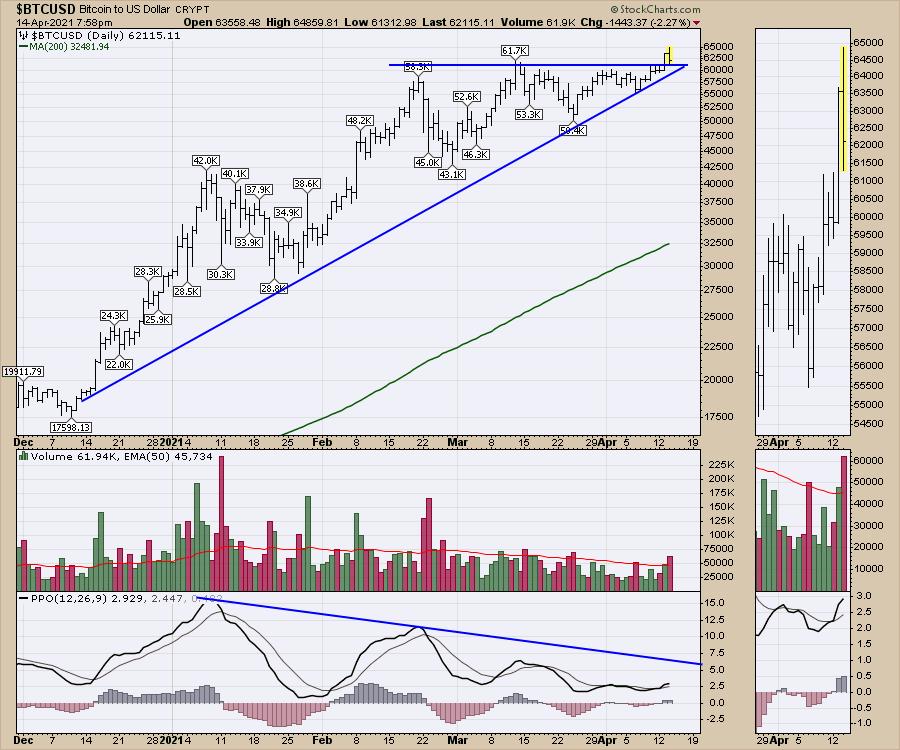 The next chart is the trade in the Nasdaq Composite. We are testing the prior high. It is not uncommon to experience some turbulence as you try to go through the prior level, but it is suspiciously reversing on a day where one of the biggest retail investor trades soared 50% on the reference price (COIN).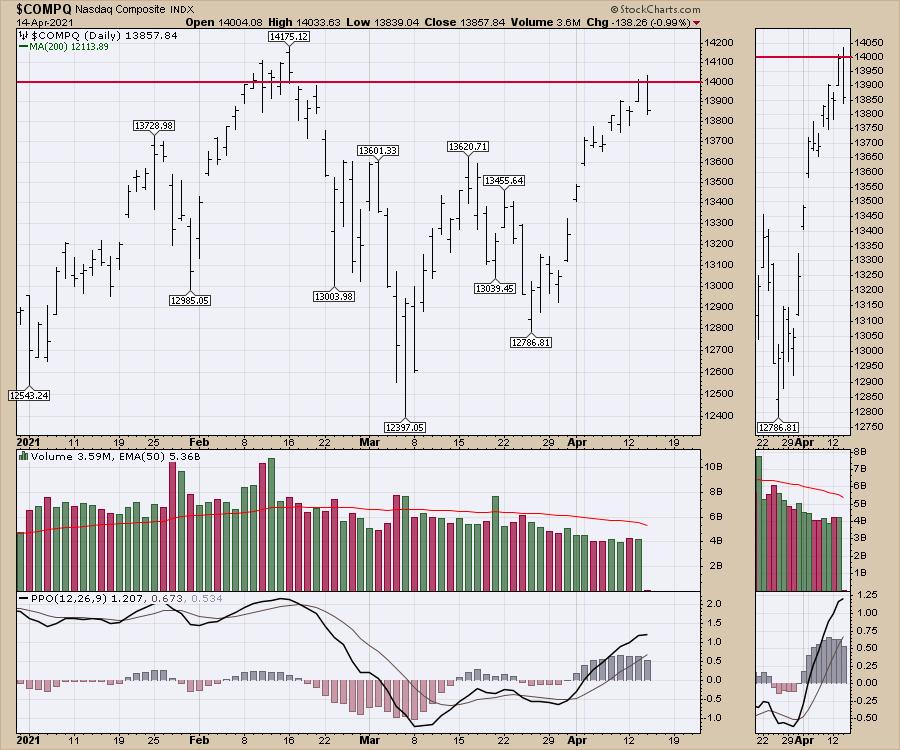 Next is the NASDAQ 100. This has all the big names in it, which recently took back the leadership. Yesterday, the price surged where the entire price bar traded above the prior high and shot up to hit $14002. However, on Wednesday, price reversed immediately and traded lower all day, closing near the lows. At this point, it is a possible failed breakout.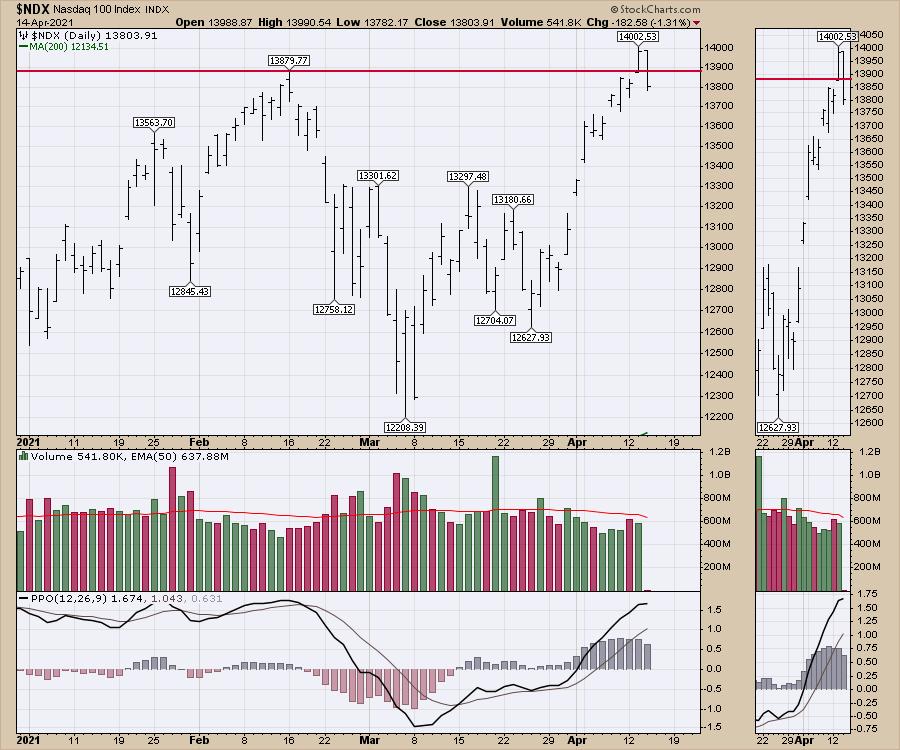 More importantly, on the weekly chart, is the lower low by the PPO momentum indicator as it tries to cross the signal line. This is always a good place to look for a positive or negative surprise. Can this index get back in gear to keep surging to new highs? Or does it roll down again for four weeks?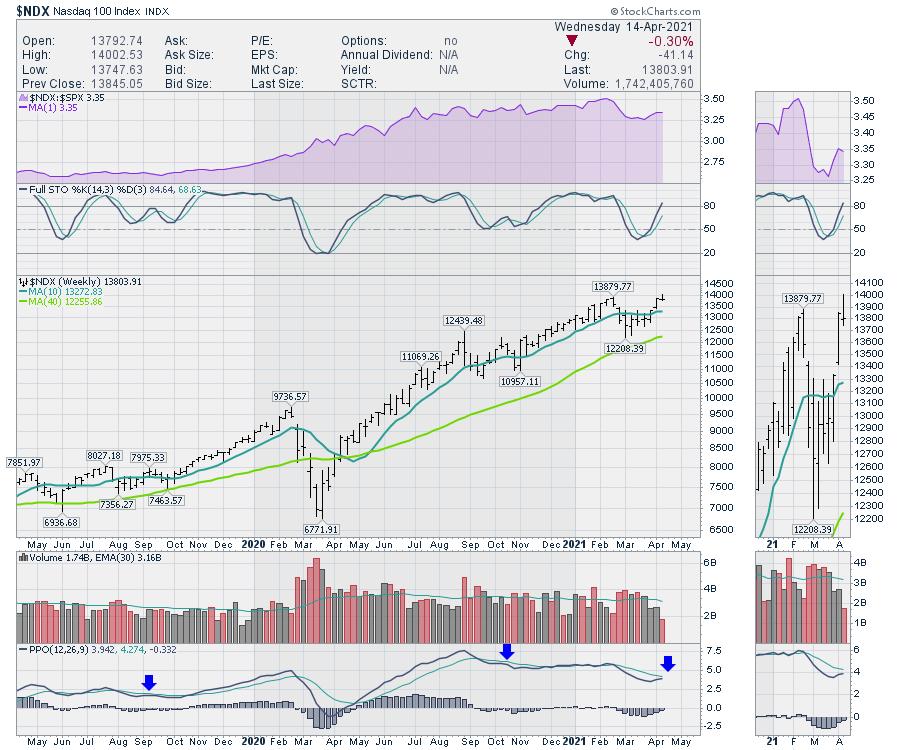 Even the Canadian market moved lower while Gold and Oil stocks surged. That's a lot of weakness elsewhere in other sectors if this commodity-centric index is failing to rally. I must admit, I would have expected the Canadian banks to move higher on the big US Bank earnings Wednesday morning. So, all in all, it's a surprise that the index couldn't rally.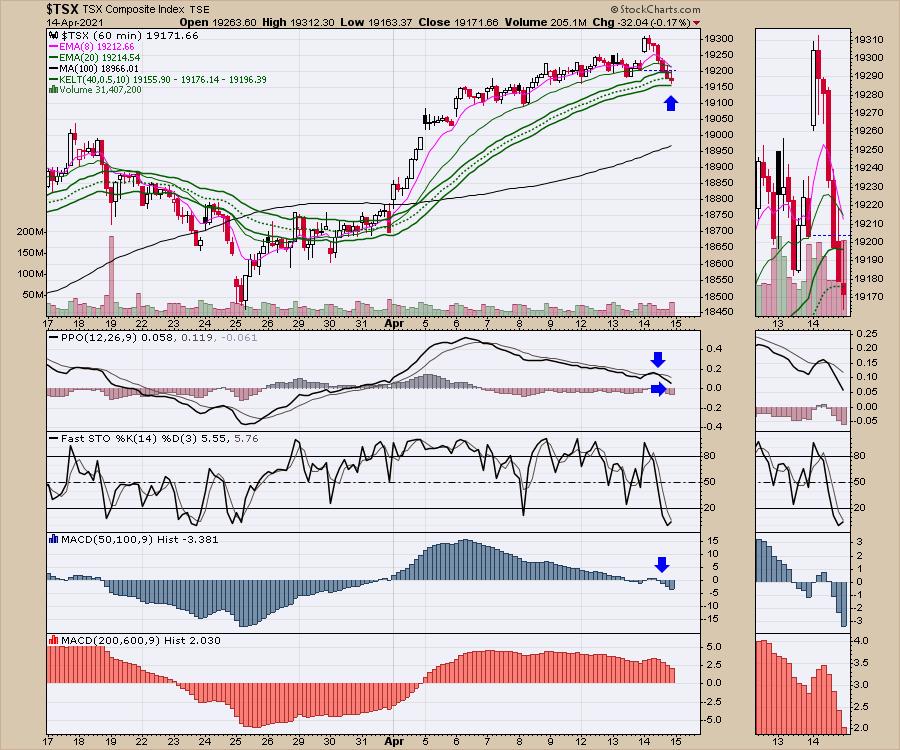 For what should have been a big bullish signal, with new technology (crypto) surging, banks surging, Oil and gas surging, gold and silver stocks surging and industrial metals surging, it just seems odd that the other sectors had enough negative force to pull it all down as we test prior highs on the Nasdaq. Including the big name tech stocks (AAPL, MSFT etc) that have been leading this rally into a weak day, it makes it feel more like the highs in early September. Maybe it's just TSLA following the crypto trade now!
All that to say, the overall market didn't drop that much, but it was sure an odd Wednesday trade. As a trader, I'm keeping the eyes high to what's going on, as it's not a good place to nap with long positions.