As the market grinds sideways heading into the end of April, it is a mixed bag as to which direction we are going.
Last week, StockCharts rolled out some new features that can really help us see the market in a different light. One of the big investing styles is reversion to the mean. The reversion can be planned from a number of different measurement tools, but a common one is a moving average. I did a screen shot showing the new tool display, and I really like the functionality of it.
The table below is one I produce each week in my newsletter. I have a few specific ETFs in a list, as well as the US Sectors. I changed the sort order to show how much each sector/ETF has changed over the last week in the % CHG (percentage change) column. That's not new. But over on the right, there is a new column available. For this example, I chose the 50-period moving average. This column displays how far above or below the moving average the current price is. It shows the current price level of the 50-DMA, with the difference colour-coded.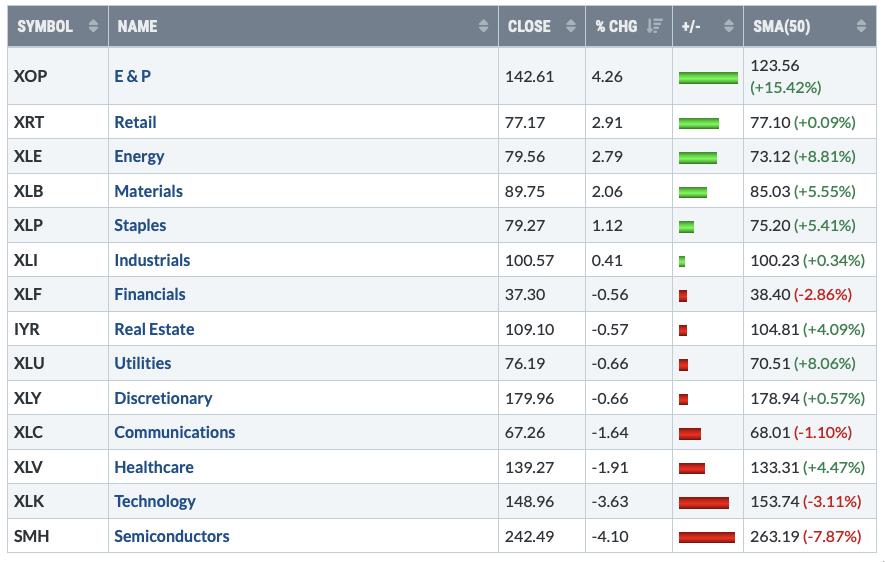 I think this table does a wonderful job of explaining the current investing environment. Technology and Semiconductors are the farthest below the 50-DMA. Staples, real estate and utilities are very strong, showing the current climate is defensive. It also shows the energy and materials as having extreme outperformance, especially E&P.
The outperformance of semiconductors compared to utilities (SMH:XLU top panel) ended in mid-January. Since then, each semi-conductor rally has been stronger, but each rollover longer/deeper. Until this trend changes again, this is a chart advising us of caution. You could also pick XLK:XLP on the lower panel, but it is telling us the same thing.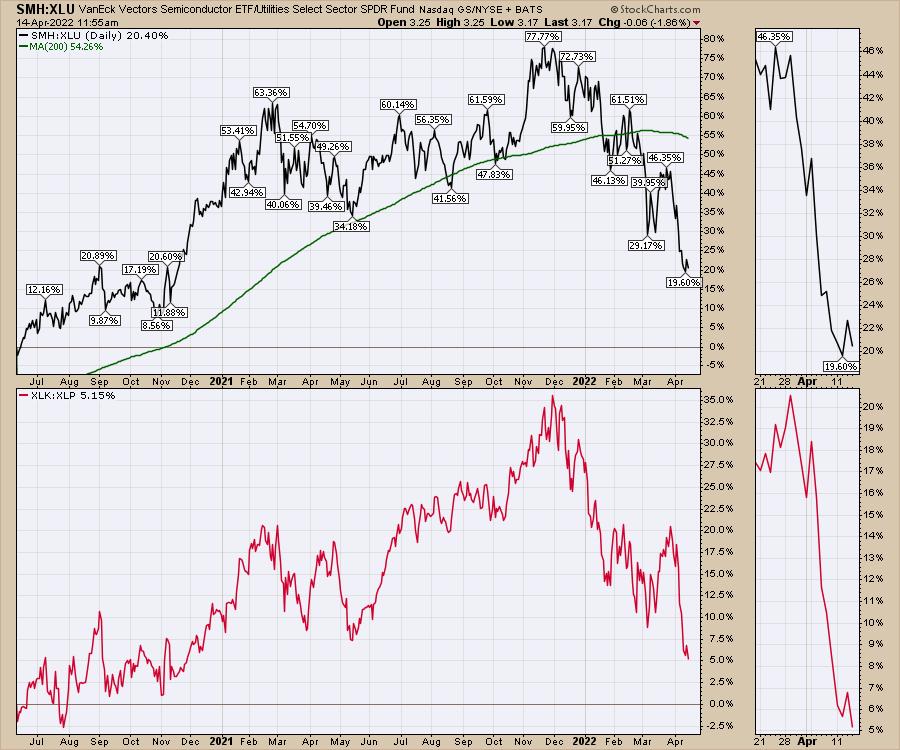 This new display by StockCharts can help us look for mean reversion trades, but you need a signal to start investing in one. So far, that is not showing up for the technology area.