The DP Tracker reports are full of information on a variety of stocks and ETFs. Here is a link to a blog with more information on DP Trackers and how to find and use them.
I took at look at Friday's DP 152 Blue Chip Tracker Report to find what stocks had gone on PMO crossover BUY signals. What is helpful about this report, especially the signal table portion, is if you find a stock with an interesting signal or strength ranking, you simply click on it to bring up the chart of that stock, ETF or mutual fund. Below is an excerpt of the PMO Crossover Signals table from the 152 Blue Chip Tracker. I'll pull up the five charts with new PMO BUY signals and give you my view of what the "Pluses" and "Minuses" are regarding those charts. I encourage you to visit the DP Trackers blog and try using a similar screening process to find candidates for review and possible action in our other DP Tracker reports.
---

PMO CROSSOVER SIGNALS

The PMO generates a BUY or SELL Signals when it crosses up or down through
its 10EMA. These signals tend to be short-term in duration, but they can
last for several weeks. Do not take them at face value because they can
whipsaw quite a bit. They should be used to alert you to possible trading
opportunities not used as a mechanical trading model. Always check our daily
stock charts to verify the price pattern and the configuration of the PMO.
Signals are best when price appears extended, is near support or resistance,


SUMMARY OF PMO CROSSOVER SIGNALS

                  DP152  DP152
                    BUY   SELL

Total Signals...:   101     51
% of Total......:   66%    34%
Ave Days Elapsed:    17     18
Ave High Profit.:   +4%    +2%
Ave Profit......:   +3%     0%

                        05/30               Cal
                        Close      %       Days    High   Today   PMO
Name/Symbol             Price Change Signl Elap     P/L     P/L R/F Days
---------------------- ------ ------ ----- ---- ------- ------- --------
Altria Group     MO     41.56  +0.6%   BUY    0    0.0%   -3.4%    R   1
CenterPoint Ener CNP    24.12  +0.2%   BUY    0    0.0%   -0.5%    R   8
GATX Corp        GMT    65.85  +0.8%   BUY    0    0.0%   -1.2%    R   2
Raytheon         RTN    97.57  +0.6%   BUY    0    0.0%   -1.6%    R   7
Schlumberger     SLB   104.04  +0.2%   BUY    0    0.0%   -3.2%    R   1
Devon Energy     DVN    73.90   0.0%   BUY    1    0.0%    0.0%    R   3
FirstEnergy Corp FE     33.82  +1.0%   BUY    1    1.0%    1.0%    R   3
General Motors   GM     34.58  +0.4%   BUY    1    0.4%    0.4%    R   3
Honeywell Intl   HON    93.15  +0.3%   BUY    1    0.3%    0.3%    R   7
Intel            INTC   27.32  +1.3%   BUY    1    1.3%    1.3%    R   3
Merck            MRK    57.86  +0.3%   BUY    1    0.3%    0.3%    R   1


---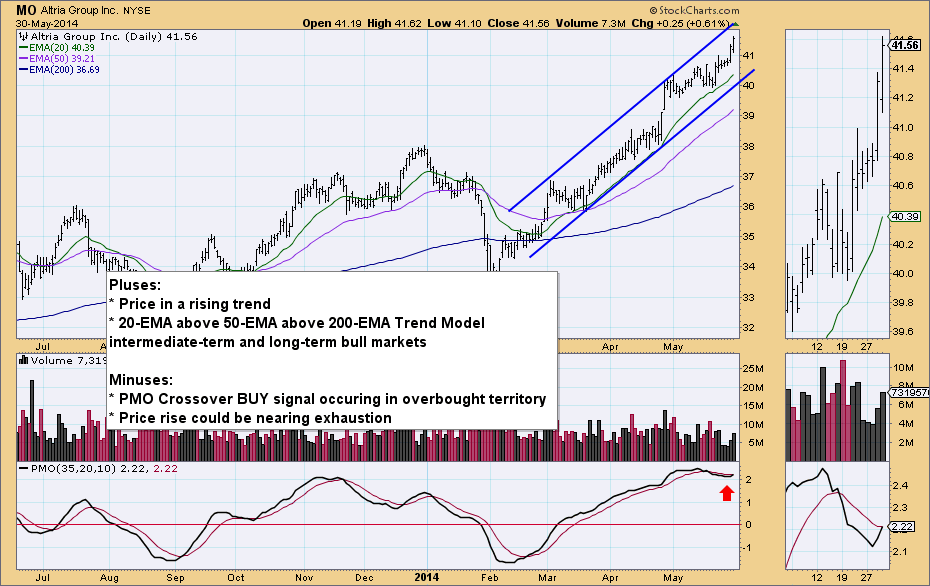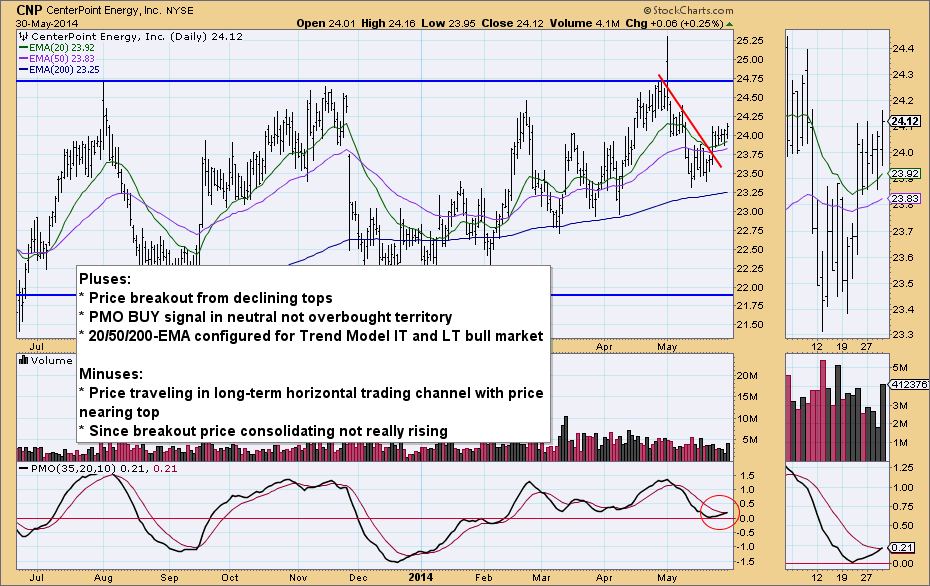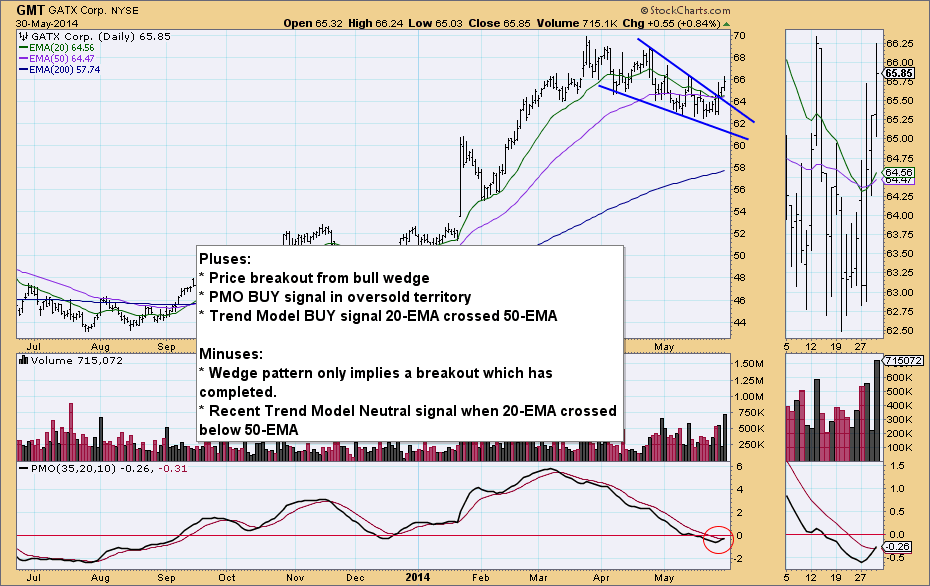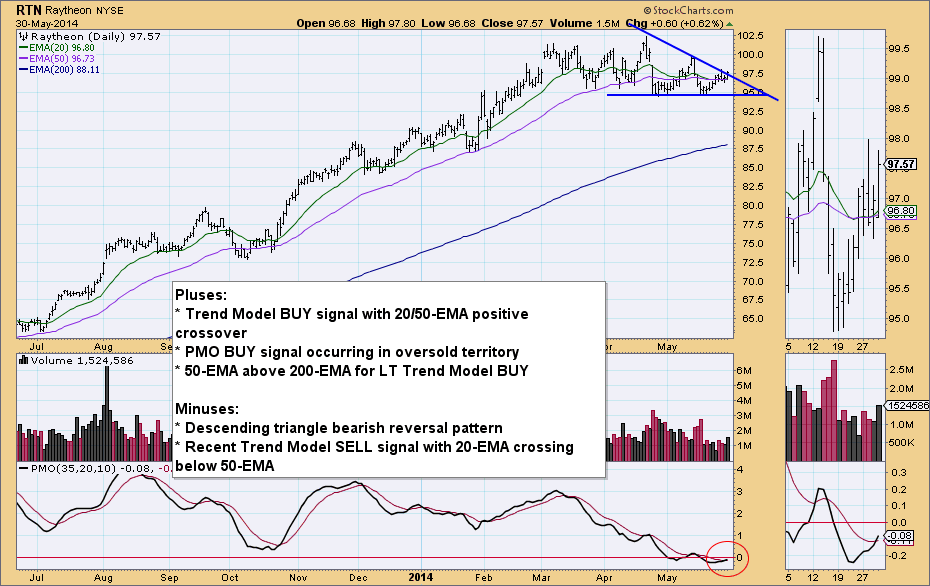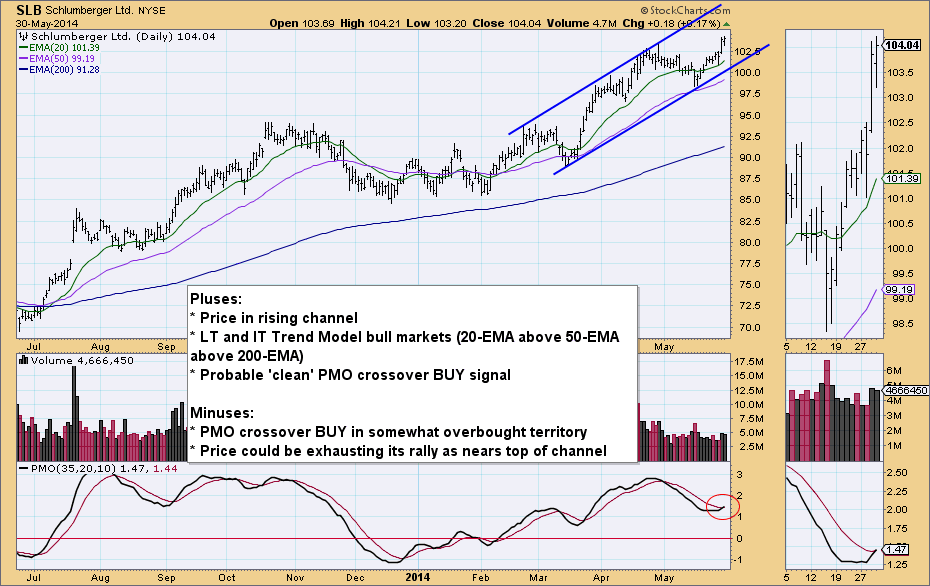 Happy Charting!
Erin
About the author:
Erin Swenlin
is a co-founder of the DecisionPoint.com website along with her father, Carl Swenlin. She launched the DecisionPoint daily blog in 2009 alongside Carl and now serves as a consulting technical analyst and blog contributor at StockCharts.com. Erin is an active Member of the CMT Association. She holds a Master's degree in Information Resource Management from the Air Force Institute of Technology as well as a Bachelor's degree in Mathematics from the University of Southern California.
Learn More