As usually happens when stocks weaken, the CBOE Volatility (VIX) Index jumped sharply this week to the highest level since April. The VIX (also called the "fear gauge") has climbed 47% since the start of July. That means that traders are buying "option" insurance against a possible downturn in stocks. The red bars in Chart 10 show that the recent upturn in the VIX is the biggest since January. That's consistent with a short-term correction. A move above its spring highs, however, (18.22 and 17.85) would be more cause for concern. Generally speaking, VIX closes much above 20 often signal a major downside stock correction, while moves above 40 usually mark major bottoms. The last time a decisive VIX move above 20 triggered a major correction was between July and October 2011, when the S&P 500 lost nearly 20%. Stocks bottomed that October with the VIX peaking at 48. [I pointed out earlier this year that downside corrections ending in October are also common during midterm election years -- like 2014]. That doesn't guarantee that a similar pattern will form this year, but seasonal and historical tendencies shouldn't be ignored. To quote Mark Twain: "History doesn't repeat itself, but it rhymes."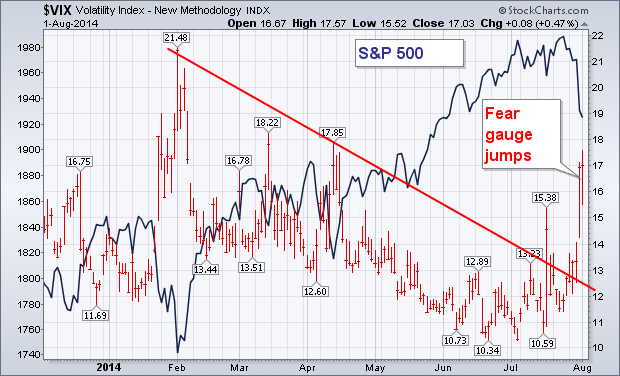 About the author:
John Murphy
is the Chief Technical Analyst at StockCharts.com, a renowned author in the investment field and a former technical analyst for CNBC, and is considered the father of inter-market technical analysis. With over 40 years of market experience, he is the author of numerous popular works including "Technical Analysis of the Financial Markets" and "Trading with Intermarket Analysis". Before joining StockCharts, John was the technical analyst for CNBC-TV for seven years on the popular show Tech Talk, and has authored three best-selling books on the subject:
Technical Analysis of the Financial Markets
,
Trading with Intermarket Analysis
and
The Visual Investor
.
Learn More