Hello Fellow ChartWatchers!
The rally-that-just-won't-end continues. The S&P 500 is up over 8% for the year. It is up over 40% since the start of 2013. It is up over 58% since the start of 2012. Etc., etc., etc.
And speaking of rallies, did you know that Large Cap stocks have outperformed Small Caps by over 7.5% since the start of the year? And that's no fluke - over the past year, Large Caps are up 5.5% more than Small Caps. In fact, you have to go back to May 2nd, 2013 in order to find a point where Small Caps outperformed both Large and Mid Caps. Assute ChartWatchers can use our "S&P Market Capitalization" PerfChart to see these relationships. Here's an example where I've set the baseline to be the S&P 600, meaning that the red and blue bars show how much the Large and Mid Caps have outperformed the Small Caps since the start of the year: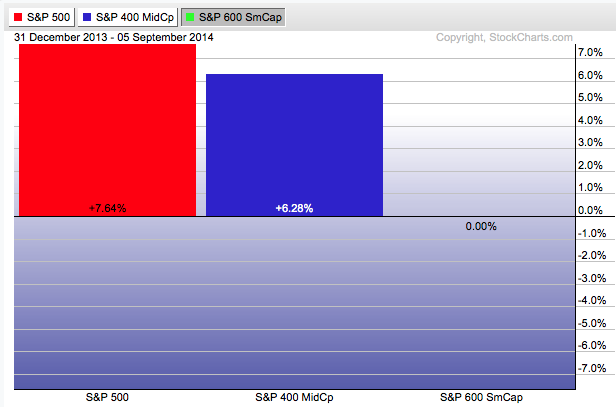 (And, thanks to our new "Linkable Version" feature, you can now click on the PerfChart above to see a live version of the chart with those exact settings!)
New Industry Certification Gives ChartWatchers More Reasons to Improve
One of the great things that happended at ChartCon 2014 last month was the official announcement of the TSAA Certification Exam for Individual Investors. The Technical Securities Analysts Association (TSAA) is the oldest technical analysis organizations in the United States. Their mission includes helping others learn and apply effective techniques for identifying and forecasting trends in the market and for effectively controlling investment risk. Those goals significantly overlap our goals here at StockCharts and so it was only natural that we partner up at some point.
Last February, I met with several members of the TSAA board and discussed with them the possibility of creating an industry-backed certification program for non-professional technicians. As you may know, the Market Technician Association (MTA) has had a professional certification program for decades (the Certified Market Technician (CMT) program) but there are significant barriers to entry with that program (cost, time, effort, etc.). In fact, the MTA has had been asked on numerous occasions to create an "CMT-lite" exam for non-professionals, but they have decided to remain focused on their professional program instead. Given that - and after consulting with the MTA - we decided to work with the TSAA to create this new, non-professional certification program.
"But wait Chip. I thought StockCharts already had a certification program. What are you talking about now?" Yes, that is correct. We have the "SCU Certified ChartWatchers" program for StockCharts.com members. That program still exists and provides great benefits to StockCharts users. The new program however is tool independent, more comprehensive, and backed by an industry organization (the TSAA) with a long track record of supporting and providing high-quality technical analysis education.

Annouced at ChartCon 2014, the TSAA Certification Exam was created by industry experts and is administered by the TSAA. Its industry-wide recognition will continue to grow over time and its non-professional focus means that anyone with an interest in Technical Analysis can participate.
I strongly encourage everyone reading this article to check out this new certification and take the time to learn the material in their Study Guide. Even if you don't decide to take the certification exam itself, studying the information in their Study Guide will make you a better investor.
As with our own certification program, having a goal such as this can inspire you to expand your knowledge and doing that should improve your investing results. And who knows? After completing the StockCharts certification and then the TSAA certification, you would be perfectly positioned to tackle the MTA's CMT certification too!
Regardless of how far you progress, I wish you all the best on your educational journey towards these certifications.
- Chip