You should know by now that I'm a HUGE fan of the Moving Average Convergence Divergence (MACD) indicator. Other than the combination of price/volume and the use of candlesticks, it's probably my "go-to" indicator. As a case study for this weekend, let's take a look at the Dow Jones U.S Home Improvement Retailers Index ($DJUSHI). Let's take a look at the bigger picture via a weekly chart:
The first thing that catches my eye here is that home improvement stocks began to labor in the second half of 2013. The long-term negative divergence that appeared is NEVER a guarantee of price weakness ahead, but it's definitely a warning sign that risks of a more significant decline (or an extended period of consolidation) have increased. Managing risk is a critical component to successful trading. At the first sign of the negative divergence in July 2013, the DJUSHI was close to the 175 level. Do you notice that one year later, the DJUSHI remained at 175? It went nowhere while the S&P 500 gained approximately 25%. To visualize this a different way, let's take another look at the weekly chart, but this time let's look at the DJUSHI relative to the S&P 500: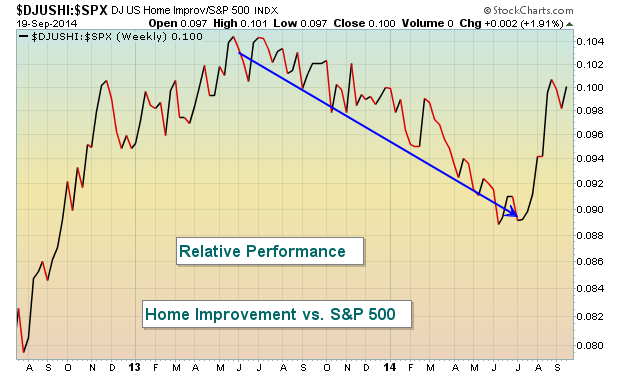 The relative underperformance of home improvement stocks was quite dramatic and the MACD provided us that clue AHEAD OF TIME.
Home improvement stocks are on much better ground now technically, but many view the MACD as a lagging indicator when it actually provides us hints about the future through analysis of momentum. The DJUSHI hit short-term resistance and failed on Friday just above the 200 level so we may see a pause in the group, especially if the overall market weakens in the near-term. But any pullback to rising 20 week EMA support (from the initial chart above) at 186, which also marks price support and the rising 50 day SMA would likely provide a solid reward to risk entry into this industry group and many of its component stocks.
One month ago, I made an offer to all of you for a FREE video series on the MACD and I had a strong response. For those of you that missed it, I'm offering it once again. There's no obligation. For more details, simply CLICK HERE.
Happy trading!
Tom Bowley
Chief Market Strategist
Invested Central