Japanese authorities surprised everyone on Friday by increasing their already aggressive bond purchases (QE) by a third. In addition, it will expand those purchases to include stocks and real estate investments. The Japanese pension fund also announced that it will increase its allocation to domestic and foreign stocks. That gave a huge boost to global stocks. The most dramatic effect was seen in Japan. Chart 1 shows the Japanese yen tumbling to the lowest level in seven years. At the same time, the Nikkei Index surged nearly 5% to the highest level in seven years. We've pointed out many times before that the falling yen since the end of 2012 has been the main driving force behind Japanese stock gains. That was certainly the case again this week. The monthly bars in Chart 2 show the Nikkei also climbing above a major resistance line drawn over its 1996, 2000, 2007 highs. That upside breakout suggests that Japanese stocks may finally be emerging from their role as one of the world's weakest stock markets. Since the start of 2013, the Nikkei has risen 57% versus a 28% gain in the Vanguard All World Stock Index (and a 41% gain in the S&P 500). Japan is trying to emerge from nearly two decades of deflation. The latest Japanese inflation figure of 1% is only half of the target rate of 2%. It still has a ways to go.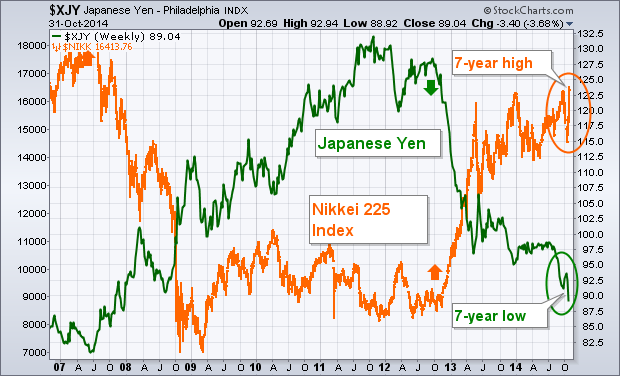 About the author:
John Murphy
is the Chief Technical Analyst at StockCharts.com, a renowned author in the investment field and a former technical analyst for CNBC, and is considered the father of inter-market technical analysis. With over 40 years of market experience, he is the author of numerous popular works including "Technical Analysis of the Financial Markets" and "Trading with Intermarket Analysis". Before joining StockCharts, John was the technical analyst for CNBC-TV for seven years on the popular show Tech Talk, and has authored three best-selling books on the subject:
Technical Analysis of the Financial Markets
,
Trading with Intermarket Analysis
and
The Visual Investor
.
Learn More