Hello Fellow ChartWatchers!
TGIF! Today's big turnaround saved us from an otherwise dreadful week as the Dow bounced off of support around 17260, the low at the beginning of the year. Our standard chart of the Dow shows the situation the best I think: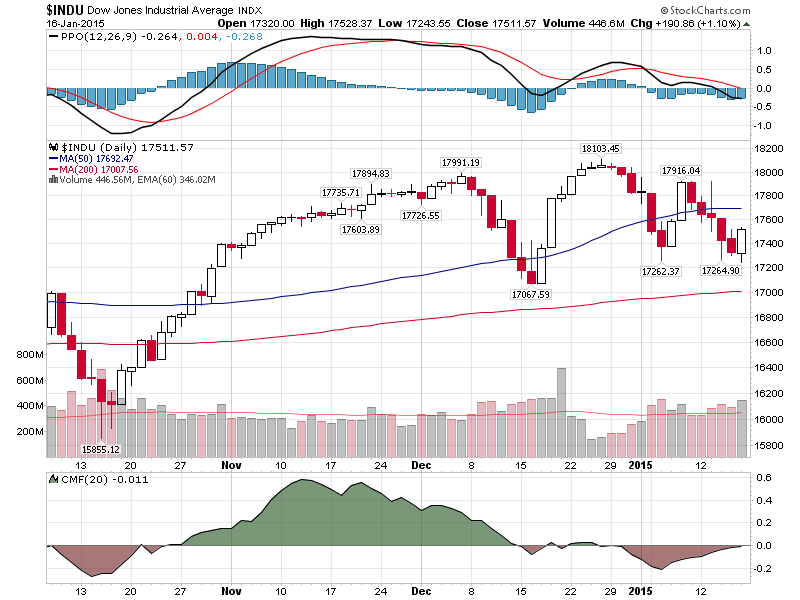 (Click the chart for a live version)
Take a second, look at that chart and see if you can spot any significant technical signals. Once you are done, read on to see what I spotted and then see if you agree.
In the near term, the Dow just tested the 17262 low from the start of the month. If it falls below that level, then the 17067 low from mid-December would be the next test. Clearly volatility has increased significantly since the snore-fest that was November. The most interesting thing to me about that chart however is the divergence between the MACD indicator on the top (measuring momentum) and the CMF indicator on the bottom (measuring money flow). In general, the MACD has been moving lower since peaking in mid-November. The CMF peaked at the same time and moved lower more-or-less together with the MACD until... the 17262 low at the start of the month. Since that low, the two indicators have moved in opposite directions. Will today's retest of that low change things going forward?
So who do you think will win out - momentum or money flow? Monday should be very interesting indeed... But until then, let's talk about webinars!
How to Attend a Live StockCharts.com Webinar
First off, did you know we now produce 3 (soon to be 4) different webinars each week? Hopefully that's not a complete shock. You can think of our webinars as similar to local radio / television shows. They are live events where one or two presenters spend about an hour doing various combinations of the following activities:
Telling you what they think about the market
Backing up those opinions with live charts
Explaining how to use a feature on StockCharts.com
Talking about their background and current projects
Engaging in witty banter
Answering questions from audience members
Reminding you that the webinar videos are indeed archived on the site for later review
Apologizing for running out of time... again!
Conducting live audience polls
...and much, much more!
The feedback we've gotten on our webinars so far has been truly remarkable - unbelievably positive. Because of that, we are working on increasing the amount of webinar sessions. So which webinar(s) should you try to attend? Here's our current schedule: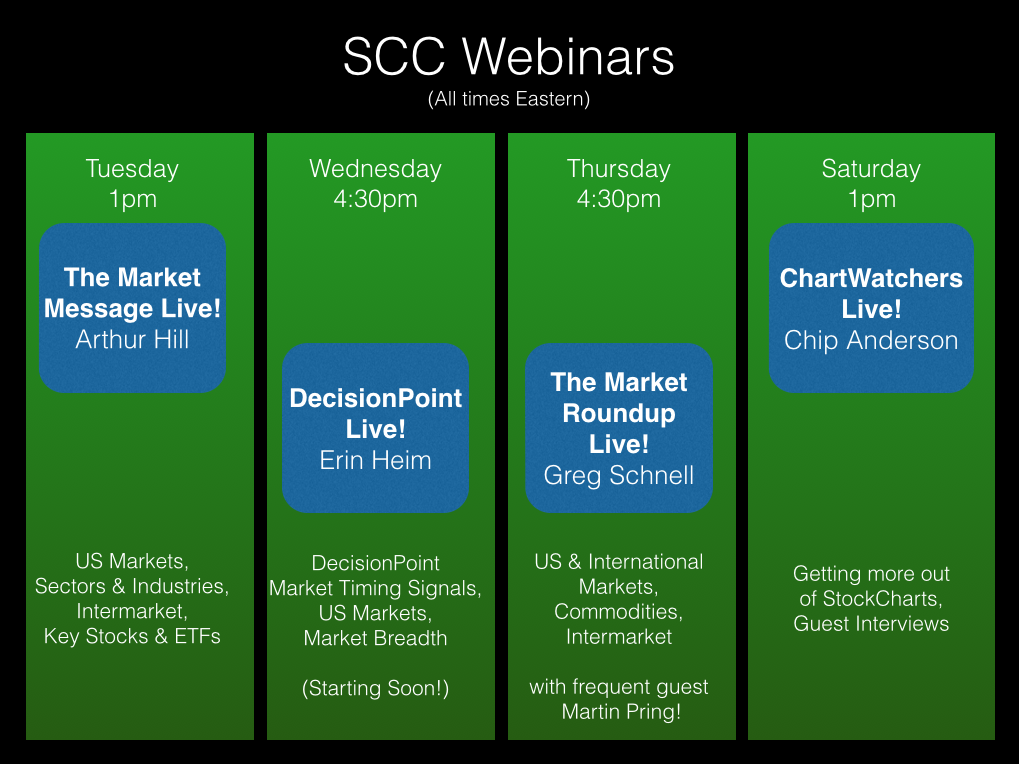 So next question: Do you need to attend all of them? I can hear it now: "Chip, that's too many! My schedule's full enough as it is and now I have to attend all these webinars too?!?!? Aggggggghhhh!!!!"
Fear not good reader. I am here to explain how we see webinars fitting into things and what your priorities should be going forward.
First off, we see webinars as additional, optional content that supplements the various written articles that we have on the website. Most if not all of the information conveyed in our webinars is also presented in written format in our blogs and help articles. If tuning into live events just isn't your thing, then just ignore the webinars and keep using the website just like before.
Second, webinars are "live" - meaning that they are ad hoc and can contain mistakes and technical glitches. Presenters do spend a little time preparing for their webinars, but we can't go back and do a "second take" if things don't go well on the first try. In general, this is what makes webinars more interesting I think - but it does require a different level of tolerance from the audience than, for instance, a blog article does.
Third, webinars are archived. We put them up on the Internet for you to review (or re-review) at any point in the future. Here's the link: http://stockcharts.com/webinars/archives
Finally, webinars do have other limitations. For instance, you'll need to have the special GotoWebinar software installed on your computer/device in order to participate in the live webinar. Also, limited time combined with lots of viewers means we cannot answer every question that is sent in. Finally, the charts that are shown in a webinar are not clickable and thus you may not be able to easily re-create a chart that you see - although often those charts will appear in the presenter's blog later.
To sign up for a webinar currently, just watch for the appropriate announcement on our homepage and click the corresponding registration link. Currently, you have to re-register for each webinar. (That will change soon.) After you register, you will get an email with specific information about joining the webinar. If you can, try to join the webinar about 10 minutes early to ensure that your computer can connect properly.
Currently, all of our webinars are free and open to everyone. That will change soon however. Soon, our main market commentary webinars (i.e., Arthur & Greg) will only be available to members.
So, in conclusion: Webinars: great but optional. Join up if you can. Watch the archived version later if you can't. If you are short on time, read our commentary articles.
- Chip
P.S. And please try to make it to this week's "ChartWatchers Live!" webinar this Saturday at 1pm Eastern if you can! ;-)