A strong jobs report on Friday pushed interest rates sharply higher all across the yield curve. The daily bars in Chart 1 show the 10-Year Treasury Note yield jumping to the highest close in a month. [Bond prices fell sharply as a result]. Short-term rates jumped even more. Chart 2 shows the 2-Year Treasury Yield jumping to a monthly high as well. That big jump in rates helped banks and brokers have a strong day, but caused heavy selling in rate-sensitive groups like REITs and utilities. Higher rates and a stronger dollar also hurt gold. The stock market ended the day on the downside after trading higher earlier in the day. Energy stocks were the week's strongest sector which helped stocks during the week.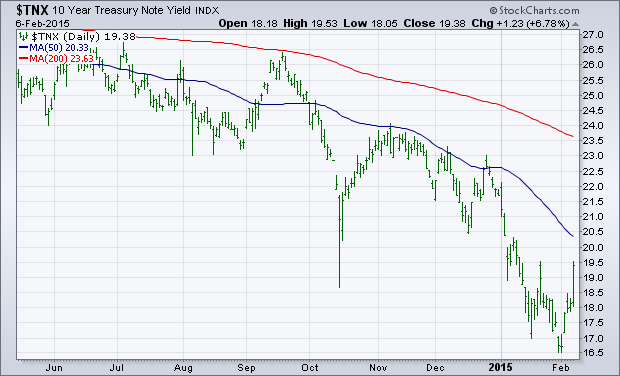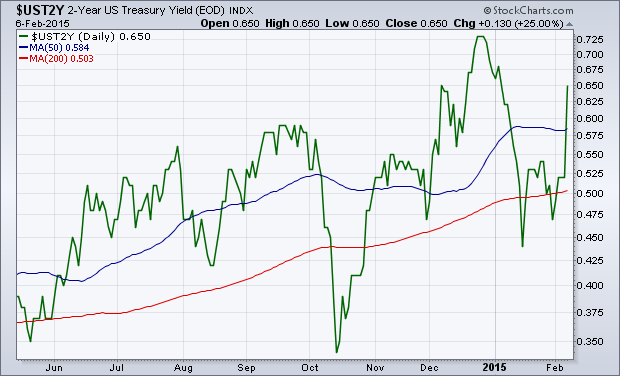 About the author:
John Murphy
is the Chief Technical Analyst at StockCharts.com, a renowned author in the investment field and a former technical analyst for CNBC, and is considered the father of inter-market technical analysis. With over 40 years of market experience, he is the author of numerous popular works including "Technical Analysis of the Financial Markets" and "Trading with Intermarket Analysis". Before joining StockCharts, John was the technical analyst for CNBC-TV for seven years on the popular show Tech Talk, and has authored three best-selling books on the subject:
Technical Analysis of the Financial Markets
,
Trading with Intermarket Analysis
and
The Visual Investor
.
Learn More