There's been much said and written about rapidly-declining crude oil prices ($WTIC). But one thing makes perfect sense to me. When American consumers save TONS of money when filling up at the pump, they tend to spend it elsewhere. It's simply what we like to do - SPEND! So it's not too surprising to me that many consumer discretionary companies are beginning to see huge benefits in terms of price appreciation. First, check out the breakout on Friday on the XLY: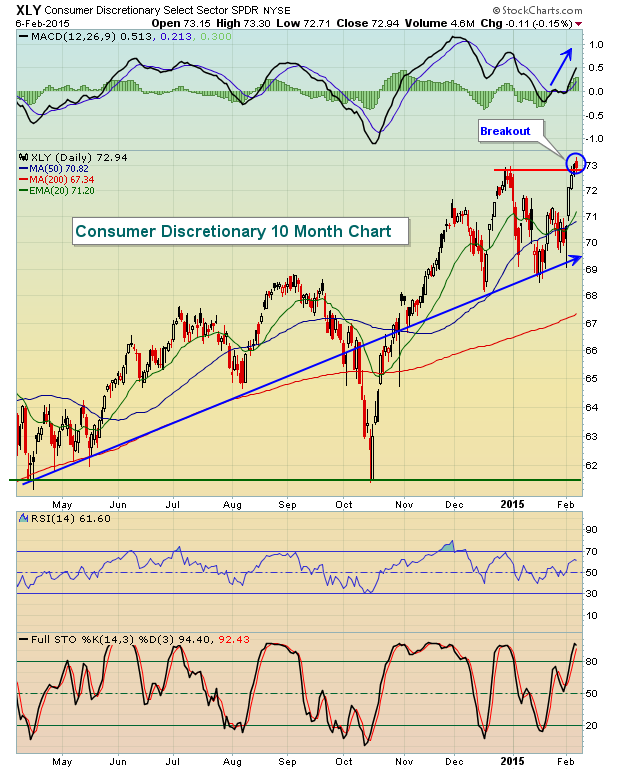 The Federal Reserve, for the past several years, has been flooding the market with liquidity through its quantitative easing (QE) programs. One of their mandates has been to keep interest rates artificially low for an extended period of time to encourage the rebound of home prices and to help beleaguered home construction stocks. Their plan has been paying off. Home construction stocks ($DJUSHB) have been in a very bullish uptrend during the entire bull market run off the 2009 lows. Not only have home construction stocks been in a clear uptrend, but they also have been consolidating in a bullish ascending triangle pattern for the past two years. A critical breakout occurred on Friday above the 550 level with this pattern measuring to perhaps the 710 level. The S&P 500 tends to perform exceptionally well when home construction stocks are on the rise. Check out this chart:
Strength in home construction stocks and the above breakout are likely to lead to outperformance in the next few months in this group. We will be adding several new stocks to our EarningsBeats.com Trading Watch Lists early next week, including one homebuilder that just blew estimates away recently. If you'd like to try our EarningsBeats service, we're offering a one-time $.97 special for a month (normally $97) - just CLICK HERE.

Happy trading!
Tom Bowley
Chief Equity Strategist
EarningsBeats.com
About the author:
Tom Bowley
is the Chief Market Strategist of
EarningsBeats.com
, a company providing a research and educational platform for both investment professionals and individual investors. Tom writes a comprehensive Daily Market Report (DMR), providing guidance to EB.com members every day that the stock market is open. Tom has contributed technical expertise here at StockCharts.com since 2006 and has a fundamental background in public accounting as well, blending a unique skill set to approach the U.S. stock market.
Learn More