Technical analysis cuts to the chase by showing us the only thing that matters: price. Even those using fundamental analysis can benefit from technical analysis because we only make money when prices move in the desired direction. Here are four ways technical analysis can improve your investment returns.
1. All known information is already priced into the market or a stock's price. If you have read about it or heard it on the news, everyone else has as well and has already reacted. There is, therefore, little to be gained by acting on the news. Price represents the sum total of all known information, which makes price the smartest indicator out there.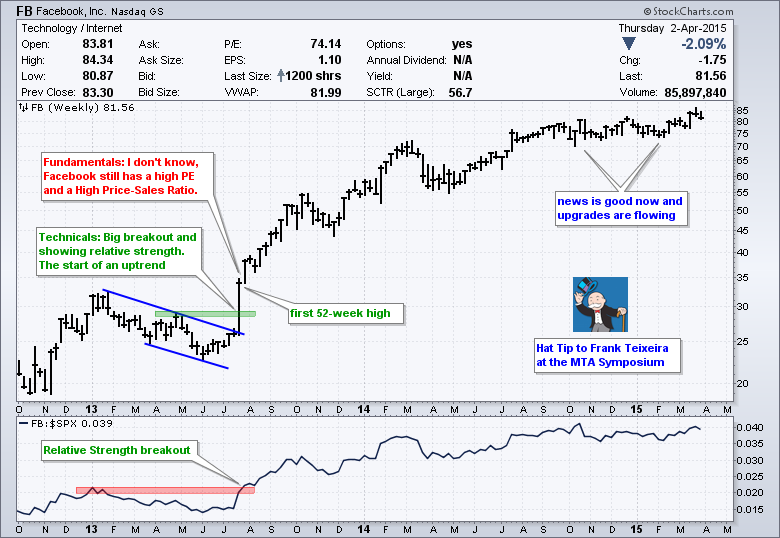 2. Price often leads the fundamentals. How many times have we seen a stock move higher ahead of an earnings beat, an analyst upgrade or improving fundamentals? The markets are forward looking beasts and usually lead the news. The chart above shows Facebook breaking out with a big move in July 2013 and recording the first of many 52-week highs. Fundamentally, it seemed like an expensive stock at the time. Technically, big bullish breakouts on the price chart and price relative suggested that prices were embarking on an uptrend.
---
3. Prices trend, and trend for extended periods. The single best thing we can do as chartists is to respect the big trend and trade accordingly. Look for bullish setups in uptrends. Look for bearish setups or move to the sidelines in downtrends. As the chart below shows, we have seen at least four big moves in the last fifteen years. Just catching the middle of the two big uptrends would have paid off handsomely.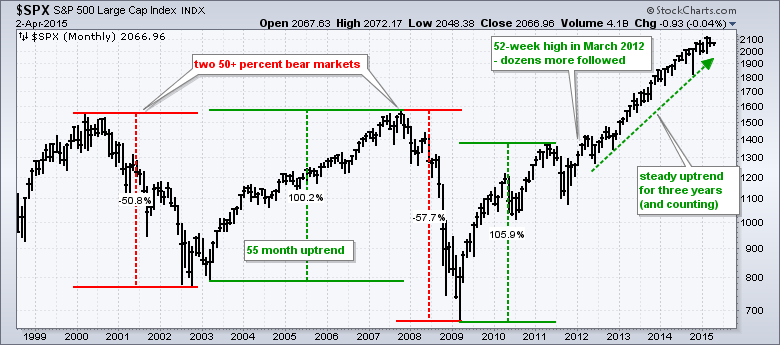 4. Bear markets happen, and they can be avoided. As the chart above shows, there have been two big bear markets in the last 15 years. Notice that the first decline was 50.7% and it took a 100% gain to get back to the 2000 levels. The second bear market was more than 50%. Using a simple trend-following strategy, chartists could have moved to the sidelines after a relatively small decline and avoided most of the carnage. Follow me on twitter: @arthurhill
Thanks for reading and have a great weekend!
Arthur Hill CMT