And the answer is...You bet!
Why do earnings reports matter? Because it gives investors a quarterly snapshot of how a company is performing and what they can look forward to down the road. And when you stop to think about it, when you filter out everything else out there going on day to day, just about the only thing investors care about is a company's bottom line.
All of us have seen instances where a company comes out with earnings that blow away expectations only to see the stock tank after hours. But that usually happens when, a)The market has already priced in blow out numbers and/or b)The company lowers its earnings forecast for the future. But, the combination of strong earnings plus a strong going forward forecast is generally bullish for a stock.
Now, to take this even further, imagine a company reports strong earnings, raises its forecast for the future PLUS has a strong technical chart. THAT is the type of company you want to invest in because they've demonstrated actual success plus guided forward plus show technical strength, giving the company the edge in even weaker market environments.
Here's a a perfect example below of what I'm talking about and one of the stocks we put on our "Candidate Tracker" at EarningsBeats.com on February 17. It made our list because it beat earnings and we liked the way the chart looked. BUT that wasn't the best time to enter the stock as it was up against price resistance and was technically overbought. Instead we remained patient and suggested an entry at $21.54 three weeks later with a closing stop of $17.75 and a target of $30, We removed it from our Watch List near $26 and just before earnings were reported, so a nice 20% winner!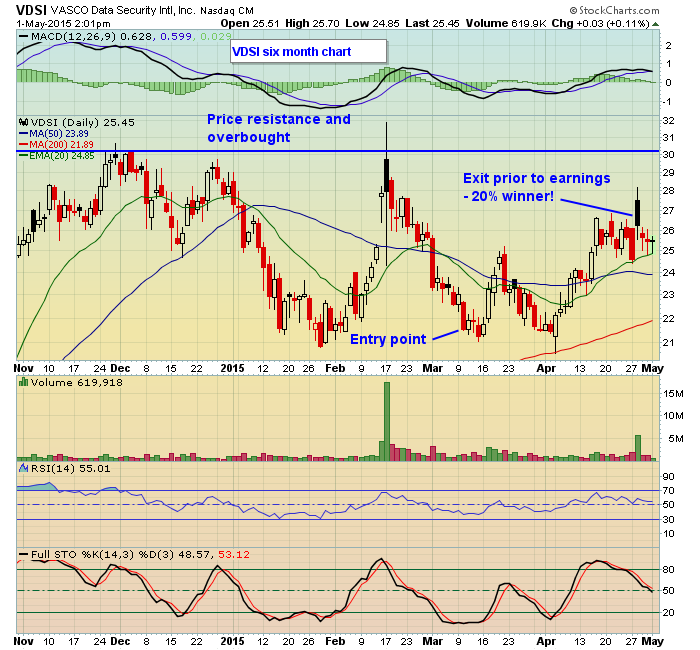 The point is, the combination of strong fundamentals and strong technicals can be potent. In fact, I want everyone to get a chance to see what I'm talking about by offering a "One Week Pass" so you can explore the Earnings Beats site, check out our full Watch List and our new "Candidate Tracker" feature that currently has almost 100 stocks that fit the initial criteria of beating earnings plus strong charts. Just click here to get your pass!
At your service,
John Hopkins
President
Invested Central/EarningsBeats.com