As of 5/16/2015 Gold is on a Trend Model BUY signal. The 20-EMA crossed above the 50-EMA triggering the new intermediate-term Trend Model to initiate a BUY signal. The long-term Trend Model, which informs our long-term outlook, is on a SELL signal as of 2/15/2013, so our long-term posture is bearish. The long-term Trend Model is dependent on the location of the 50-EMA and 200-EMA. Simply put, when the 50-EMA is above the 200-EMA it's in a "bull market" and when the 50-EMA is below the 200-EMA it's in a "bear market".
Gold is teasing us. Wednesday it nearly reached overhead resistance. Thursday it poked through and Friday it closed above. That sounds great, but overhead resistance has not been broken in a significant way. There's still plenty of time as the dollar doesn't appear ready to get its strength back any time soon. Additionally, the May 13th Price Momentum Oscillator (PMO) crossed above its signal line and generated a PMO BUY signal.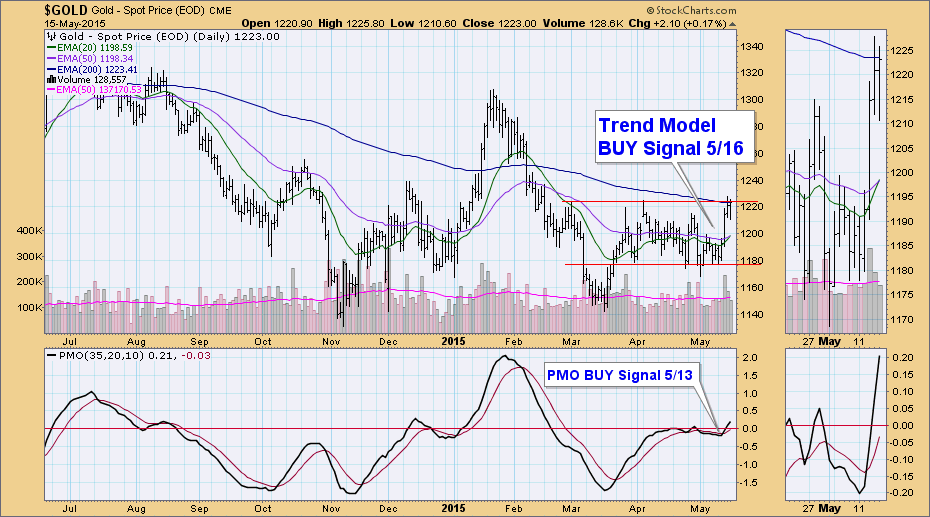 The weekly picture is still bright with a double-bottom formation that hasn't quite aborted yet. The Weekly PMO switched gears and had a positive PMO crossover generating a weekly PMO BUY signal.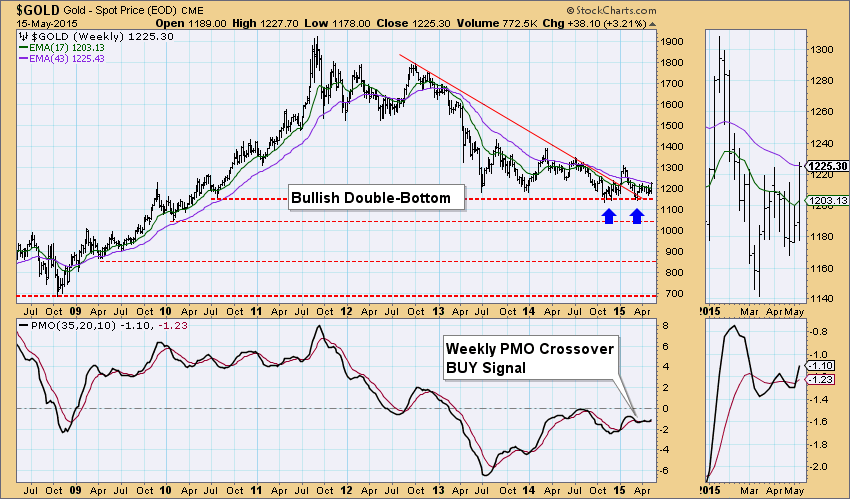 Everything is lining up for Gold right now. It has an excellent opportunity to break out, given the weakness in the dollar. A Trend Model BUY signal combined with a PMO BUY signal makes Gold especially attractive right now.
Happy Charting!
Erin