Over the past month, the Consumer Electronics Index ($DJUSCE) has fallen close to 9%, which ranks it as the third worst performing industry group. Only gambling stocks (-12.64%) and business training & employment agencies (-15.68%) - two consumer discretionary industry groups - have performed worse. Normally, I tend to steer clear of underperforming areas of the market, but many times in a rotating bull market they can provide some of the best opportunities. Earlier in 2015, I wrote about two areas of technology that were lagging badly - computer services and semiconductors. But they both were testing support in bullish wedges. The short-term charts were weak, but the longer-term charts suggested there was likely to be a reversal. In both cases, we saw recoveries. In February, in the consumer discretionary space, it was the footwear stocks that also lagged for a few months until support was challenged. Check it out: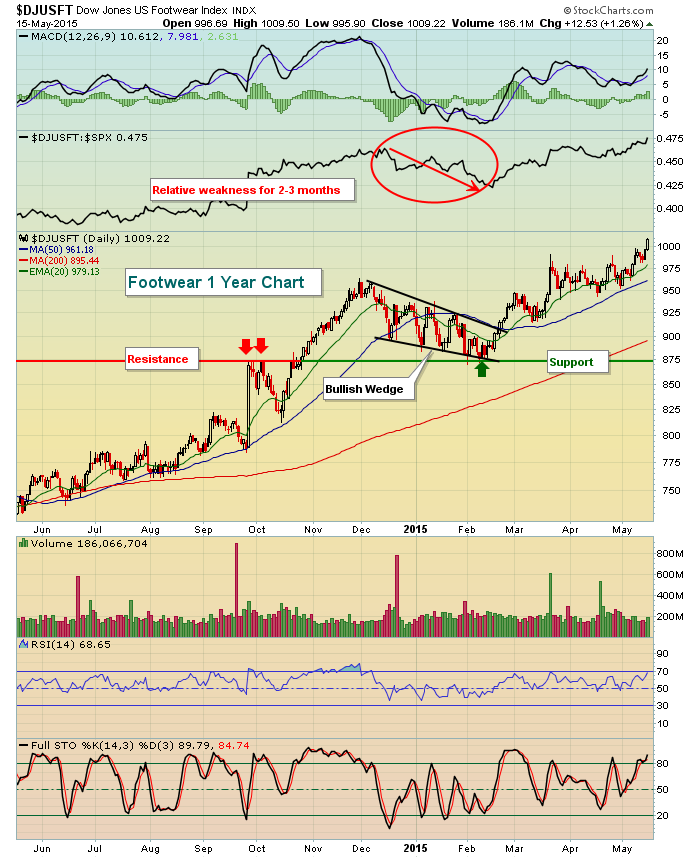 While footwear was an absolute and relative leader throughout the latter stages of 2014, that changed as we opened 2015 and footwear fell to relieve overbought conditions and the group lagged badly. An incorrect conclusion could have been drawn that footwear was an area we should avoid. Instead, the pullback provided a great opportunity to trade a group primed to outperform once again.
So back to consumer electronics. Which type of pullback are we watching? Is the group simply underperforming for a brief period before resuming its relative uptrend? Take a look at the chart: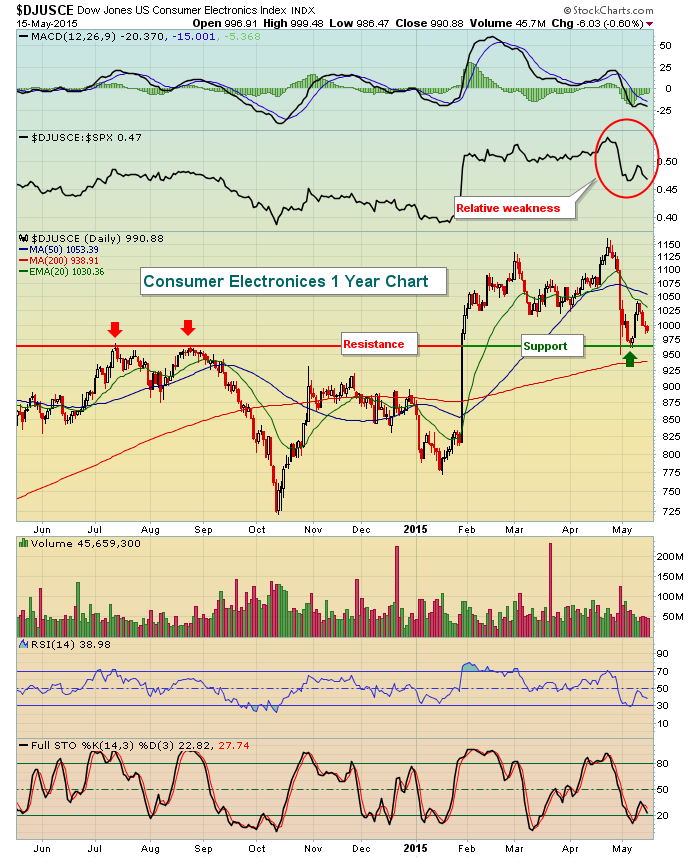 It's difficult to say if consumer electronics will follow the lead of footwear, but the recent selling certainly has improved the reward to risk for entry into this space.
Enjoy your weekend and happy trading!
Tom