In prior months, I've used the seasonality tool here at StockCharts.com to identify industry groups poised to perform well. In September, internet ($DJUSNS), footwear ($DJUSFT), recreational services ($DJUSRQ), and reinsurance ($DJUSIU) stocks were shown to outperform the benchmark S&P 500 and all four either held their own on a relative basis or significantly outperformed. The only group that had shown previous historical strength in September that failed to keep up with the benchmark was the mining group ($DJUSMG).
---
In October, internet again was tabbed the best performing industry group from a historical perspective, followed by coal ($DJUSCL), airlines ($DJUSAR), consumer electronics ($DJUSCE), and railroads ($DJUSRR). The October chapter of 2015 is not complete, but thus far internet stocks have SOARED, following their typical seasonal pattern. Coal, in the midst of perhaps the ugliest downtrend imaginable, suddenly caught a bid in October with the DJUSCL up 12.27% month-to-date. That impressive number stands after coal fell by nearly 5% on Friday. Railroads are underperfoming the benchmark S&P 500, but that was only after selling this past week as transports ($TRAN) ran into overhead resistance. I wouldn't be surprised to see railroads resume their relative leadership next week as they're just now testing rising 20 day EMA support.
Clearly, September and October have belonged to the internet stocks. Take a look at the seasonal pattern of this influential technology group: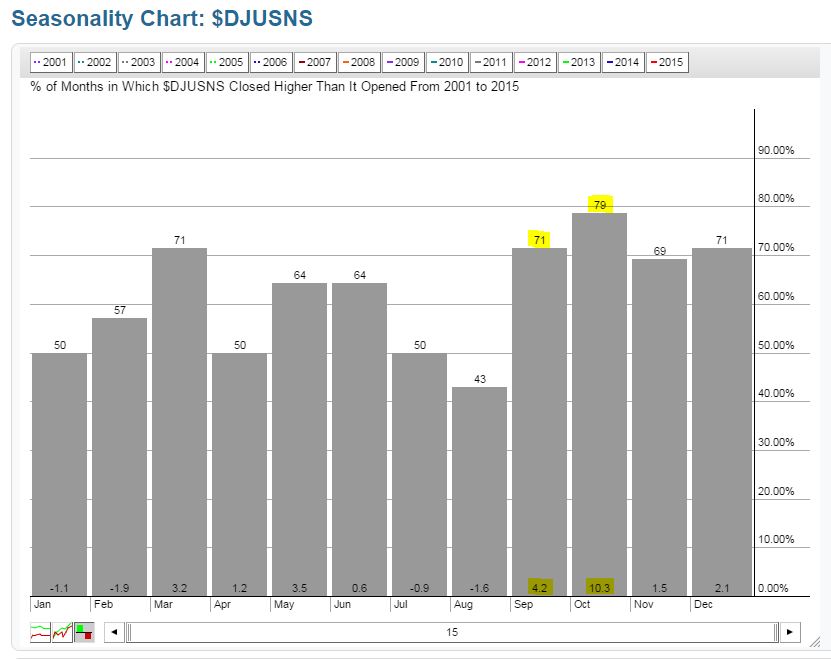 At the top of the monthly bars, note there's a percentage of how often we see prices move higher during that month. For example, in October, the DJUSNS has climbed 79% of the time with an average gain of 10.3. Also note that while the pace of its seasonal strength slows in November and December, the good news is that internet stocks do continue to perform well throughout the balance of the fourth quarter.
So that brings me to an obvious question. Which industry groups should we be looking to for seasonal strength in November? Well, historically here are the best industry groups during the month of November:
1. Platinum and precious metals ($DJUSPT): +10.8% avg gain during November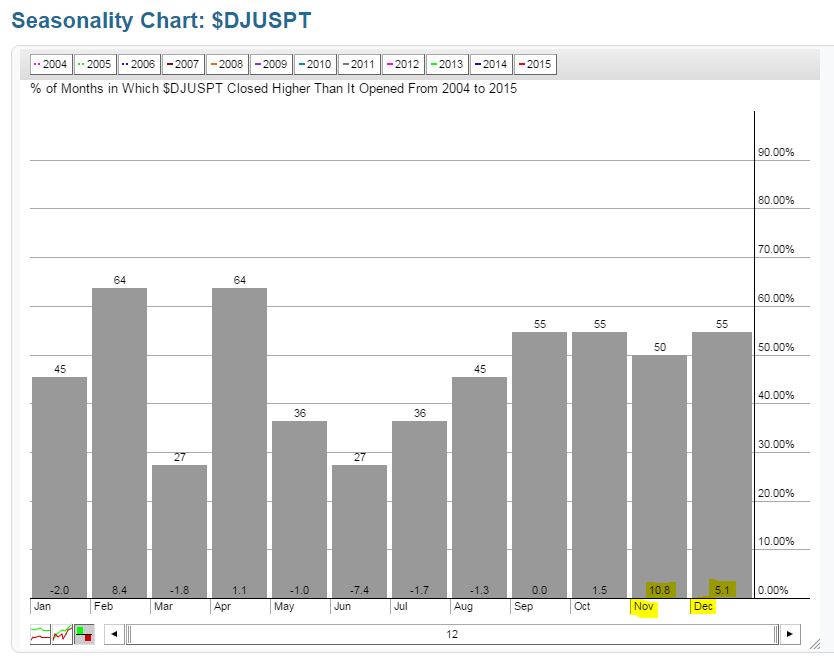 I do see one problem here. At the top of the November bar, you'll see that this index rises only 50% of the time in November. The gains, however, are typically much larger than the losses as the average November gain is a staggering 10.8%. Here are the runner- ups:
2. Travel & Tourism ($DJUSTT): +5.5% average gain in November
3. Commercial Vehicles & Trucks ($DJUSHR): +5.3%
4. Steel ($DJUSST): +4.9%
5. Industrial Machinery: +4.4%
6. Airlines ($DJUSAR): +4.2%
Seasonality is just one part of evaluating sectors, industry groups, ETFs or individual stocks for inclusion in your portfolio. But if all else appears equal, don't forget to check the seasonality tool here at StockCharts.com because it is POWERFUL and can help you make money!
Happy trading!
Tom