The earnings season is in high gear now with some very visible companies already reporting their numbers and thousands more about to report over the course of the next several weeks. Already we've seen example of stocks that have performed well after reporting and others that have taken it on the chin for coming up short.
We've also seen examples of stocks that have gotten clobbered by warning their earnings could come up short. The biggest example of late was Walmart which fell 10% in one day, its worst performance ever, when it revealed future earnings would be affected negatively due to steps it will be taking to spur growth.
For sure there will be many companies that report earnings that could end up being high reward to risk trading candidates but will require patience in order to benefit. A perfect example is General Electric who reported their numbers Friday morning and whose shares jumped by almost 3.4%, hitting a level not seen since 2007. This is where the patience side of it comes in.
For example, at EarningsBeats.com we scour the market for companies that beat earnings and have strong charts, a nice one-two combo, that could provide a nice profit opportunity. But we don't like to "chase" stocks after they've already made a nice move. Instead, we like to look for optimum levels to get involved in a stock that could lead to nice profits. In the case of GE, you can see that the market already anticipated a solid earnings report and this is why the stock has jumped 15% in the two week period leading up to the report: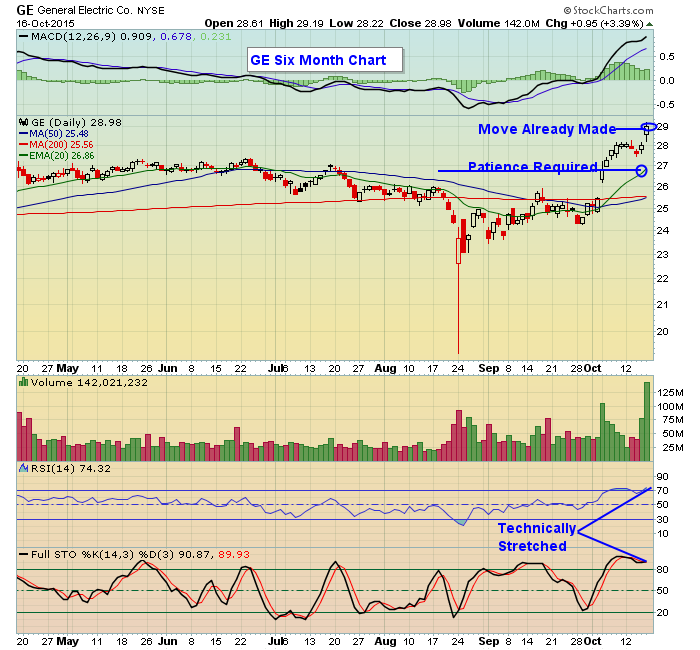 At the same time, notice how the stock is technically overbought with stochastics near 90 and a RSI over 70. So instead of trying to jump in now when the stock has already made a strong move, it makes sense to wait for an appropriate pullback where the reward to risk is in your favor. In the case of GE that could be a pullback to the 20 day moving average, currently at $26.86, which is over 7% below Friday's closing price.
The great news for everyone is there will be hundreds of stocks like GE over the next few weeks that make strong moves and set up as good trading opportunities. But it's going to require some discipline to wait for optimum entry levels rather than chasing a stock after the good news has already been built in.
At EarningsBeats.com we keep track of those companies that beat earnings and have strong charts and they become part of our exclusive "Candidate Tracker." This then allows us to wait for optimum entry levels that we then share with our members. If you would like to see a sample of the Candidate Tracker just click here.
At your service,
John Hopkins
President
EarningsBeats.com