At EarningsBeats.com we focus squarely on stocks that beat earnings expectations and also have strong charts. We do this as we have found that companies who report strong numbers get a lot of attention which makes sense given the single most important attribute investors look for in a company is a strong bottom line.
For example, Heartland Payment Systems (HPY) recently reported their numbers and beat both earnings and revenue expectations. And as you can see below, shareholders were rewarded with a very nice move to the upside with the stock just hitting an all time high: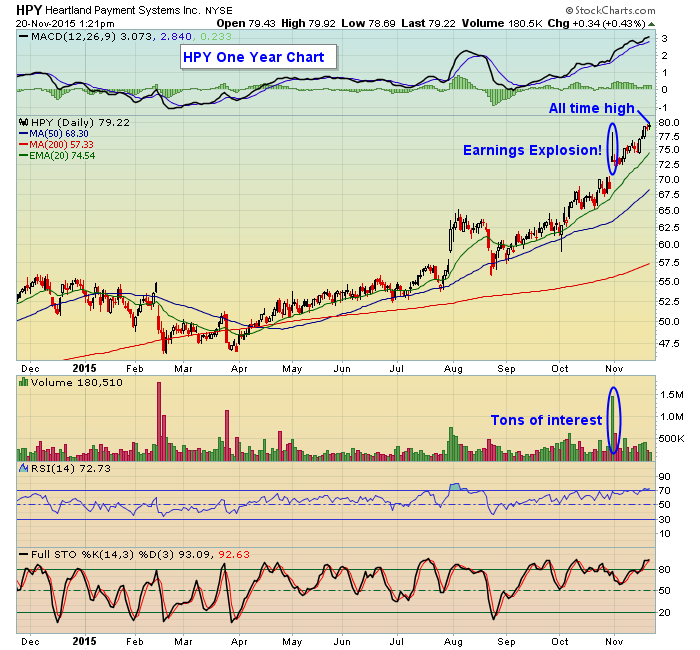 Not every stock that beats expectations explodes to the upside. For example, a company might report very strong numbers but guide lower going forward and get hammered in the process.Why? Because investors are always asking, "what's next?" But ultimately, if a company beats earnings expectations and guides higher, there's a strong probability the stock will go higher, and these are the ones you should be looking for.
We're entering a time of the year that is historically very favorable for stocks. And at this point the vast majority of the highly visible companies have reported their earnings. So as a trader you have an opportunity to benefit by gravitating to those stocks that are likely to garner the most attention.
We have a feature at EarningsBeats.com, our "Candidate Tracker" where we show those companies that beat earnings expectations and have solid charts. If you would like to see a sample just click here.
At your service,
John Hopkins
EarningsBeats.com