Heading into Christmas, Apparel Retailing has been a pretty difficult industry group for those who were optimistic on it. This week saw a few apparel retailers start to surge. On Friday specifically, a few things changed that might give the group some power finishing out the year.
First of all, Ross Stores (ROST) surged from being one of the middling stocks in the group to being one of the leaders. It has had earnings gaps in the past during a big uptrend and Friday was another gap up on earnings. The last earnings report was a gap down, but that was really the exception within the trend with today's resumption of gapping up on earnings.
Limited Brands (LB) has been one of the top-performing stocks in the group for the year and it continues to be one of the top performers. After breaking out to new highs in early October, it pulled back enough to close stops. On Friday, it broke back above the breakout level. The relative strength in purple is a little weak, but any further strength would be very bullish for one of the strong stocks in the group.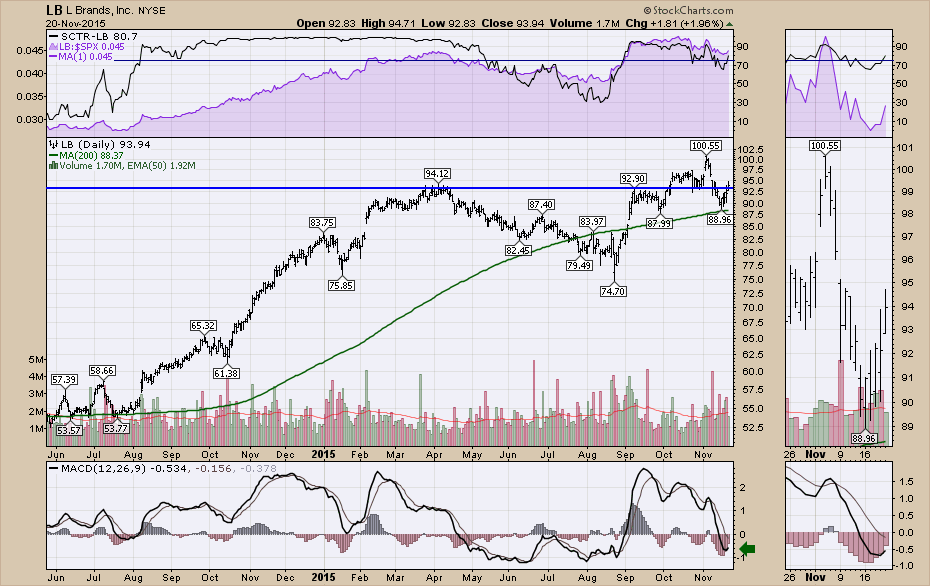 Foot Locker (FL) has continued to perform well but recently pulled back as Nike did. Today it spiked up with NKE so there is a lot of tracking going on with NKE. If it can continue to resume the uptrend and the RS can outperform, this could lead to a big move.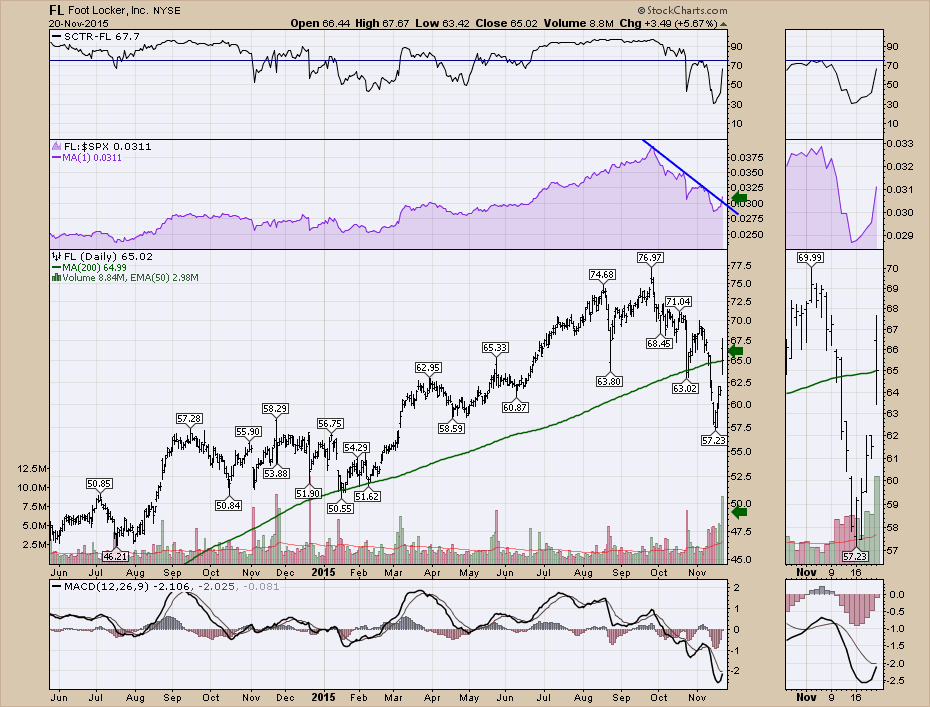 The new winner on the retail apparel scene was Abercrombie and Fitch (ANF) that broke out of a big base Friday and I wrote about it in the Don't Ignore This Chart on Friday. Click here to see that article. Abercrombie.
I think it could be a nice industry group to look for fast-rising stocks for the next few months. Some of the retail stocks maintain their strength through to the end of March so if this group was to do that, this could be a great time to look for an entry. The recent rise in volatility of the indexes suggests more volatility ahead.
Good trading,
Greg Schnell, CMT