Technical analysis doesn't try to answer why questions. Fundamentalists are constantly bewildered by price action, especially when it seems to contradict fundamental news. Technicians simply don't care. The stock market looks ahead and therefore price action precedes news. That's why it's important to look at how the market reacts to news, not to simply look at the news itself. This past week was a perfect example. JP Morgan Chase (JPM) reported quarterly results that exceeded expectations. In fact, take a look at the banks that reported quarterly results last week and how their bottom line compared to consensus estimates:
---
JPM: 1.35 vs 1.29
OZRK: .57 vs .56
C: 1.06 vs 1.04
PNC: 1.87 vs 1.80
RF: .21 vs .19
USB: .79 vs .79
WFC: 1.03 vs 1.02
How are those results? Six banks beat EPS estimates while the other met expectations. Not a single earnings miss among them. Did price action follow fundamental results? Check out this chart and you be the judge: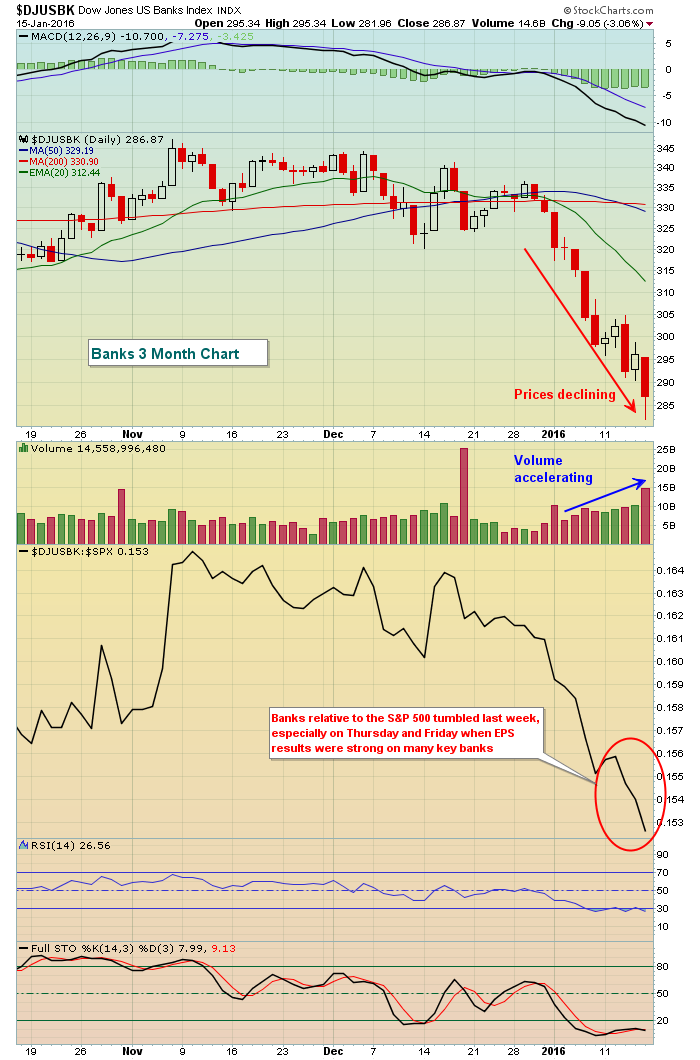 What I find particularly alarming is Thursday's action. The stock market had a major recovery and that morning JPM had posted very strong earnings. While banks did move higher on the session, they badly lagged the S&P 500. When you see great fundamental news and the relative reaction is so poor, you have to scratch your head and wonder. Again, the news said to buy, but relative price action is saying otherwise.
Clearly, the short-term action in banks is uninspiring - and that's with some sugar coating. Now let's see what the action last week means on the long-term chart: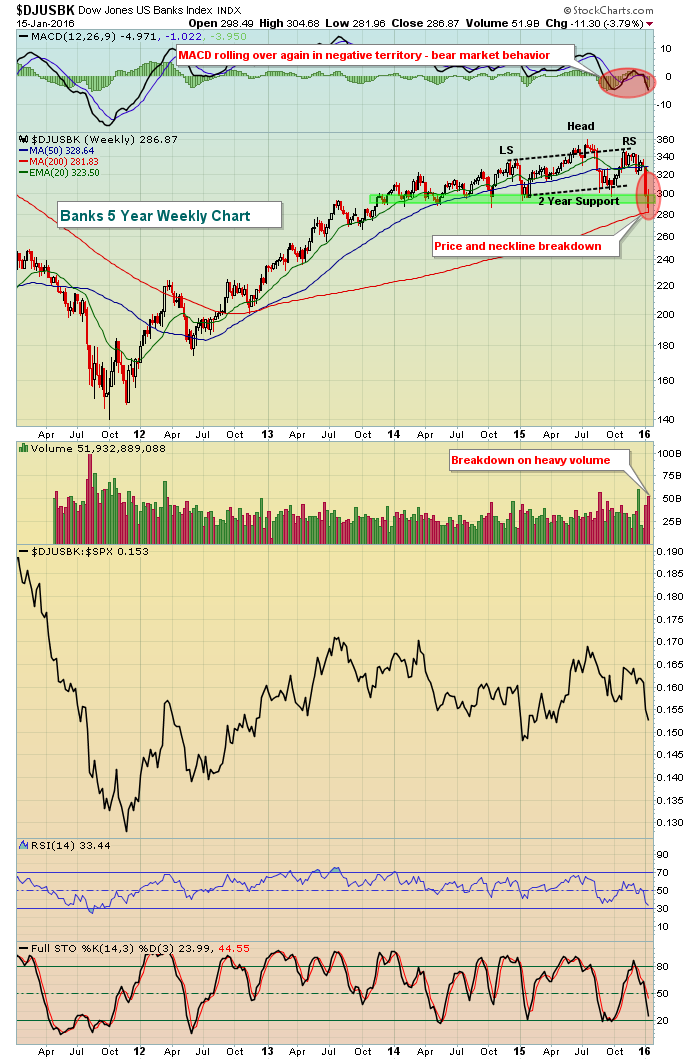 It's difficult to put a positive spin on this chart. Banks lost price and neckline support and did so on very heavy confirming volume. In addition, the weekly MACD is confirming the accelerating selling momentum and remains deep in negative territory. We have to keep in mind that banks need to remain healthy technically to support an ongoing bull market. They provide the credit necessary for businesses to grow as we are a credit-reliant economy. It's not comforting to see banks breaking down in both the short-term and long-term.
Happy trading!
Tom