The S&P ended 2015 down slightly from the close in 2014. But to many traders, it sure felt like a downer of a year.
At EarningsBeats.com we combine strong fundamentals with strong technicals to try to find the best reward to risk trading candidates for our members, the theory being the combination of the two is tough to beat. However, this past four months was extremely challenging, even for many stocks that posted strong earnings the prior quarter.
Our focus since our inception has been on the long side. But we are going to need to be prepared to shift our focus to the short side if the market so dictates. And we might get a better idea of what is in store once companies start to report their fourth quarter earnings, starting with Alcoa when they post their numbers on January 11, the "official" beginning of earnings season.
In spite of the recent doom and gloom and lousy finish to the year, we do need to keep a few things in perspective. First, over the past four years, the S&P has climbed 62% which averages over 15% per year. Maybe it needed a year off. Next, the S&P is 4.5% from its all time high of 2134. So a few strong days in a row could put that all time high within reach. Finally, the market has been hostage to falling oil prices and a change in the Fed rate policy and has actually held up quite well. Should oil begin to stabilize, and possibly even climb, that could help bolster the beleaguered energy sector and help to light a fire under stocks.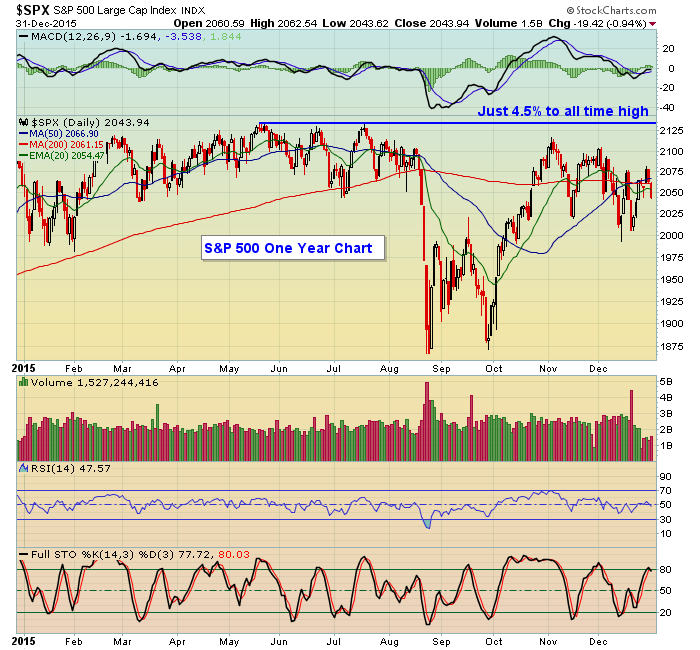 Bottom line? A decent showing when earnings numbers start coming out could be just what the bulls need to mount a challenge to the all time high. It's not far fetched, considering the market is preparing for a weak showing. And the good news for traders is they might not have to wait long to find out, maybe just a few weeks from now which will go by quick.
Here's to a prosperous trading year for one and all!
At your Service,
John Hopkins
EarningsBeats.com