2015 was a very difficult year. We witnessed our first serious selling since 2011. It's unusual to trade in a bull market for four years with little interruption, yet that's exactly what we did. Despite not breaking down, the trading environment was quite challenging in 2015. Sure, consumer stocks and technology performed better than average, but energy and material shares were tossed aside much of the year. And if we dig a little deeper, we'll find that not even consumer stocks were broad winners. For example, there are 23 industry groups within consumer discretionary. 12 finished the year higher while 11 were down. Consumer staples actually performed much more consistently with only one of its industry groups - nondurable household products ($DJUSHN) - lower for the year. In technology, the XLK rose nearly 5.5% but strength was felt in mostly three industries - internet ($DJUSNS), software ($DJUSSW) and mobile telecommunications ($DJUSWC). Those three industries gained 28.79%, 9.12% and 7.88%, respectively. The other 8 industry groups dropped in 2015, led by consumer electronics ($DJUSCE) which fell 24.92%.
---
The point of all this? While our major indices may have remained close to breakeven in 2015, it was not a great year for traders as rotation left both bulls and bears frustrated throughout the year. Unfortunately, we're going to begin trading in 2016 with many challenges and few answers. Money rotated towards safety BIG TIME in the month of December and the Russell 2000 had its worst December showing last month since the index began in 1988, falling more than 5% in just the past 30 days.
Here are three ratios that fell apart in December that NEED to recover in order for the bulls to regain the upper hand in 2016: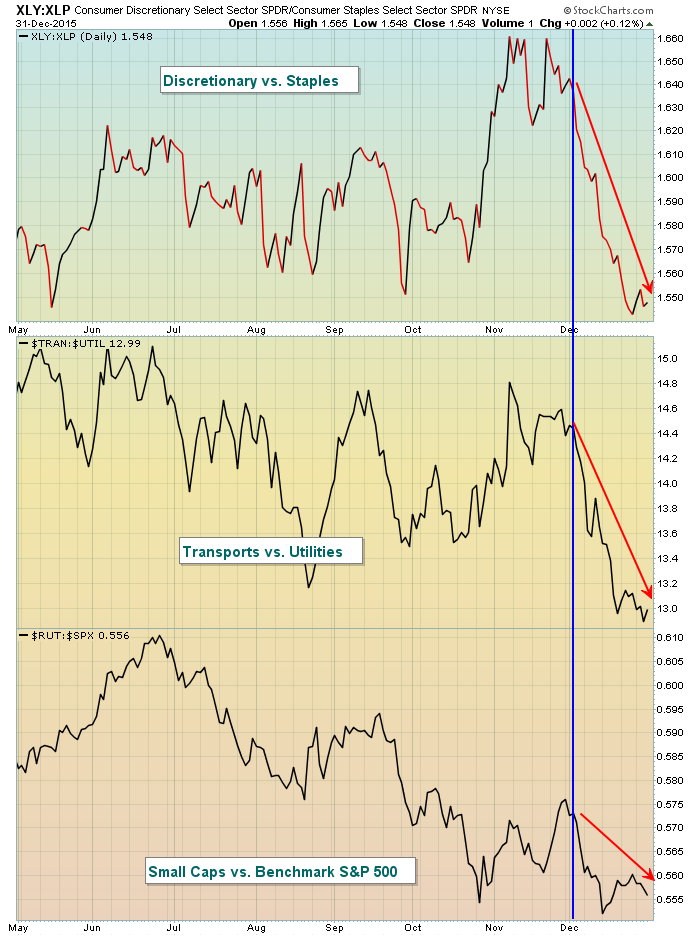 The blue vertical line simply shows how these ratios have fallen since the beginning of December. Should we see the stock market rally in January (historically it does), we want to see money rotating towards aggressive areas, suggesting that traders have a "risk on" mentality. The risk on approach helps to sustain a market advance.
If the seven year bull market resumes in 2016 and we see a breakout in the S&P 500 to all-time highs, what areas of the market might be set up for relative strength? I limited my research to the industry groups within the four primary aggressive sectors, namely technology, industrials, consumer discretionary and financials. Here are a couple industry groups to watch:
1. Diversified Industrials ($DJUSID)
On a relative basis, the DJUSID has simply gone along for the ride. This industrial area significantly underperformed the S&P 500 throughout much of the first decade of this century, but is starting to rally. General Electric (GE) posted excellent results and GE last week traded at its highest level in nearly 15 years. Honeywell (HON), another key stock in this space, last week traded just 50 cents from its all-time high. Clearly, there's some strength building in this area and a relative breakout vs. the S&P 500 would provide an additional boost to an industry group that just displayed its best relative strength for a quarter in several years. A relative breakout is nearing, as reflected below: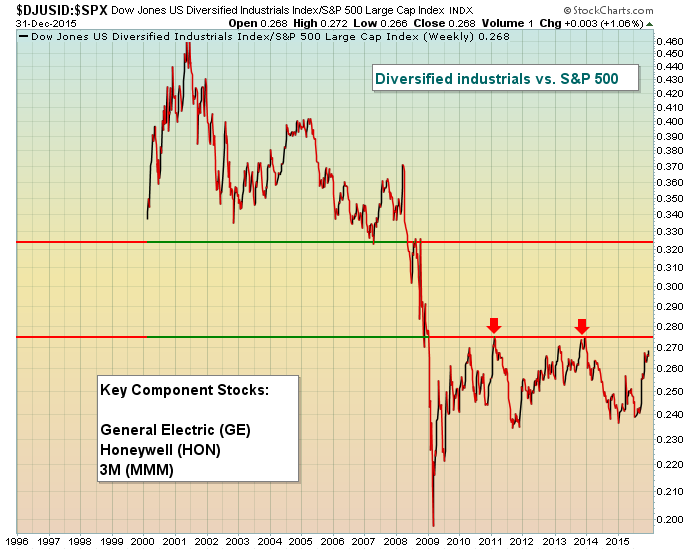 2. Software ($DJUSSW)
Software had a strong 2015, but has just broken key relative resistance and is likely poised for further gains. Microsoft (MSFT) was a big reason for the 2015 outperformance as strong earnings accompanied a surge in the stock price in October. Other strong stocks in the space include Adobe Systems (ADBE), Autodesk (ADSK) and Salesforce.com (CRM). These four have been leaders within their space so look for continued strength to lead the overall group.
Happy New Year and Happy Trading!
Tom