It has been a rough year for most of the stock market with seven of the nine sector SPDRs down year-to-date. The Consumer Staples SPDR (XLP) is up .69% and the Utilities SPDR (XLU) is up a whopping 6.75%. Among the seven negative sectors, the Industrials SPDR (XLI) is holding up the best because it is down the least. Thus, XLI is showing a little bit of relative strength in 2016. I will look at the chart for XLI and the three top stocks after the jump.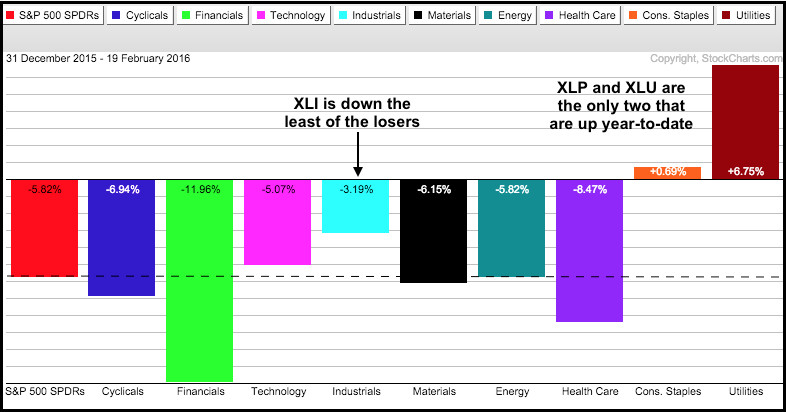 ---
General Electric (GE), 3M (MMM) and Honeywell (HON) account for around 22% of the ETF. GE weighs in at 11.61%, MMM weighs 5.65% and HON accounts for 4.99%. XLI remains in a long-term downtrend with a 52-week low in mid-January, but the ETF is in a short-term uptrend with the recent breakout near 50. Even though potential resistance is coming into play soon, the short-term uptrend is intact as long as 49.6 holds. Within XLI, MMM and HON are the clear leaders over the last five weeks. MMM is up over 15% since mid-January and HON hit a new high this week.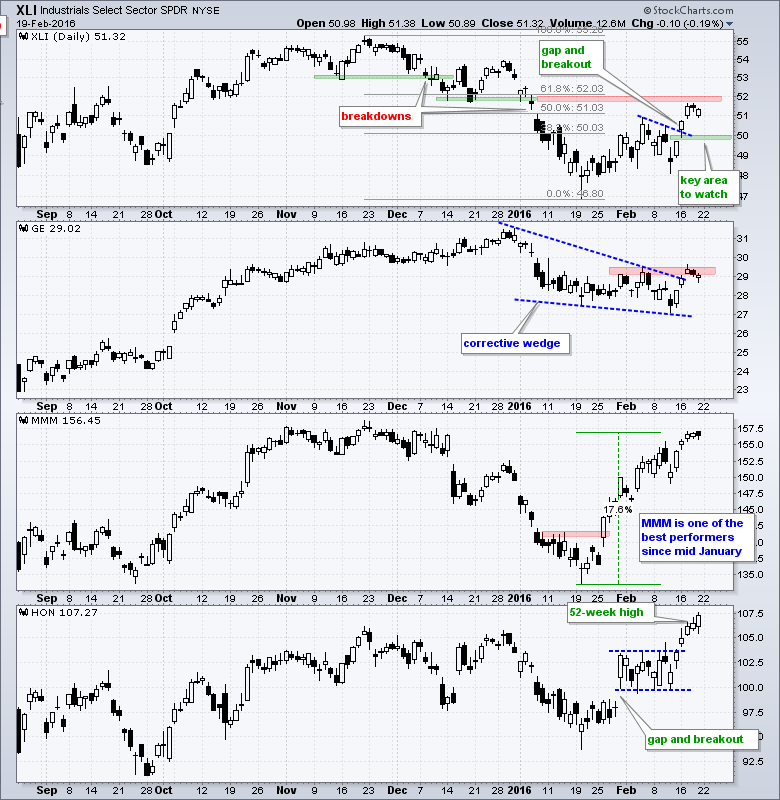 My eyes are on GE because the stock is by far the biggest component. On the price chart, notice that GE hit 52-week highs throughout November and December, and then pulled back in January-February. This pullback formed a falling wedge that retraced 50% of the prior advance and returned to broken resistance. Both the retracement amount, the wedge and the return to broken resistance are typical for corrections within uptrends. Note that I am ignoring the 25-Aug spike low because it looks like an outlier. In any case, GE broke the wedge trend line and is making a run at resistance from the early February high. A breakout here would be bullish for GE and positive for XLI.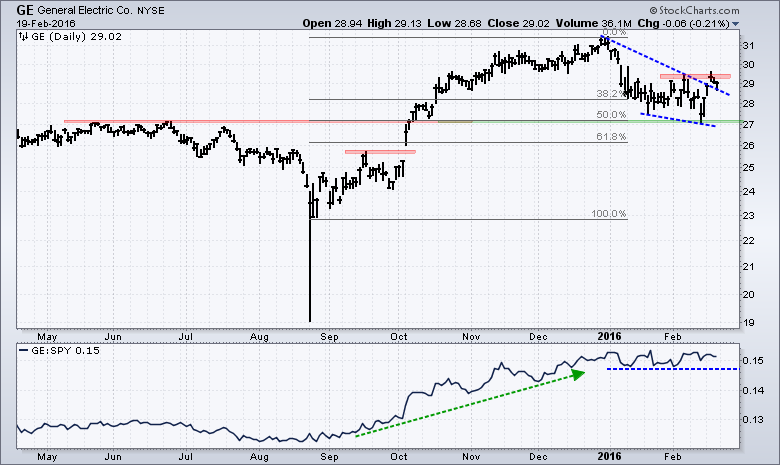 Click here to follow me on Twitter @arthurhill - Keep up with my 140 character commentaries.
****************************************
Thanks for tuning in and have a good weekend!
--Arthur Hill CMT
Plan your Trade and Trade your Plan
*****************************************