In the best of times companies see their stock prices rewarded or punished based on earnings results. Even when a company misses its earnings per share or revenue forecasts by just a small amount it can have a meaningful, negative impact on its stock price. But when the market is highly volatile and on pins and needles like the US market has been all year long, missing estimates or guiding lower for the future can be devastating for a company's stock price.
Look no further than Amazon and LinkedIn as prime examples of how unforgiving the market can be when there's zero room for tolerance. In the case of Amazon, they missed both their eps and revenue numbers with the stock down over 20% over the past week. And then there was LinkedIn (see chart below) guiding lower for the future and seeing its stock price fall by almost 44% in one day. Talk about falling off a cliff!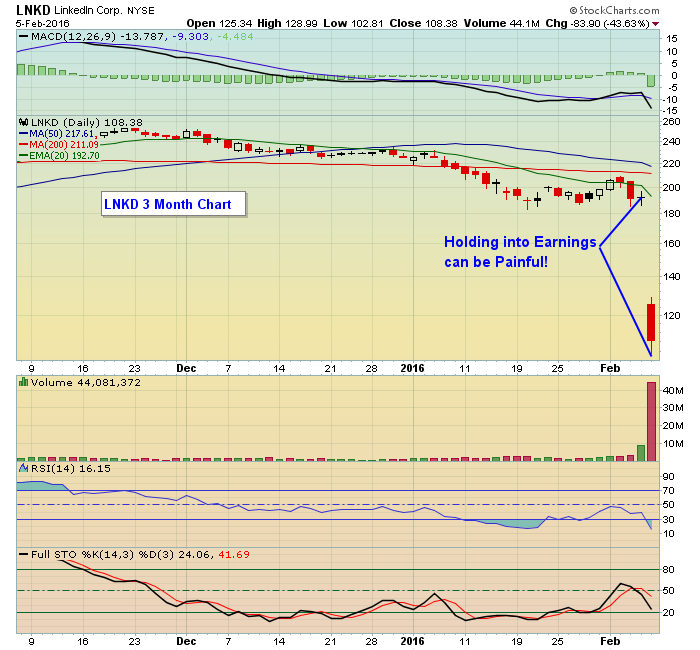 In neither case did traders have any warning that these stocks would fall so hard after they reported their numbers. But it does illustrate the risk of holding stocks into earnings report, no matter how loved a company might be. And it's why we wait until a company has reported its numbers before it has a chance of making our list of potential trading candidates. In fact, if we issue a trading candidate to our members, we make sure they know when that company will be reporting its numbers so they can exit the position prior to its earnings release, thus reducing unnecessary risk,
With peak earnings season nearing an end we will be scanning thousands of stocks to see which ones exceeded and which ones fell short of their forecasts. A select group will end up in our "Candidate Tracker" with some becoming long and some becoming short trading candidates. This will allow our members to key in on the strongest and weakest performers who have already reported their numbers, thus avoiding the repercussions that go along with holding a stock into its earnings report. If you want to get on our list to learn more just click here. In the meantime, make sure you know when companies you own stocks in will be reporting their earnings so you can take the appropriate action to avoid getting slaughtered.
At your service,
John Hopkins