It was a pretty good week for the stock market with the Russell 2000 iShares (IWM) and the Finance SPDR (XLF) showing upside leadership for a change. IWM gained 3.21% for the week and led the major index ETFs higher. XLF gained 4.60% and was the second strongest sector (behind XLE). Even though IWM and XLF do not share any components, there is a link because financials account for around 25% of the Russell 2000. Those looking for a more direct connection should note that the SmallCap Financials ETF (PSCF) gained 4.33% last week.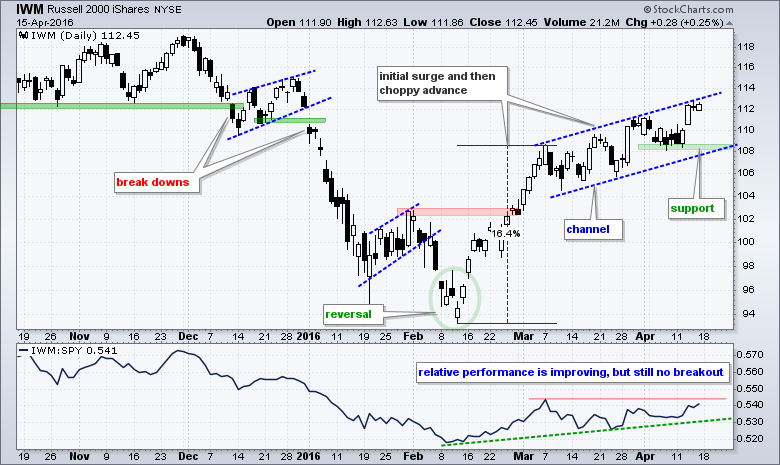 ---
On the price chart, IWM has yet to show serious relative strength, but remains in a clear uptrend as a rising channel takes shape. The ETF surged some 16% from mid February to early March and then continued higher with a choppy advance. A small channel formed the last six weeks and chartists can watch support at 108 for the first signs of weakness. The indicator window shows the price relative (IWM:SPY ratio) forming a higher low in late March and turning up this week. A break above the March high would trigger a relative breakout in small-caps and this would signal some serious relative strength.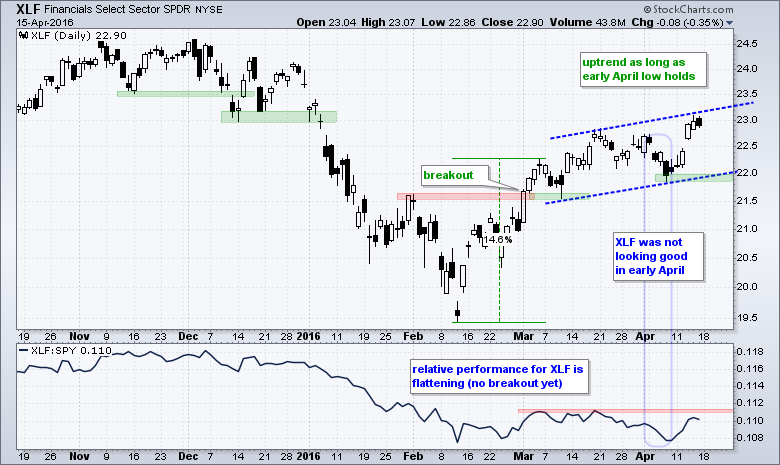 XLF was looking weak in early April, but the bulls stepped in and pushed the ETF above its mid March high. The blue outline highlights the first week of April when XLF fell to 22 and the price relative (XLF:SPY ratio) was near its February lows. The ETF made a remarkable recovery this week with a gap and move above the March high. With this move, chartists can now mark support with the early April low. Despite a strong week, we have yet to see a breakout in the price relative and XLF remains one of the weaker sectors overall. Again, the price relative needs to break the March highs for XLF to show some serious relative strength.
****************************************
Thanks for tuning in and have a good weekend!
--Arthur Hill CMT
Plan your Trade and Trade your Plan
*****************************************